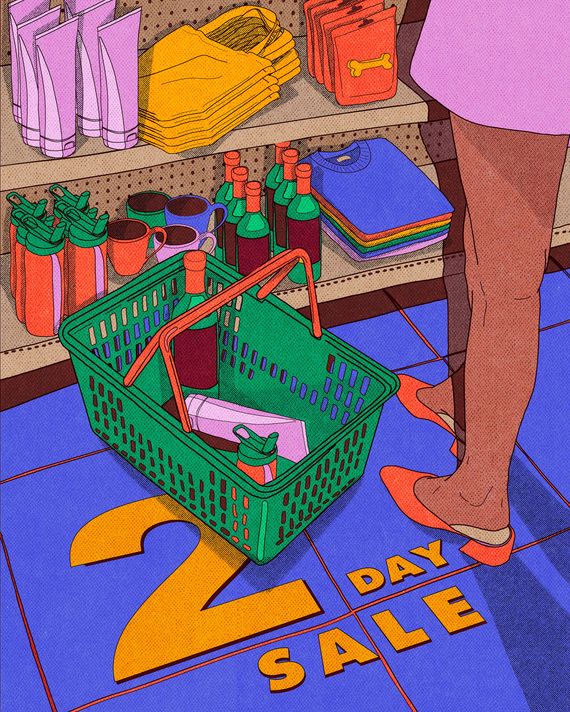 Illustration: by María Jesús Contreras
Whether it's Cyber Monday, Amazon Prime Day, or just a regular Friday, we pride ourselves on our ability to sniff out the best deals from the depths of the internet's sale bins. But for the third year in a row, we've done some deal-making of our own. Welcome to the Strategist's Two-Day (Actually Good) Sale.
We've put together over 50 deals exclusively for readers of the Strategist on some of our most-stood-behind products. And true to the event's name, they're available at some of the best prices we've ever seen — in some cases, the best prices they've ever been. We're taking up to 70 percent off cult beauty products, highly giftable fitness gear (which would make excellent Mother's Day gifts), furniture and décor for every room, and a few reader favorites from last year's event.
And we're trying something new for this year's sale: In addition to discounts on single products that will last the full two days, we've secured a few sitewide discounts from some of our favorite brands and deals that are so steep we can offer them for only a limited time. We're calling them "flash deals," and they'll be available for just four hours each day.
Here's how it will work: You can shop our first batch of deals now, including a set of flash deals that all expire at 4 p.m. ET. Then we'll drop a final set of deals at 4 p.m. ET. Tomorrow, Wednesday, April 27, we'll drop another set of deals at 10 a.m. ET, followed by another set of flash deals at 12 p.m.
To stay on top of every sales drop today and tomorrow, bookmark this page and set your alarms. If you want even more deals, sign up for our newsletter here; subscribers will get a sneak peek at the brands we're featuring and some exclusive deals that won't appear on the site. You can also keep tabs on our Twitter and Instagram for updates.
Don't dillydally: These flash sales expire at 4 p.m. ET.
We first wrote about Bala way (way) back in 2020, when its wrist weights became one of the first bona fide fitness trends of quarantine. Since then, we've covered the brand's ergonomic Bala Bar — a silicone-coated bar designed for squats, curls, and everything in between — and its Bala Ring, a circular weight that (almost) doubles as décor. Bala's offerings don't often go on sale, but from now until 4 p.m. ET, everything (yes, everything) is 15 percent off for Strategist readers with code STRATSITEWIDE15.
Brightland started as an olive-oil company built on the idea that transparently sourced and seasonally pressed bottled olives (in this case, from California) make for a more delicious product — and the experts agree. From there, it began creating other pantry staples, too, like vinegars and honey. Until 4 p.m. today, use code PANTRYUPGRADE to get 15 percent off each of its curated sets, including a package full of sampler sizes, one with all its infused oils, and more irresistible combinations.
When Strategist senior writer Liza Corsillo tested smart gardens in her Brooklyn apartment, she named Click & Grow's Smart Garden 3 the best for small spaces. "It has space to grow three plant pods at a time, and you can choose from over 50 different types of plants. It's also the most affordable and easiest to maintain, making it great for beginners," she wrote. For four hours only, it's even more affordable for Strategist readers: Use code STRAT36 to take 36 percent off all Click & Grow smart gardens and garden-pod bundles — the best deal the company has offered this year.
Dame — the maker of some of our favorite sex toys for couples and individuals alike — rarely has sales outside of Black Friday and Cyber Monday. But for four hours only, you can save 20 percent sitewide with code PLEASURE. That includes the Fin vibrator, which is a favorite among testers with more sensitive bodies, the hands-free Eva vibrator, which experts call one of the best sex toys for couples, and the Aer, which made our list of the best air-suction sex toys.
If you go to bed dreaming of whisking up a matcha the next morning, you'll want to take advantage of the best (and biggest) sitewide sale Golde has offered all year. The brand's Matcha Turmeric Superfood Latte Blend has fans in both Tonya Lewis Lee, who drinks it instead of coffee, and former Strategist intern Aisha Rickford, who credits the powder with clearing up her skin. And for those who like their drinks frothy, the top-selling rechargeable whisk that Golde co-founder Trinity Mouzon Wofford turned us onto is also eligible for a discount (it has the honor of being featured in last year's two-day sale, too). Until 4 p.m. today, use code STRATSITEWIDE20 for 20 percent off sitewide and free shipping on orders over $35.
Kinfield's clean and sustainably sourced skin-care products are summertime status items for outdoorsy types — if you pull out a bottle of the brand's soothing Sunday Spray mist on the trail, just be prepared to pass it around among fellow hikers. Certified vegan, Kinfield's range includes an anti-itch remedy, luminizing sunscreen, and DEET-free bug spray that smells so good you'll want to wear it as cologne. For four hours only, get 20 percent off the entire site with the code STRAT20, including complimentary, waste-free shipping on orders over $35.
Ecoconscious undergarment-maker Knickey creates high-quality, biodegradable briefs, bikinis, thongs, and bralettes that Elizabeth L. Cline, journalist and author of The Conscious Closet, approves of. The brand's High-Waist Brief has earned rave reviews from other stylish women we've talked to in the past, including Evelynn Escobar-Thomas, founder of the intersectional hiking club Hike Clerb, who describes these as soft and seamless. Stock up on our favorites and try something new with the code STRATFULLCOVERAGE2, which gets you 20 percent off sitewide.
If you start to space out during long Zoom meetings, you're not alone. And if your afternoon coffee is doing nothing to help you concentrate, experts suggest trying a fidget toy. Julie Schweitzer, a neuroscientist and professor of psychiatry and behavioral sciences at UC Davis, says fidgeting can help with attentiveness as well as regulating emotions like stress and anxiety. Speks has a wide range of satisfying and design-ccentric fidget toys that snap, click, stretch, and squish and look nice enough to display on your desk. The Speks flash sale will give you 25 percent off sitewide when you use code STRAT25.
It's almost impossible to count how many times Universal Standard has appeared in our archives. That's thanks in part to the brand's size-inclusive ethos and timeless designs, like the Next to Naked bodysuit, which contributor Francine Maroukian considers a "blank slate for getting dressed," or the Moro Pants, which cured contributor Maya Kosoff's trousers "allergy." The label's high-waist and plus-size jeans are also popular with other cool people we've talked to. Right now, Universal Standard is offering our readers a rare sitewide sale with code STRATFLASH20 for a few hours only. It's very much a blink-and-you'll-miss-it situation, so act fast.
Recommended by our friends at the Cut, and beloved by Strategist editors, the Outdoor Voices Exercise Dress has become an athleisure staple. The Cut's former associate fashion editor Devine Blacksher owns it in three colors "because it's perfect for working out and running errands," especially since it has a built-in pocket to hold on to your keys, wallet, or phone. For everyday wear, editor Maxine Builder appreciates that the dress "remains supportive and comfortable, not constricting, all day long." And Outdoor Voices' founder, Ty Haney, who created the dress as an "alternative to leggings," told us that she sees "at least ten a day at HQ." With the code STRATDRESS25, you can get the ubiquitous dress for 25 percent off, plus free shipping.
Brooklinen's Luxe Core Sheets are a longtime Strategist favorite for their softness, crisp look, and temperate feel. Lilia's Missy Robbins, who prefers to be "super-cozy but I don't want to sweat to death," says, "These have that balance." And when we spoke to interior designers about the best bedsheets, two pros told us they're an excellent value. "It is really hard to beat the quality of these sheets for the price," says Molly Schoneveld. "They feel like butter and still look and feel great after many times in the wash." You can get these at an even better deal today with the code STRAT22 for 22 percent off — an even steeper discount than at Brooklinen's own Birthday Sale that's happening right now.
Dagne Dover has a loyal fan base, counting longtime commuters and working moms as devotees. Its Ace fanny pack is a favorite of Builder's; she likes that the bag "feels a little less sporty, so it's a nice going-out option." Meanwhile, the Landon Carryall is an airport staple for Paper fashion editor Mario Abad for its aesthetics and surprising amount of interior space. The bag brand doesn't usually go on sale, which makes this deal even sweeter: 15 percent off sitewide with the code STRATEGIST15. It's the best deal — and the only sitewide sale — that Dagne Dover has offered this year.
We've written about Fellow a lot before. That's because its coffee accessories are as appealing to our own writers and editors as they are to expert brewers and drinkers — beautifully designed and hyperthoughtful but also quite user-friendly. Use the code STRAT22 to get 20 percent off its wood-handled kettles, the most discounted that the particularly beloved item has been all year. That same code will get you 30 percent off its French press, the lowest price that it has ever been.
Malin+Goetz, which makes some of our go-to shampoos, conditioners, perfumes, and candles, knows a thing or two when it comes to scents. Its Cannabis fragrance in particular happens to be one of our all-time-favorite perfumes because it "balances rich smokiness with fresh floral scents," according to Michelle Li, a fashion editor and stylist. Li adds that it's "great for when you are just sitting around your apartment and want it to feel a little bit more special," which is why we think this would make an excellent candle to have around. For about half the price of the perfume, you can get the scent in its candle form for 20 percent off using the code STRAT20.
Lisa Says Gah's Dakota clogs have been spotted on many an Instagram influencer, and it's easy to see why. They have what Strategist writer Ambar Pardilla calls a distinct Delia's-catalogue vibe, with a platform that's not too high nor low, and they're easy enough to break in (do size up if you have wider feet, though). Pardilla bought them in green (choose from black-and-white color block, cow print, and an embroidered-flower pattern) when they were 40 percent off, but now you can grab them for even less. With the code STRAT45, these are $100 during our Two-Day Sale, with free shipping for U.S. orders.
With the code STRATEGIST, Fun Factory is offering 25 percent off three of its sex toys, all of which have been highly recommended to us in the past. If you're looking for a thrusting toy that focuses on G-spot stimulation, look no further than the Stronic G, which has seven speeds and three rhythm settings. The Bi Stronic combines the thrusting power of the Stronic G with a "rabbit style" vibrator for extra external, clitoral stimulation. And the Manta is an innovative stroker that one expert says is "unlike any other sex toy on the market."
Frisco, the company behind some of our favorite cat trees — including an "impressively sturdy" mid-century-modern cat condo that former Strategist writer Karen Iorio Adelson's cat likes almost as much as her $800 sculptural tree — also makes this cute cactus scratching post wrapped in green sisal, a great option for those who want to have something green in the corner of their apartment but have killed generations of succulents. It's 20 percent off at Chewy with the code STRATEGIST20, its best deal of the year.
Photo: Retailer/
One of the most-name-dropped sunscreens in the Cut's "Why Is Your Skin So Good" column, Supergoop!'s Unseen Sunscreen SPF 40 is a perennial favorite among skin-care experts and cool people with good skin. It's the only sunscreen Covey Skincare co-founder Christina Uribe doesn't mind using every day, and it's the go-to for actress Laura Harrier, who says it's "weightless, easy to blend in, never pills the products underneath it, and never causes breakouts." We've talked to plenty of experts who agree: Dr. Marnie Nussbaum calls it one of the best sunscreens for people with oily skin, and skin-care-brand founder Chaneve Jeanniton, M.D., says it's a top pick for people with dark skin. With the code STRATEGIST25, you can take 25 percent off a 30-milliliter bottle, just in time for beach season.
With designs that range from simple and classic (gold hoops) to funky and modern (cowboy boots), Studs has become a perennial Strategist favorite for its statusy earrings that won't break the bank. Most of the brand's earrings are available as singles so that you can create a custom look, but if you need a little help mixing and matching, Studs also offers Earscape sets: curated bundles (at a discount) for effortless ear-styling. Studs is offering an extra 10 percent off Earscapes with the code STRATSTUDS10; the sets are usually excluded from regular sitewide promotions, so this Strategist-reader-only sale is extra-special.
The Caraa Studio bag gets a stamp of approval from fitness instructors and very cool people for being so versatile without sacrificing style. It converts from a backpack to a shoulder tote to a cross-body duffel. Cyc instructor Christine Abramo likes that it has "shoe space, laptop space, a section for dirty clothes, and a makeup pouch." And Katheryn Thayer, Kickstarter's brand-content director, goes so far as to call it "magical" because it "has a million secret pockets." Thayer adds that people stop her in the street all the time to ask where she got it. Use code STRAT20 to get this triple-duty do-everything bag for 20 percent off, plus free shipping.
Our friends at Eater know a lot about restaurants, which is why we trust them to curate a particularly fun and interesting wine subscription service informed by their knowledge of the industry. Here's how it works: They ask trusted sommeliers at their favorite spots to pick the bottles they're most excited about, then send those selections straight to your door each month. There are different numbers of bottles and frequencies to choose from: With the code STRAT30, you'll get 30 percent off your first monthly subscription. Or you can use the code GIFT20 to get 20 percent off the first month of a six-month gift subscription (either two or four bottles). You can't use the codes on top of each other, but you can buy one for yourself and one for a friend (or a mom, if you're still in need of a Mother's Day gift).
We've been fans of Ole Henriksen since our beauty columnist, Rio Viera-Newton, reviewed the brand's Banana Bright Eye Crème in 2019. The vitamin-C-infused cream "really, really brightened things up" and knocked Drunk Elephant's C-Tango eye cream out of her top spot. We've written about Ole's Banana Bright line many times since then and included the eye cream in last year's Two-Day Sale. This year, you can get the Banana Bright Vitamin C Serum — a best seller from the Banana Bright line — for 25 percent off with the code STRAT25.
In an increasingly crowded dog-food industry, it can be confusing to know what food is best for your pup. But if you're shopping at specialty supermarkets, maybe you should be leveling up what you buy for Fido, too. The Farmer's Dog is a subscription-based human-grade dog-food brand that helps take the guesswork out of the equation with an online quiz about your dog's specific age, size, and activity levels. The meals look as appetizing as meal kits meant for people, and The Farmer's Dog worked with board-certified veterinary nutritionists to formulate recipes that meet (and exceed) AAFCO standards. Your first box is 70 percent off when you click through our buy button, which is as cheap as you'll find it all year.
We first learned about the cult of New Wash from Molly Young back in 2017, and in the intervening five years, it's become a favorite among our readers and even some of our staff. (Builder has been using it since 2018, buying in bulk bags on a quarterly basis as part of New Wash's subscription program.) This co-wash replaces both shampoo and conditioner — meaning you need fewer products in your shower — and leaves your hair feeling soft, without excess product buildup, and your scalp clean. You too can join the cult of New Wash, and, this time, for a discount: Use the code STRAT15 for 15 percent off.
Two years into working from home, it has become clear that not all pajamas and sweats are created equal. While some brands haven't stood up to the comfort or durability test, time and again we've found that Lunya's pajamas and robes are perfect for sleeping, couch emailing, and anything in between. Blended with silk and cotton, the brand's Cozy Cotton Silk sleepwear collection is luxuriously soft to the touch yet easy to care for — just machine-wash on cold. Dare we say it, the henley top is perfectly Zoom appropriate. With the code FOR-STRAT25, take 25 percent off the entire Cozy Cotton Silk range, with free shipping for orders over $150.
Ban.do's sunny stationery has been championed by celebrities, cool teens, and Strategist editors alike for its vibrant patterns designed to lift your spirits and get your creative juices flowing — how can you not smile at the sight of these fabulous fruits? Whether you're a spiral stan or a hardcover diehard, there's sure to be an option to suit your journaling needs. You can take 35 percent off all Ban.do notebooks and planners — the best deal we've ever seen from the brand — with the code STRAT35 (that includes items that are already on sale!).
When Viera-Newton first tried Fenty's Stunna Lip Paint back in August 2018, she declared its "Uncensored" shade the new "Ruby Woo." It's remained a Strategist (and Viera-Newton) favorite ever since, earning a place on her lists of the best lipsticks of all time and the best red lipsticks along with our pandemic-era recommendations of the best maskproof lipsticks. The only other time you'll find it this cheap — 25 percent off with the code STRATSTUNNA25 — is during Fenty's Friends & Family Sale, which just ended. So now's your last chance to stock up for a while.
We're biased on this one, so take it from the Jack Reacher–series author, Lee Child, who says his subscription to New York Magazine "pushes me toward being more hip." New York is offering 50 percent off a print-and-digital subscription and 65 percent off a digital-only subscription, a great deal that's available for the entire two-day sale (and a great idea to gift to journalism-loving dads, photographers, and all others).
The Strategist is designed to surface the most useful, expert recommendations for things to buy across the vast e-commerce landscape. Some of our latest conquests include the best acne treatments, rolling luggage, pillows for side sleepers, natural anxiety remedies, and bath towels. We update links when possible, but note that deals can expire and all prices are subject to change.