Director Matthew Vaughn says he's grateful to be working alongside his wife, Claudia Schiffer.
The celebrity couple took to the red carpet in London at the world premiere of Vaughn's latest movie The King's Man, which the supermodel is an Executive Producer on.
"She's great — she does the costumes, the makeup," Vaughn told 9Honey Celebrity at the event on Monday evening (Tuesday morning AEDT).
READ MORE: Ralph Fiennes talks about getting in on the spy action in The King's Man
"She's my litmus test, she balances me out if sometimes I'm getting a little too crazy with some stupid ideas, she'll just rein me in.
"So, she's great."
The King's Man stars Ralph Fiennes, Rhys Ifans and Gemma Arterton and is set in the early 1900s, against the backdrop of WWI.
It tells how the alternative spy agency came to be and serves as a prequel to the two Kingsman movies, which starred Colin Firth and Taron Egerton.
The model and actress, who is perhaps best known for her cameos in Love Actually andZoolander, is also credited as a producer on the earlier films in the franchise.
RELATED: Claudia Schiffer was paid a crazy amount for her 60-second cameo in 'Love Actually'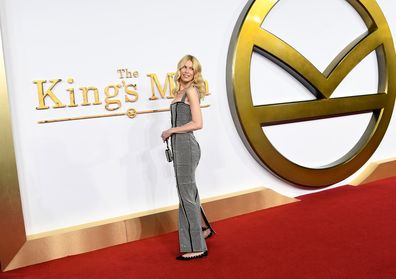 Also serving as an Executive Producer on this film is its main star — Fiennes.
"Matthew [Vaugh] very generously wanted to include me in ideas for the script and what ideas I might have to make it better and he was very open," the actor tells 9Honey Celebrity on the red carpet.
"I can't pretend I was a defining element in it but he definitely brought me, as he says, under the bonnet, under the car to tinker with the machinery."
And Vaughn tells 9Honey Celebrity there is plenty more Kingsman to come.
"We'd like to continue — here we can go through eight or nine decades of history and the history of espionage while doing modern Kingsman movies," he says.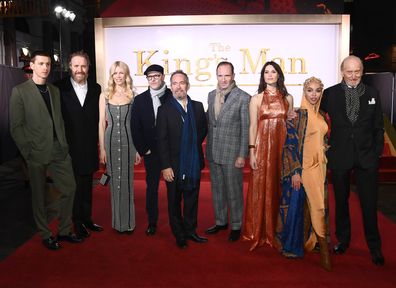 "They can both bounce off each other but be very separate."
The director says the original films and this prequel stand on their own, as they embark on building two separate universes for the spy agency.
"They unite and divide at the same time, shall we say."
Another movie in the original series has already been announced and was meant to film back-to-back after The King's Man but a global pandemic had other ideas — meaning fans will have to wait a little longer for the next instalment but Vaughn says it is happening.
"Because of lockdown we had to wait but we're hoping to shoot it next year," he tells 9Honey Celebrity.
The King's Man is out in cinemas across Australia on January 6.