Nov. 2021 Update: These are our latest favorite strappy heels for work… and don't forget classics like this Manolo style or these Valentino pumps…

Sure, we all know what basics professional women are supposed to have in their closets, but if you're buying one for the first time or replacing one you've worn into the ground, it can be a pain to find exactly the right incarnation in stores. In "The Hunt," we search the stores for a basic item that every woman should have.
I've said it before, I'll say it again: I find classic pumps challenging in tights (damn my narrow heels!). As the weather gets colder, though — particularly if you're commuting in rain boots or snow boots — tights become more practical.
My way of dealing with this has always been to keep strappy pumps at the office. They've become some of my favorite shoes over the years because I find them much easier to walk in.
We haven't talked about strappy pumps in almost a while, though, so let's discuss… Readers, what shoes do you wear with tights in the winter? Are you a fan of strappy pumps for this purpose — or do you prefer to wear booties and shooties? Bought any great ones recently?
This post contains affiliate links and Corporette® may earn commissions for purchases made through links in this post. For more details see here. Thank you so much for your support!
Our Latest Favorite Strappy Pumps for Work
Nov. 2021 Update: These are our latest favorite strappy heels for work… and don't forget classics like this Manolo style or these Valentino pumps…

Great Strappy Flats for Work
Use the arrows to see all of our latest favorite strappy flats as of 2021 — or click here to see recently-featured strappy flats. (Also this one!)

Psst: here are our favorite tights for work (just updated the post!).
Some Specific Strappy Pumps for Work We Love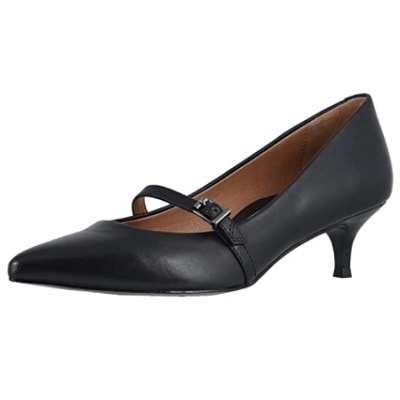 These low, affordable, comfortable heels from work only have a baby Mary Jane strap — but they could be just what you're looking for if you need a higher vamp. These shoes have been a reader favorite for years and years but are getting harder to find — right now Amazon has the biggest selection of colors and sizes, starting at $27. (Also keep an eye out for them on resale sites like eBay!)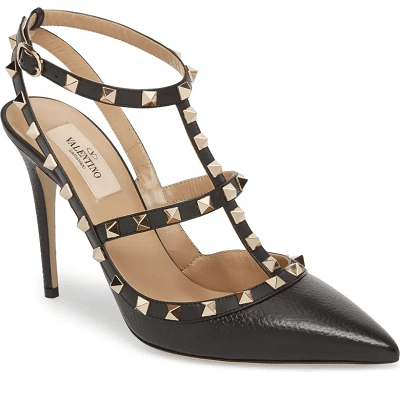 Valentino's Rockstud shoes have been around for years, and they're definitely distinctive, with a bit of a "tough girl" vibe. If that appeals to you, go for it — they're one of the most reliably stylish T-strap pumps with a closed toe. You can find them at any upscale department store (Nordstrom, Neiman Marcus, Saks) as well as on resale sites like eBay and Etsy.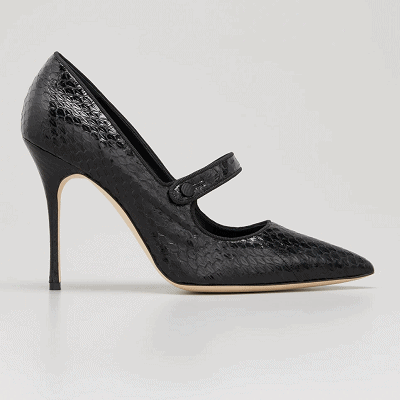 I think Manolo Blahnik's classic Mary Jane has been around since the earliest days of this blog — and it remains one of the most sophisticated iterations I've seen of the Mary Jane. It comes out in different colors and textures — keep an eye out at spots like Bergdorf Goodman, Nordstrom, and Net-a-Porter. (You can also sometimes find it at resale shops like eBay and Etsy!)
Like this feature? Check out other recent installments!