This delicious marinated goat cheese sits in sautéd garlic and onion, lemon rind, and fresh herbs. Use this marinated goat cheese over salads, on sandwiches or add it to your charcuterie board.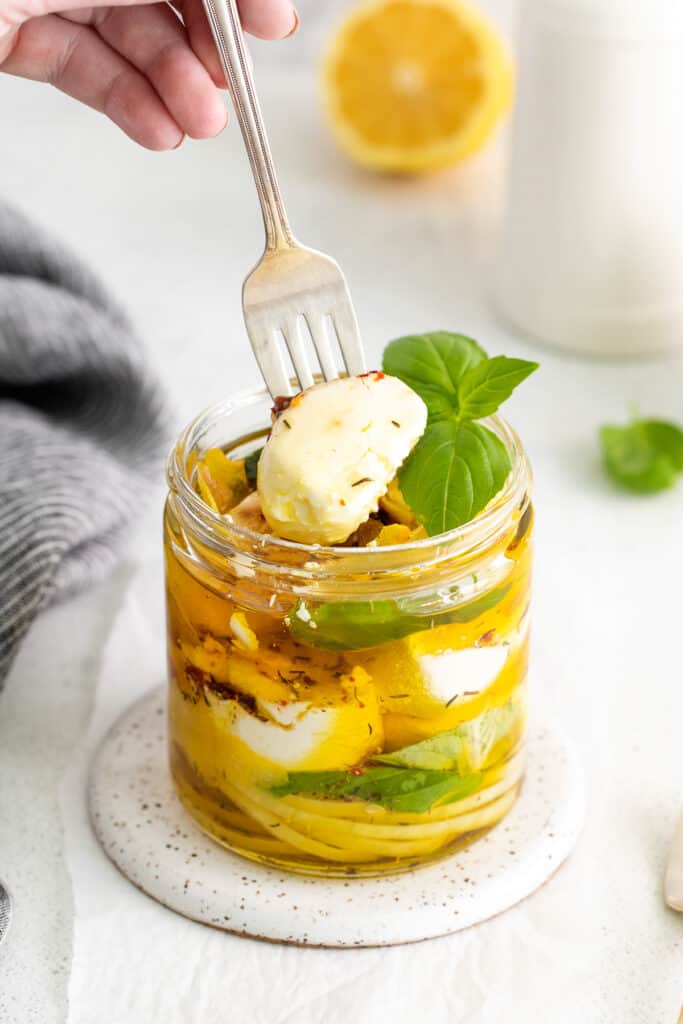 Flavorful Marinated Goat Cheese
What is better than creamy and delicious goat cheese? Marinated goat cheese. It doesn't take long to infuse your goat cheese with some extra flavor and oh baby, does this marinated goat cheese go with everything!
Why you'll love it!
Here are all the reasons you will love this marinated goat cheese.
It has great flavor and gets better the longer it sits. It lasts up to 5 days in the refrigerator.
You can use this marinated goat cheese many ways; on salads, in sandwiches, or served with crackers and fruit.
The oil that the goat cheese marinates in is tasty, too! Use that as a salad dressing.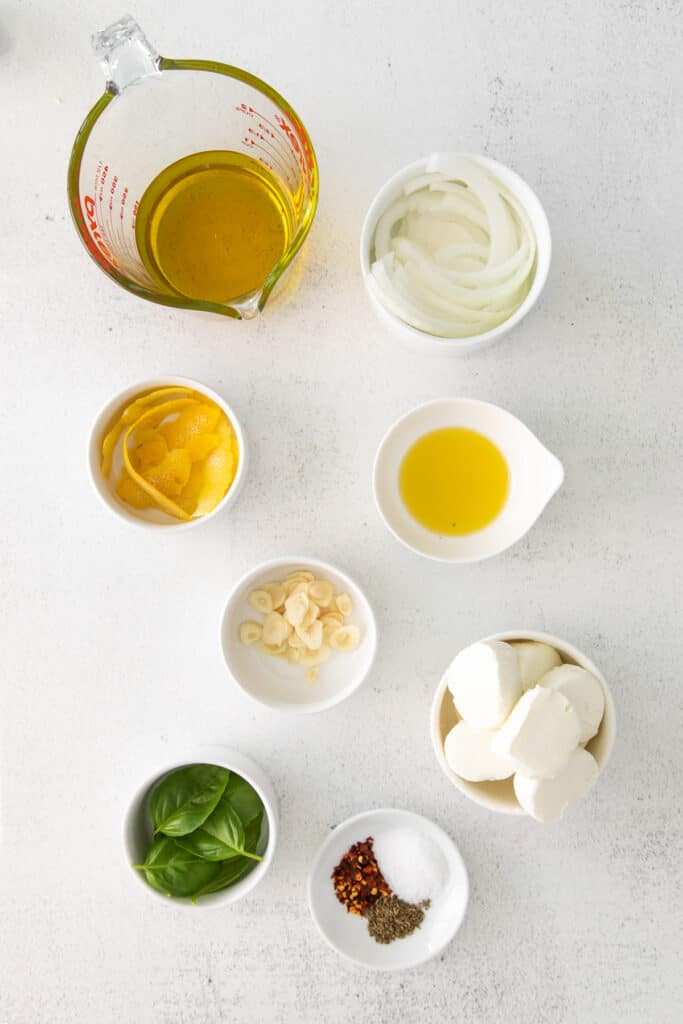 Featured Ingredients
Goat cheese: we recommend using a plain, higher quality goat cheese for this recipe. Whatever you do, be sure the goat cheese is cold when you more the marinade over the cheese.
Olive oil: just like the cheese, be sure you use olive oil that you like. Flavor matters. Taste test it before using.
Garlic + onion: the garlic and onion in the recipe are two very important ingredients to add a ton of flavor.
Spices: we do a mixture of red pepper flakes, salt, and dried thyme. Dried spices are packed with so much flavor and are great for marinades.
Fresh basil: the fresh basil in this recipe adds a fresh and flavorful punch.
Lemon rind: a hint of lemon goes so well with goat cheese, don't skip it.
don't have fresh basil?
You can use a variety of fresh herbs for this recipe if you can't find basil. We recommend using fresh thyme, rosemary, or you can really change up the flavor by using fresh tarragon.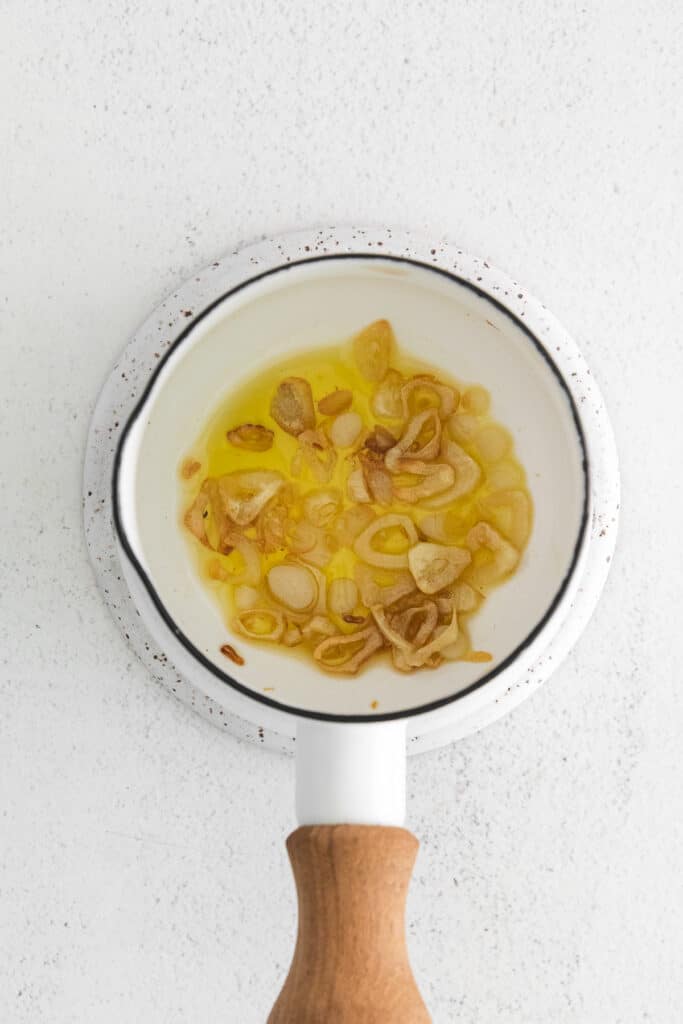 How to Make Marinated Goat Cheese
Sauté garlic + onion
One reason this marinated goat cheese is so flavorful is that we sauté the onion and the garlic in some olive to release the aromatics and the flavor. Sauté the two ingredients together until translucent but not too brown.
MAke Marinade
After the garlic and the onion have been sautéd, add the ingredients to a container with a pour spout (trust us, this makes adding everything into a jar so much easier) and then add the remaining olive oil to the garlic and onions.
Add the red pepper flakes, thyme, and remaining salt and whisk the ingredients together.
add ingredients to the jar
While the marinade is cooling, add the goat cheese, lemon rind, and basil to a large jar. Pour the olive oil and spices over the goat cheese and cover the jar. Flip the jar upside down once, but don't get to crazy or your goat cheese will start to fall apart.
let the goat cheese marinate
Place the goat cheese in the refrigerator for 1-3 hours and then enjoy. When you remove the goat cheese from the refrigerator you may need to let the olive oil come to room temperature.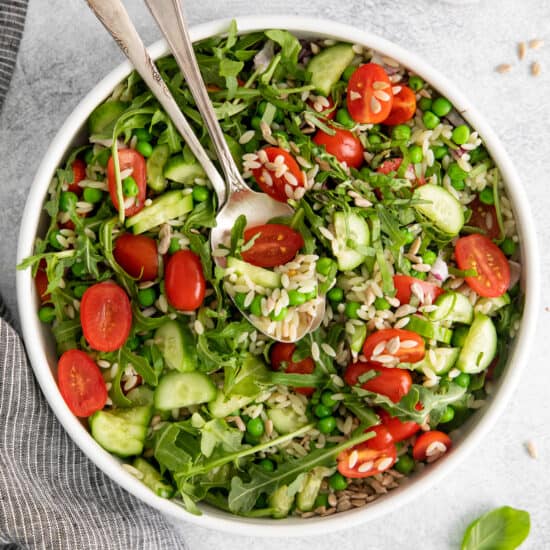 delicious
Lemon Orzo Salad
Crumble this marinated goat cheese over this delicious goat cheese lemon orzo salad. It is SO good.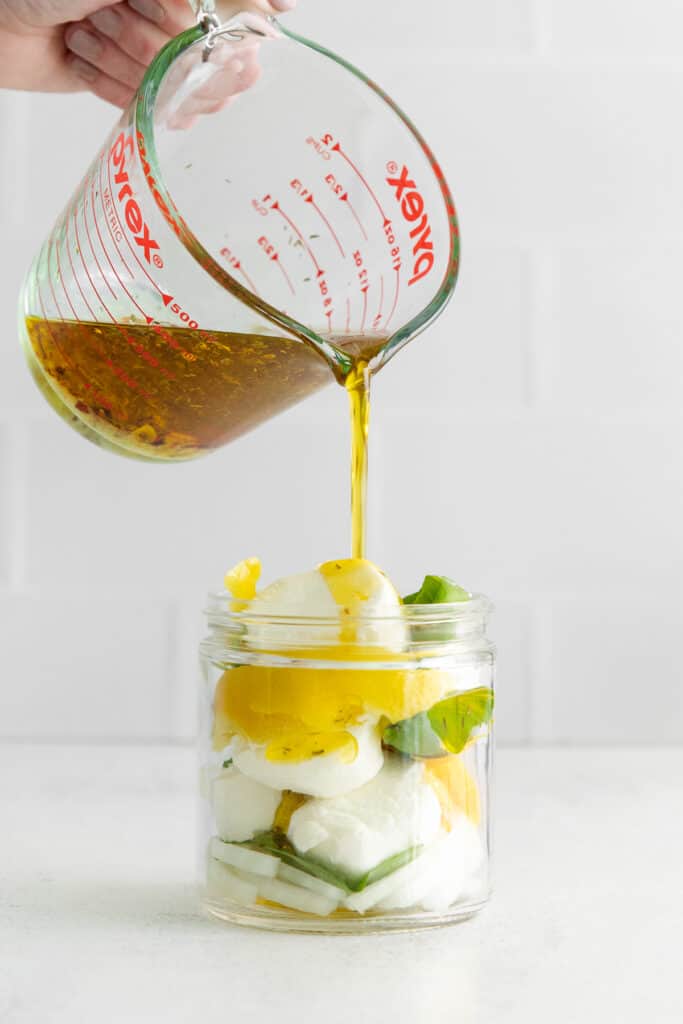 Top Tips for Marinated Goat Cheese
Make sure your goat cheese is cold when you place it in the jar or it will all clump together.
Be sure you use a jar with a cover so you can store it in the refrigerator without a mess.
You can always add ingredients to your marinated goat cheese to change the flavor. Sun dried tomatoes would be a nice add!
Goat Cheese Recipes
Just can't get enough goat cheese? Here are more delicious goat cheese recipes to get you hot and cheesy.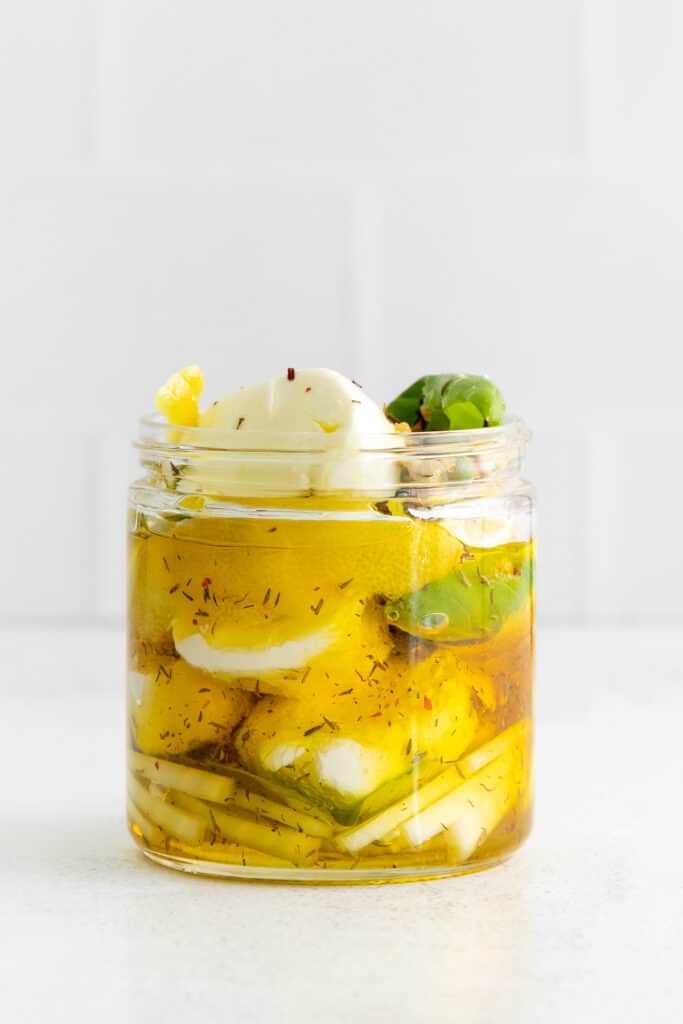 FAQ
How long can you keep marinated goats cheese?
We say that you can leave marinated goat cheese in the refrigerator for up to 5 days before it starts to get a little funky.
What flavors go well with goat cheese?
Many flavors go well with goat cheese. It all depends on what you are going for. Goat cheese goes well with fruit (especially figs) but also pairs great with citrus and spicy flavors.
What is the difference between feta and goats cheese?
Feta and goat cheese are two different cheeses with two different flavors. Goat cheese is made with goats milk and feta is generally made with sheep's milk.
Storage
Store this marinated goat cheese in an air tight container for up to 5 days.