Like many of us in lockdown, Dame Pat McGrath binge-watched Netflix's hit show Bridgerton. She fell in love with the fantasy, the diversity, the regality — and then she went and made all of our Regency era beauty dreams come true: she partnered up with Shondaland and Netflix and went and made a Bridgerton x Pat McGrath Labs makeup collection. Thats right, the most decadent show on television paired up with the most decadent cosmetics brand and created a dreamy four-piece limited-edition collection. "I'm so proud and honored to bring this to you along with Shondaland and Netflix," McGrath said on a Zoom call with beauty editors to announce the collection.
The legendary makeup artist was turned onto the show last Christmas, and the story of how she came onto the series is hilariously relatable. "I was watching a murder mystery, and I was just gripped by it. But my friend kept telling me, 'Pat, I'm watching Bridgerton. You need to stop it and start watching something more uplifting. Come to Grosvernor Square.' So I click over and, Oh! The wisteria, the richness, the regality, the beauty. I was completely taken away by the divinity of the show. I was swept away and got lost," McGrath said.
The thing is, McGrath has long been obsessed with the beauty and lavishness of Regency era England, taking inspiration from the period for both runway shows at Fashion Week and editorial photo shoots in magazines. Many of her fantastical makeup looks for Christian Dior in the early 2000s referenced the Regency Era with tea-stained eyeshadow, blown-out blusher, and immaculate skin; and she explained that she's used all of the colors featured in the collection for decades. It's just one of the reasons that this pairing makes so much sense.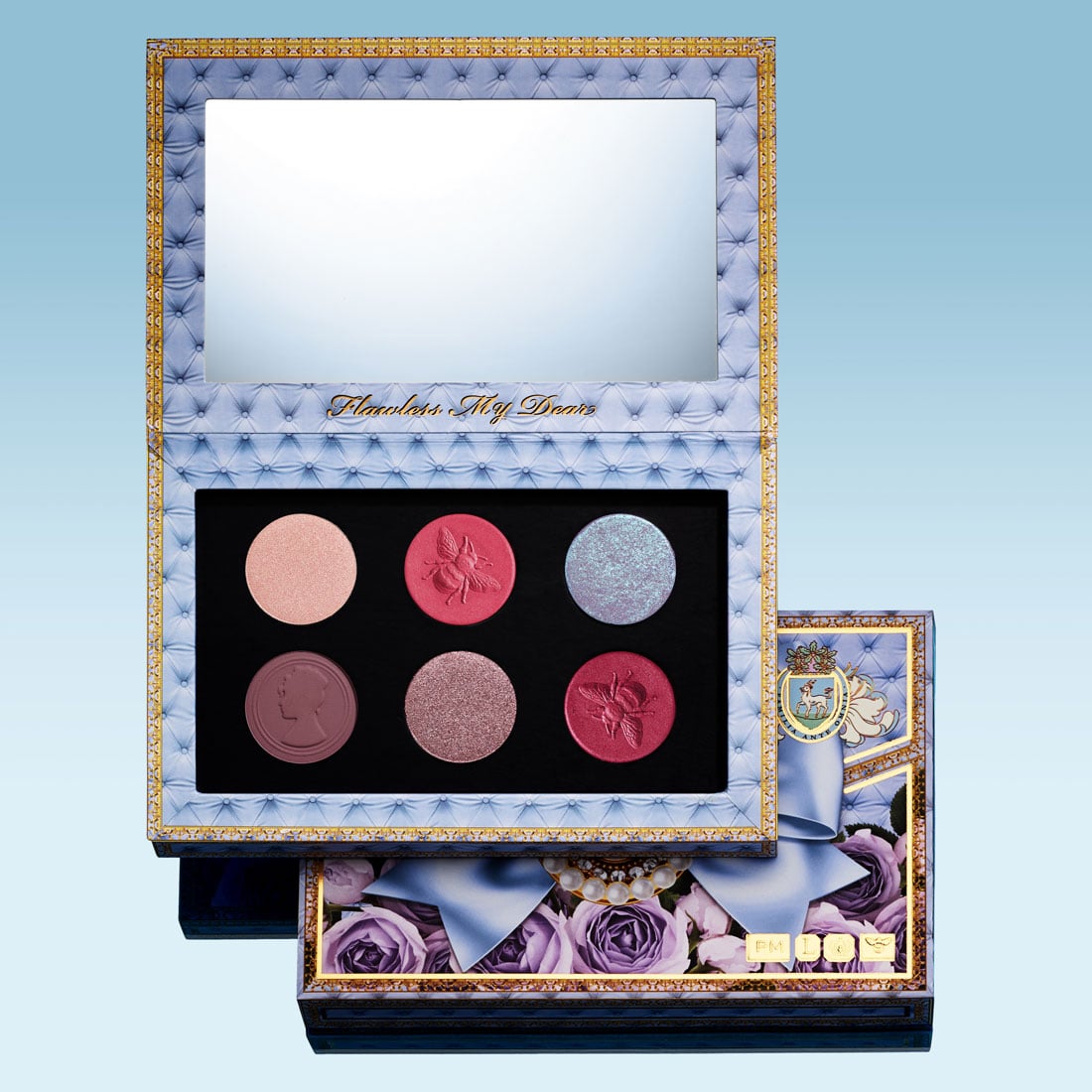 Another reason is the fact that both McGrath and Bridgerton producer Shonda Rhimes have both been champions of bringing more inclusivity to their respected art forms. When talking about the show, McGrath was quick to acknowledge the importance of Bridgerton's diverse cast. "What I will say about the Shonda Rhimes series is that the modernity and the diversity — that's what I was completely obsessed with. You know, it was a real honor to see the Regency era with that modern twist and that's what's needed. And it brought so much joy."
So how did McGrath translate Bridgerton's Regency-era fashion and beauty into a makeup range that people could wear in 2021? Through a new Mthrshp Eye Shadow Palette that contains colors that can go from "natural to sublime and subversive," a Divine Blush + Glow Triofeaturing the brand's bestselling blush formula, and two gold-toned Skin Fetish highlighters, all wrapped up in lavish packaging covered in depictions of satin bows, plush cushions, and strands of pearls.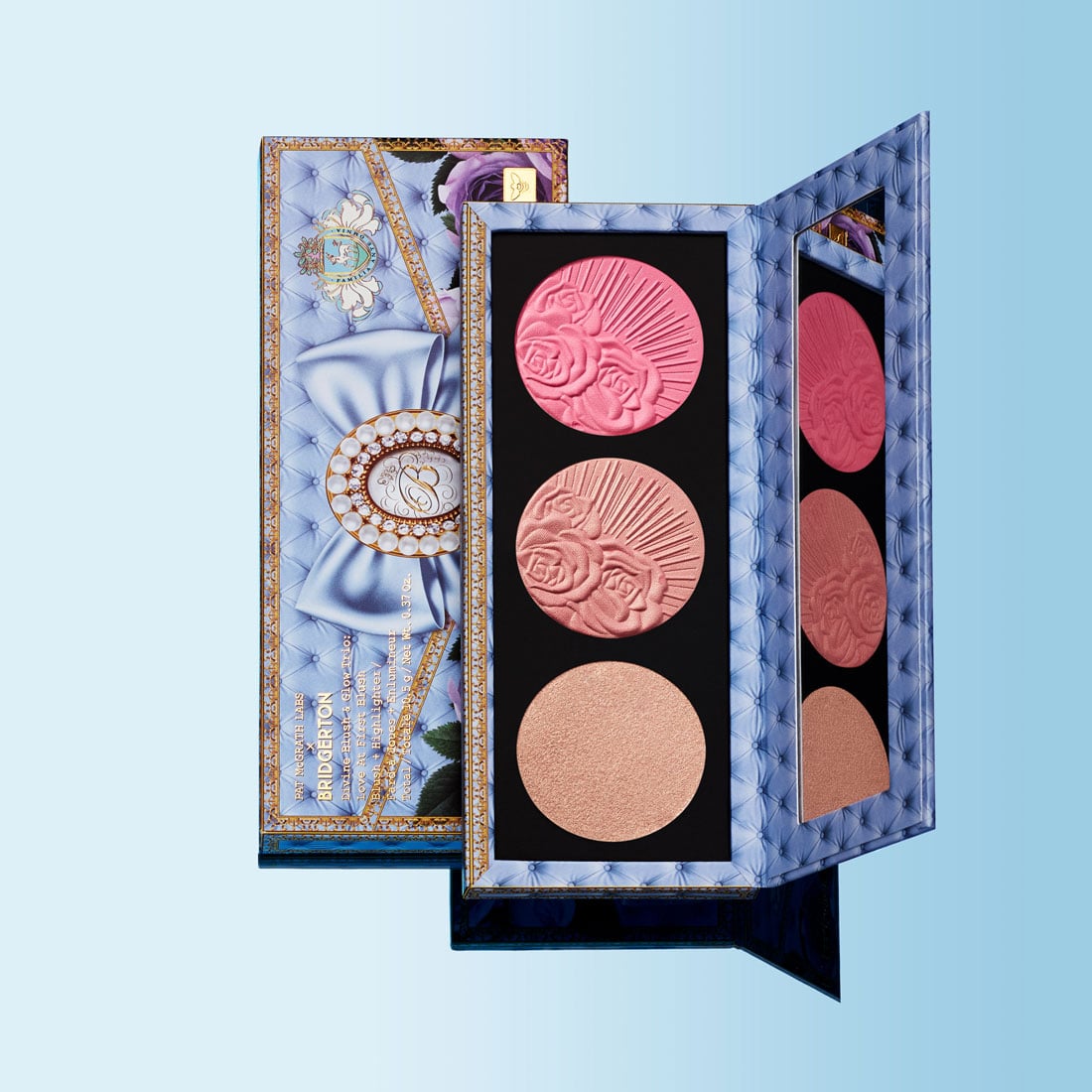 Whilst the entire collection is spectacular and full of all-new shades for the brand, there are a few standouts. The Mthrshp: Diamond of the First Water Palette, which is named after the first episode of season one, contains a new formula that McGrath has named "eye blusher", as the creamy, pink-tinged powders can be used on eyes, cheeks, and lips. The innovative formula is inspired by a product McGrath has had in her kits for years and kept secret until now. The palette also includes a pale-blue version of McGrath's prismatic Astral shadow formula aptly called Regency Blue. The Skin Fetish: Sublime Highlighter in Incandescent Gold 002 is a sparkling platinum color that is a first for Pat McGrath Labs, whilst the Xtreme Gold 002 is highly reminiscent of McGrath's first-ever product, the Gold 001 pigment, launched back in 2015.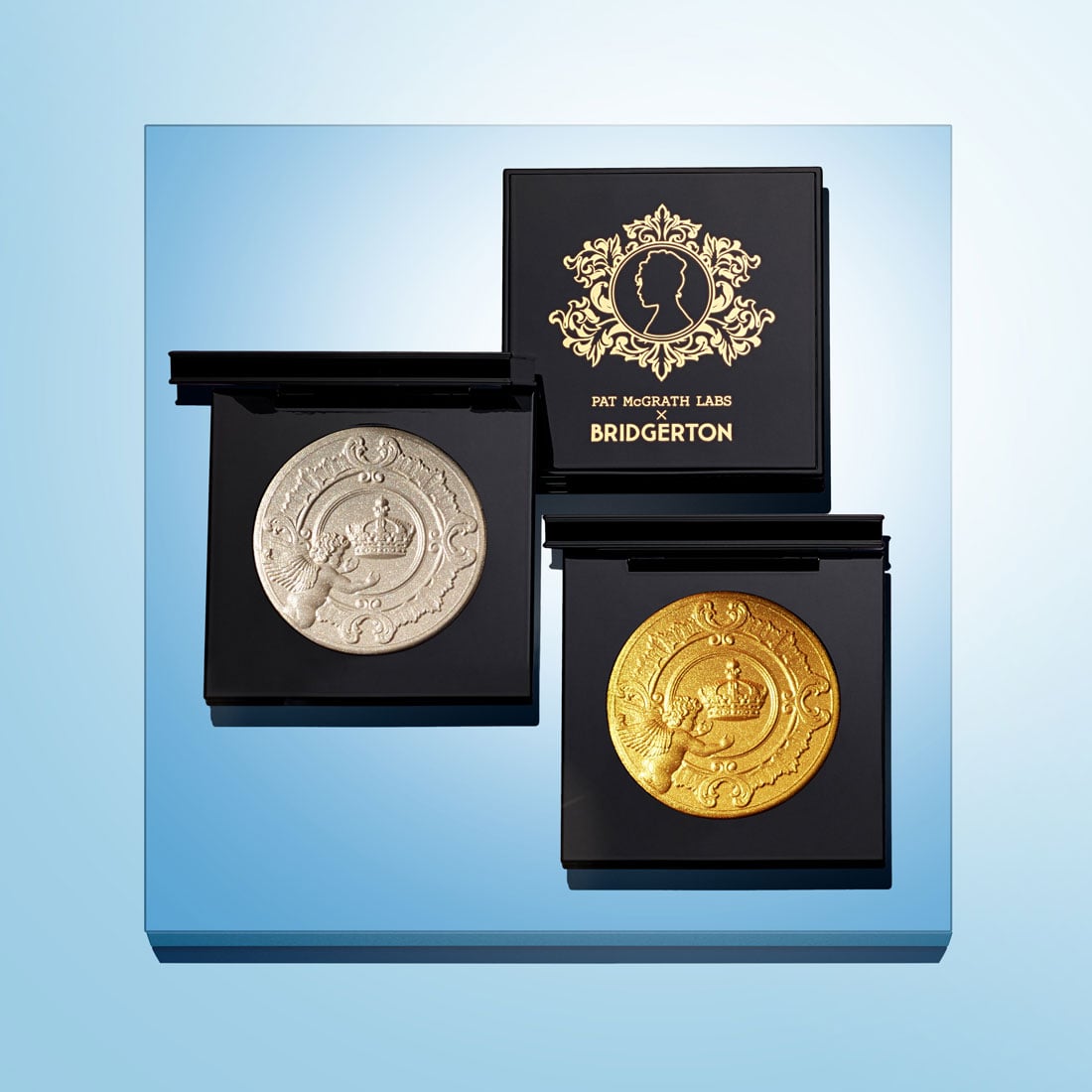 Like a majority of products in Pat McGrath's range, every shade in the Bridgerton x Pat McGrath Labs collection can be used in a variety of ways. The eyeshadows can be worn on the lids, cheeks, and lips. The blushers can also go on the lids and lips (McGrath recommends layering a clear gloss on top for an ombré effect), whilst a highlighter can go on the cheekbones and also on the shoulders — or be worn as a lipstick "for the daring", McGrath mused.
McGrath has a habit of secretly introducing her new products to the world without any of us the wiser. In the case of the Bridgerton collection, the makeup artist teased the products first on British Vogue's January cover featuring supermodel Kristen McMenamy, and then last month on Cardi B at the American Music Awards. "Cardi really threw down for us — like she always does," McGrath laughed.
The limited-edition Pat McGrath Labs x Bridgerton collection is a one-time drop that launches exclusively on Dec. 26 at patmcgrath.com — so we suggest setting yourself a diary reminder if you want to get your hands on the blusher trio or that mesmerizing Astra Blue shadow before they inevitably sell out.