Nyokabi Kariũki has announced her debut full-length, FEELING BODY, which is due for release on March 3 via New York's cmntx records. Today, the Kenyan composer and sound artist has previewed the LP with the new single 'Nazama'. Check it out below and scroll down for FEELING BODY's cover artwork (by Serena Seshadr) and tracklist.
Following her 2022 debut EP peace places: kenyan memories, the new album draws from Kariũki's experience of living with long-COVID for a significant part of 2021. "There's a trauma of illness that remains within you, both in the physical places that it existed; and in the mind," she said in a statement. 'Nazama', which means "to sink" in Swahili, concludes the record by confirming Kariũki's recovery.
"There is a lot to say about being sick, about being sick during a pandemic; about how the world treats you if you are sick for longer than 'just a cold'," she added. "But, I am ever in awe of our bodies, and how they keep going, despite and in spite of all the pain we go through in life. In a way, this album is an expression of love, and gratitude, to my own."
Check out our Artist Spotlight interview with Nyokabi Kariũki.
FEELING BODY Cover Artwork: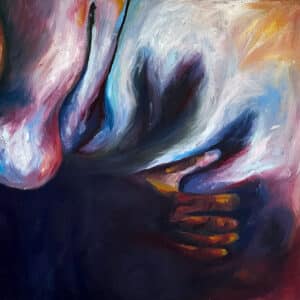 FEELING BODY Tracklist:
1. Subira
2. feeling body
3. fire head
4. quiet face
5. folds
6. Nazama