Notice
: Undefined index: in
/home/eurozine/www/wp-content/themes/eurozine-theme/single-post.php
on line
98
Notice: Undefined index: in /home/eurozine/www/wp-content/themes/eurozine-theme/single-post.php on line 99
Depuis le référendum d'indépendance de l'Ukraine en 1991, le pays a connu son lot de hauts et de bas. Au cours des trente dernières années, les artistes ukrainiens ont exploré les questions d'identité parmi les ruines de l'utopie, mais n'ont été reconnus que récemment.
Published 20 December 2021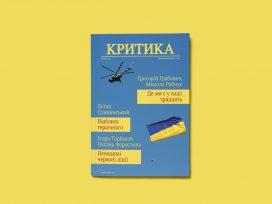 In an issue of 'Krytyka' on Ukrainian independence: a catalogue of errors from Kuchma to Zelensky; a personal history of freedom formed; and seismic shifts in the Kremlin's symbolic geography.