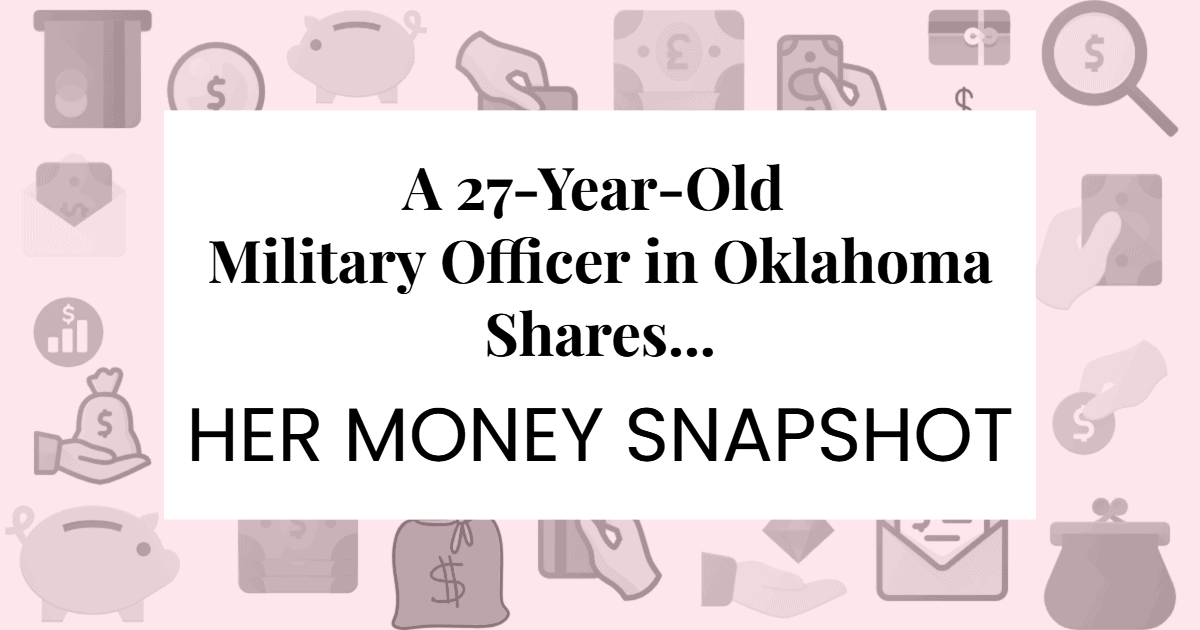 For today's Money Snapshot, we're talking salary, net worth, debt, and more with reader T in Oklahoma, who works as a military officer. She noted, "The military paid for my college, based on my commitment to serve after school, and they've paid for most of my master's degree. It really has set me up to be financially successful."
We got a few requests from readers to launch our own "money diary" series, so we've asked willing readers to fill out a form with lots of details about debt, spending, saving, and more! If you'd like to fill out the form and be considered for a future personal money snapshot, please click here to submit your response! You can see a PDF of the questions if you want to review them ahead of time. See others in the Personal Money Snapshot series here.
Please remember that this is is a real person who has feelings and isn't gaining anything from this, unlike your usual friendly (soul-deadened, thick-skinned, cold-hearted, money-grubbing) blogger — so please be kind with any comments. Thank you! — Kat
Name: T
Location: Oklahoma, LCOL area
Age: 27
Occupation: Military officer
Income: $92,000
Net worth: $175,000
Net worth when started working: $5,000 at 22
Living situation: Rent, $850/month
Debt
How much debt do you have currently?
$25,000
What does your debt picture look like?
$22,000 is a car with 0% financing. I pay $600 a month. Then I've got a credit card with 0% interest that I used to purchase a home gym. It'll be paid off before the no-interest period ends.
How much money are you spending each month to pay down debt?
$850
How did you pay for school?
The military paid for my college, based on my commitment to serve after school, and they've paid for most of my master's degree. It really has set me up to be financially successful. I also received academic scholarships.
Do you own or rent? How much do you pay monthly?
Rent, $850
Home debt: Share your theories and strategies with us (including any that lead you to rent rather than own). 
I hope to own someday. But I'm not in a place where I'm settled yet.
Have you paid off any major debt? 
I haven't any major debts.
Savings, Investments & Retirement 
How much do you save each month or year in retirement vehicles like 401Ks, Roth IRAs, and others?
$1,550 to my TSP [Thrift Savings Plan] and $500 to my IRA. It's not enough to max my TSP, but close enough for me.
How much money do you allocate to other tax-savvy investments/accounts like HSAs, 529s, FSAs, and others?
I don't have access to an FSA or HSA. I do have a 529, but I don't pay state taxes so it doesn't help for taxes.
How much do you save outside of retirement accounts?
$200 to a separate brokerage, $300 to a travel fund, $200 to an emergency fund, and $200 to a home savings fund.
Talk to us about investments. Do you have/use a financial adviser or planner?
All stocks, through Vanguard.
Do you have an end goal for saving or are you just saving for a rainy day?
I'd like to retire early, but I'm 27 so there's a million things that could happen between then and now.
When did you start saving seriously? How has your savings strategy changed over the years?
I've always been a saver so as soon as I started really working I made it a priority.
What's the #1 thing you're doing to save money, limit spending, or live frugally?
I'm a fairly simple person. I work a lot and I'm not much of a partier or someone who goes out often.
Do you have an estate plan in place? A trust? 
I don't. I have a general will because of the military but my parents and younger sister would get everything.
How much do you have in cash that's available today?
$500
How much do you have in cash that's available in a week? 
$10,000
How much is in your "emergency fund," and did you include it in the previous question?
$4,000; yes
How much do you have in retirement savings?
$175,000
How much do you have in long-term investments and savings (CDs, index funds, stocks) that are not behind a retirement wall?
$25,000
If property values (home, car) are included in your net worth, how much are those worth?
My car is worth $30,000.
Spending 
How much do you spend on the following categories on a monthly basis?
Groceries: $200
Restaurants, bars, takeout, and delivery: $100
Clothing and accessories: $25
Transportation: $750
Rent/living expenses: $850 rent
Entertainment: $100
Other major expenses: My dog is budgeted about $250 a month.
Health care – premiums and other costs: $0
What's your spending range for these things? What's your average?
Vacations – Range: $400–$2,500
Vacations – Average: $1,500
Individual items of clothing – Range: $10–$150
Individual items of clothing – Average: No idea. I wear a uniform five days a week.
Any other large personal expenses?
I save a lot. $2,100 to retirement, $200 to brokerage, $700 to general savings
Fill in the blank on this question: I could save _____ if I stopped ______, but I don't because _______.
$50 a month if I stopped getting takeout coffee, but I don't because I enjoy it and I have the money.
How has your family provided financial support in your adult life, if any? (Or, do you provide support to them?)
They paid for my car insurance and phone bill while I was in college.
Money Strategy 
Do you have a general money strategy?
It's just to save what I can.
Time vs. money — do you spend money to save time (e.g., cleaning service)? Do you donate your time instead of money? What else does this phrase mean to you?
I don't yet, but I want to start.
What are your favorite resources for personal finance?
I'm a fan of some of the Reddit personal finance subs and the Money Diaries series.
What advice would you give your younger self about personal finance?
Just keep on keeping on.
Icons via Stencil.