Hailey Bieber turned 26 last week, and before heading out to celebrate, she shared a TikTok video demonstrating how to achieve her birthday makeup.
The final look was a perfect combination of soft and subtle glam.
Our editor tried re-creating Bieber's routine at home. Keep reading to see her results.
Hailey Bieber recently turned 26, and before spending the night celebrating in Tokyo, she gifted the whole world a TikTok video showcasing exactly how she achieved her flawless birthday makeup. I'm a big Bieber fan (maybe the biggest), and if you know me IRL, you know I love re-creating everything from her outfits to her hairstyles. A few months ago, I learned how to do her signature makeup look (thanks to a tutorial from Bieber herself). So when I saw her final birthday look, I immediately knew I needed to try it out for myself.
First, I turned on "Rich Flex" by Drake and 21 Savage to truly immerse myself in Bieber's experience. Then, to prep my skin, I followed in Bieber's footsteps and started out by using the Rhode Peptide Glazing Fluid ($29) and following up with the Rhode Barrier Restore Cream ($29). Bieber is a big fan of mixing the Peptide Glazing Fluid with makeup products, so when I saw her add a small amount to the Chanel Ultra Le Teint Ultrawear All-Day Comfort Flawless Finish Foundation ($60) before applying it to her face and neck with her hands, I didn't hesitate to follow suit. After blending everything out with a foundation brush, I used the Kosas Revealer Super Creamy + Brightening Concealer ($28) under my eyes and on the center of my chin. Next, I blended everything out with the Hourglass Veil Powder Brush ($65) and a beauty blender, and then I went in with a spoolie to brush up my eyebrows.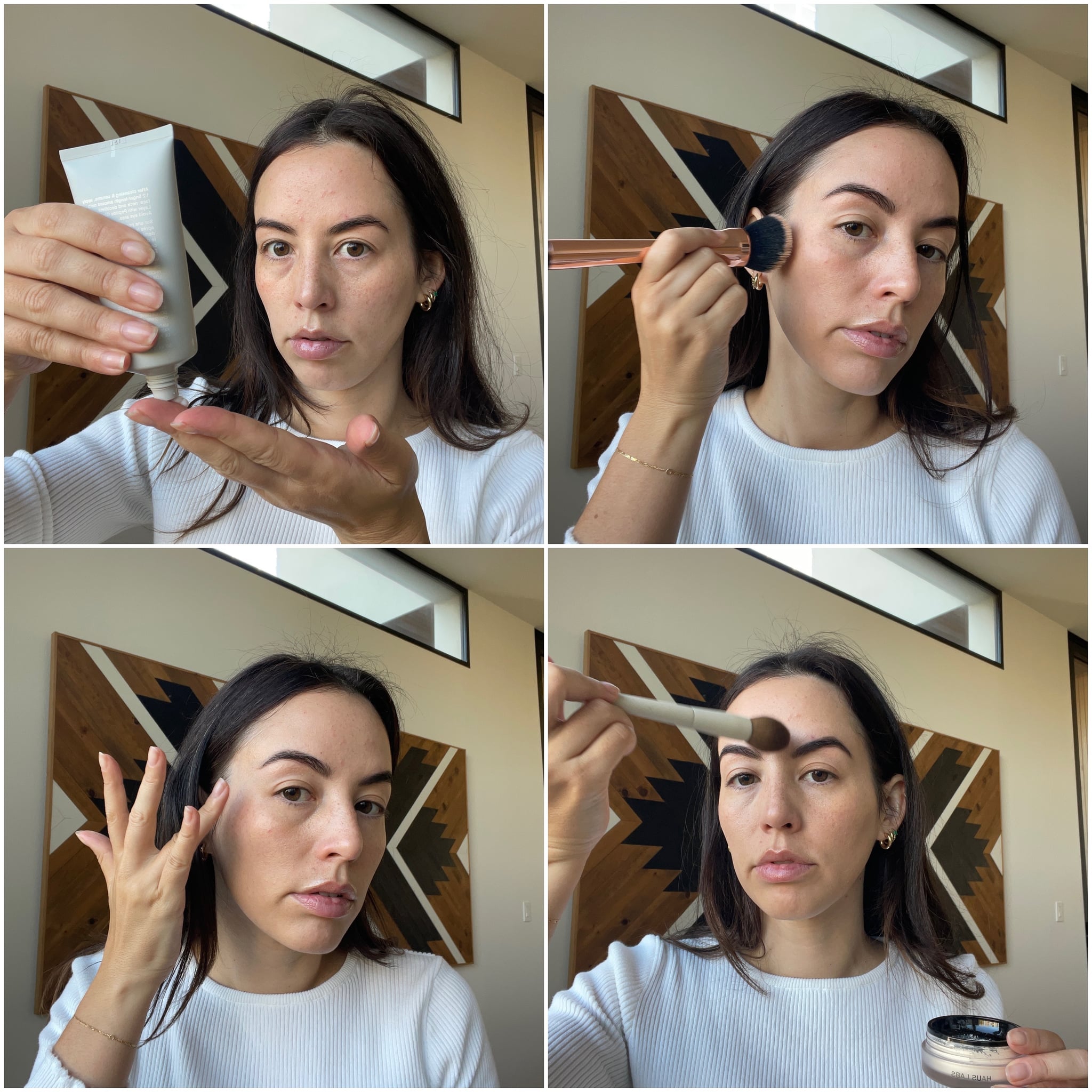 Image Source: POPSUGAR Photography / Renee Rodriguez
Bieber then used the Kylie Cosmetics Lip & Cheek Glow Balm in Pink Me Up ($17) on her cheeks and nose, but unfortunately, I wasn't able to get my hands on the same product, so I used a similar pink shade from the Makeup Forever Ultra HD Face Essentials Palette ($85). After blending everything out with a blush brush, I used the Haus Labs Bio-Blurring Talc-Free Loose Setting Powder ($38) to set the area between my eyebrows and the center of my chin. Next, Bieber used the Make Beauty Heat Stroke Dewy Gel Cheek Tint in Toasted ($30) to add a bit of color to her lids, but the closest product I had at home was the Merit Bronze Balm Sheer Sculpting Bronzer ($30), which, in my opinion, gave me essentially the same look.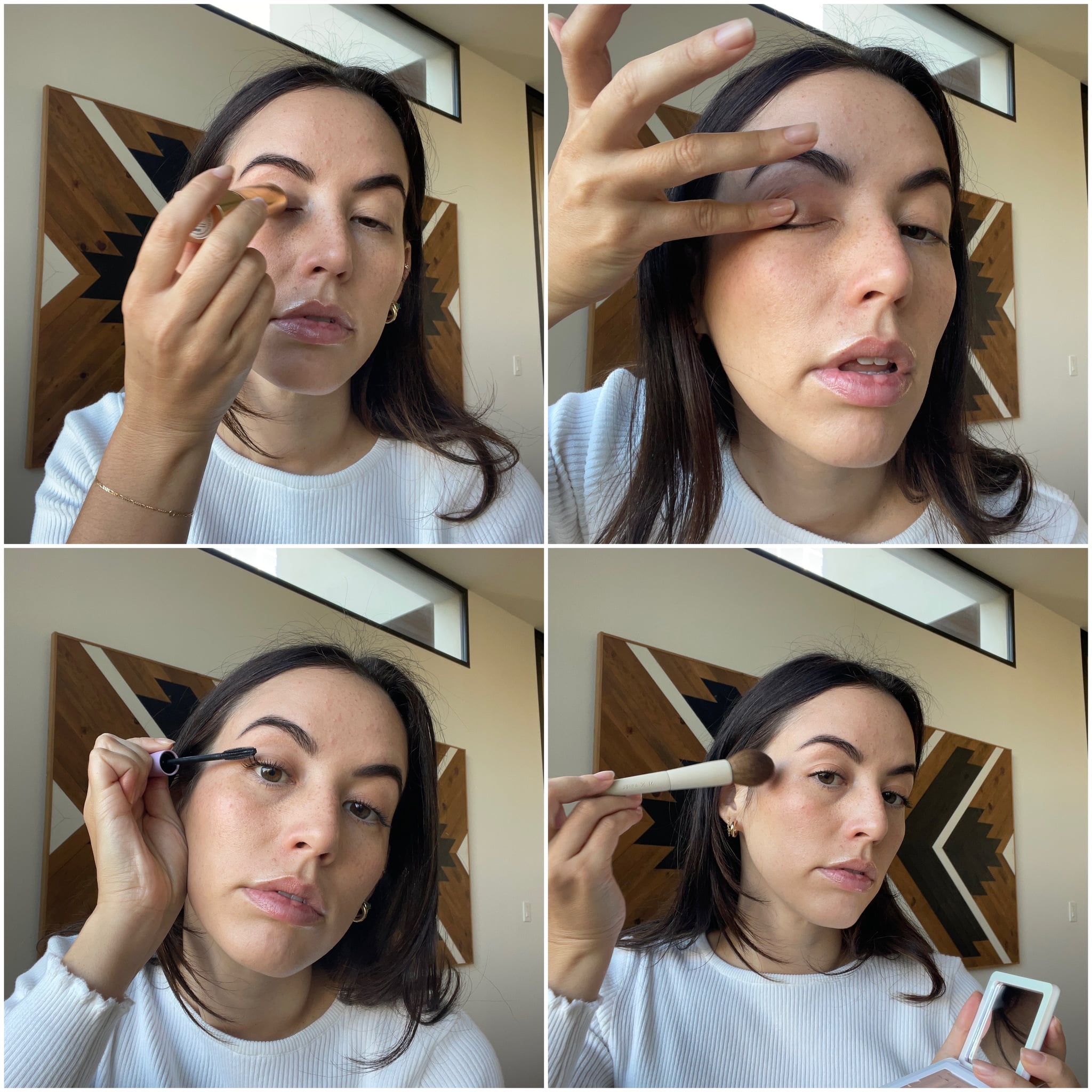 Image Source: POPSUGAR Photography / Renee Rodriguez
Bieber then grabbed the Pat McGrath Labs Mothership VII Eyeshadow Palette ($128) and used a chestnut-brown shade again over her lids before layering a sparkly champagne shade on top, which I mimicked at home. Next, it was time for eyelash curling and mascara — Bieber used the Milk Makeup Kush High Volumizing Mascara ($26), but instead I went with one of my tried and true favorites, the Tower28 MakeWaves Mascara ($20). After applying the Haus Labs Bio-Radiant Gel-Powder Highlighter with Fermented Arnica ($40) to the high points of my cheeks, both Bieber and I finished everything off by lining our lips with the Tower 28 OneLiner Multi-Liner in Draw Me ($15) and then filling everything in with the Pat McGrath Labs Matte Trance Lipstick in Christy ($39).
After putting her hair up in an effortless '90s-style updo and going over the front pieces of her hair with the Dyson Corrale ($499) — which I totally copied as well — Bieber put the finishing touch on her makeup look by adding a layer of the Rhode Peptide Lip Treatment ($16). I'm a big fan of the product, so layering it on top of my lips was a no-brainer.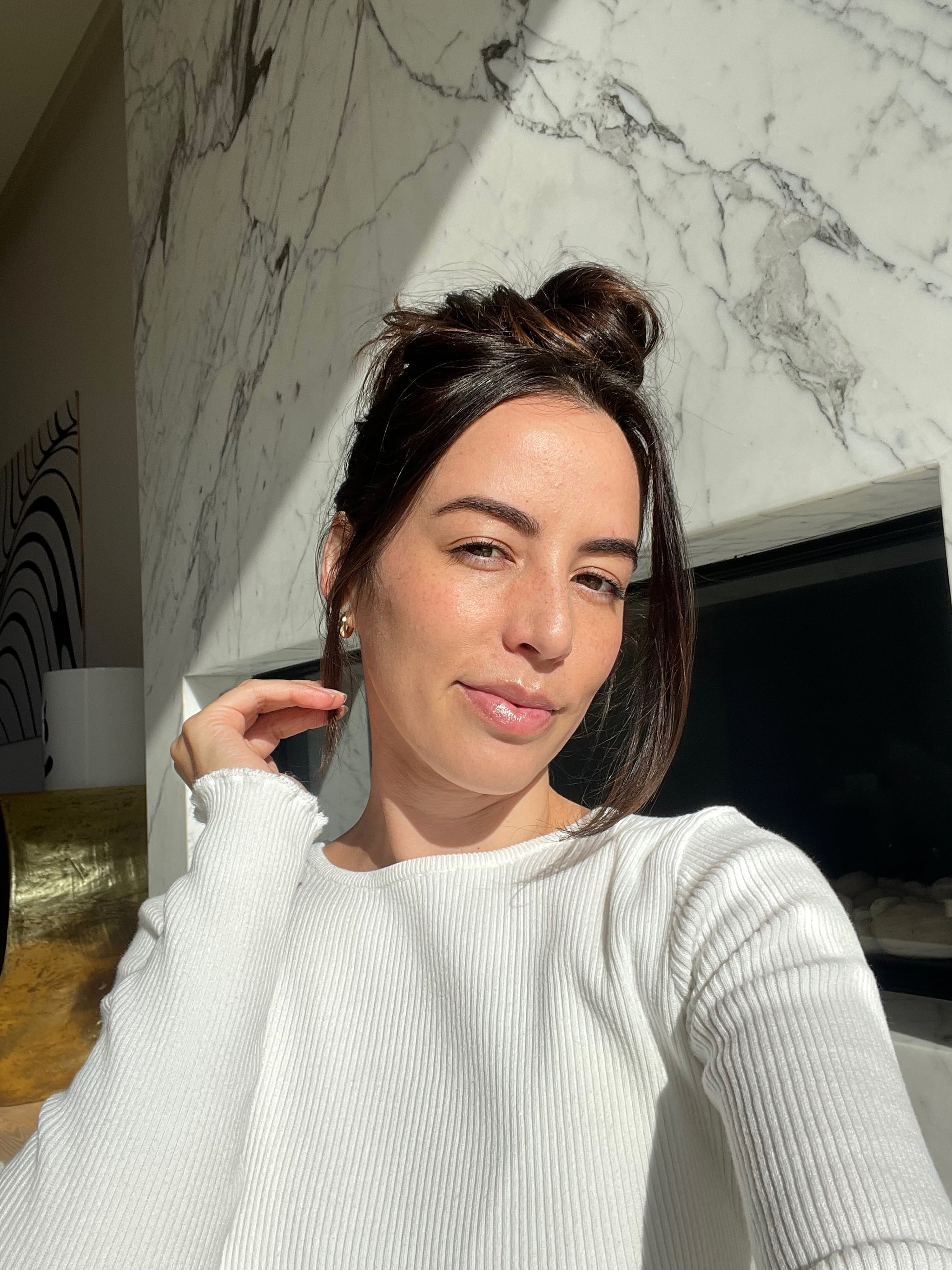 Image Source: POPSUGAR Photography / Renee Rodriguez
The final look was a glossy, glazed, sparkly masterpiece, if I do say so myself. While I don't see myself wearing this look every day, it's an easy way to look glam without going overboard, and I fully plan on wearing it on future nights out.