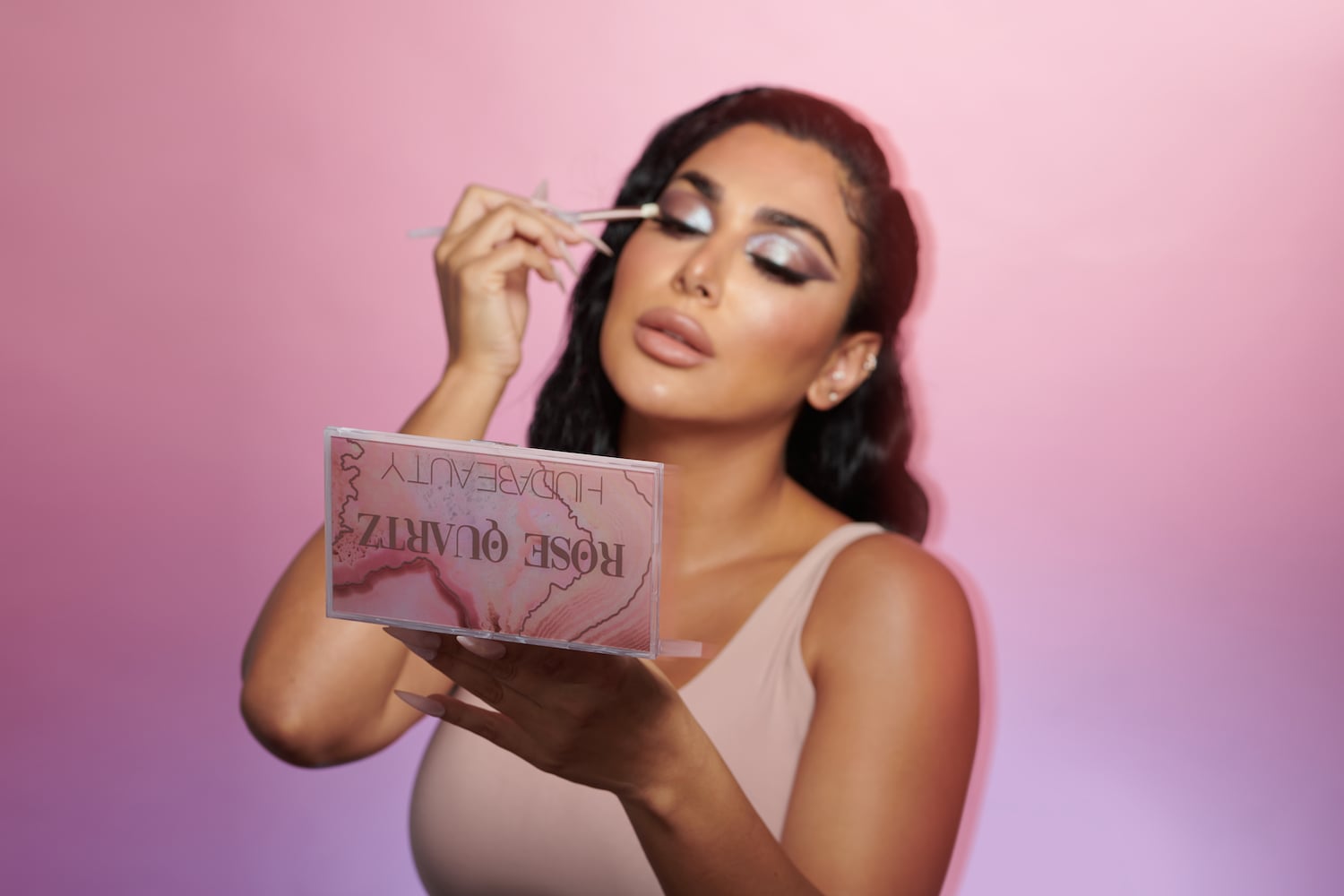 Image Source: Huda Beauty
I made a promise to myself at the start of the year that I would slow down on my ever-growing collection of eyeshadow palettes (though, how many palettes is too many palettes, really?). However, when I saw the new Huda Beauty Rose Quartz Palette ($67), I immediately forgot my New Year's resolution and added it to my stash. The thing is, I've felt very uninspired by the shadow palettes that launched in 2021; so many looked nearly identical to ones I already own. But I can always count on Huda Beauty to come out with a palette that stands out from the rest with unique shades and innovative textures (just take the brand's Mercury Retrograde Eyeshadow Palette, which I'm quite fond of, for example), and this new addition is no different.
The Rose Quartz Palette was inspired by founder Huda Kattan's favorite healing crystal, the rose quartz, which is known as the "love stone" for its purported ability to strengthen relationships (with ourselves and others), ease tension and anxiety, and instill compassion. According to the press release for the launch, Kattan "fell in love with the crystal as it carries a soft energy of compassion and peace, and she found that over the years it has helped her recharge, refocus, and find her way in a powerful journey of self-love."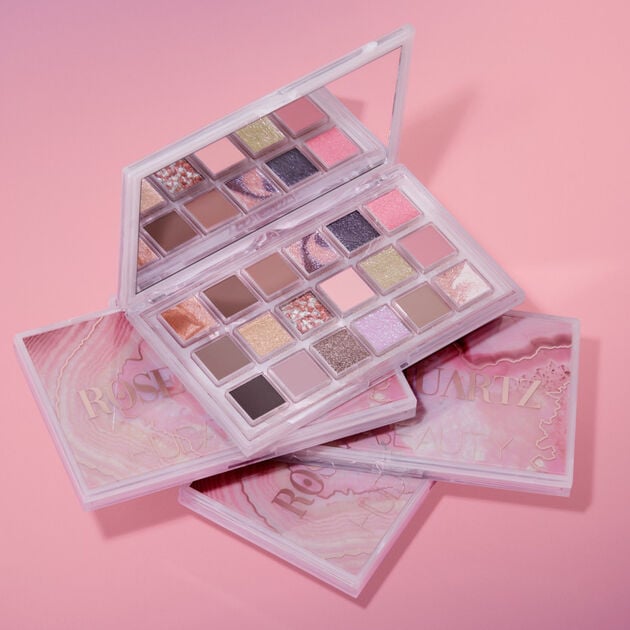 Image Source: Huda Beauty
Kattan created the Rose Quartz Palette in hopes of not only offering makeup lovers a selection of beautiful, tranquil eyeshadow colors, but also sparking conversations about the importance of self-love with her fans and followers. Everything about the palette embodies the rose quartz stone, from the packaging (which looks like the inside of crystal that's been cut in half), the shades (which, in addition to various versions of rosy pink, include other gem-inspired hues), and shade names like Mantra, Empowered, and Gratitude, which are words usually associated with crystal-healing sessions (I say that as someone who also has their own collection of crystals).
When I first got my hands on the palette, I was instantly impressed by the uniqueness of each of the 18 shades. As someone who owns over 40+ eyeshadow palettes (yes, you read that number correctly), it's not unheard of for me to own palettes that look eerily similar. However, the variety of shades and finishes in the Rose Quartz Palette are different to anything I currently own. Because of that, I found the process of picking what look to create each day really exciting. I'm very much into sticking with what I know and love, but with the Rose Quartz Palette I couldn't have been more eager to try out each and every shade.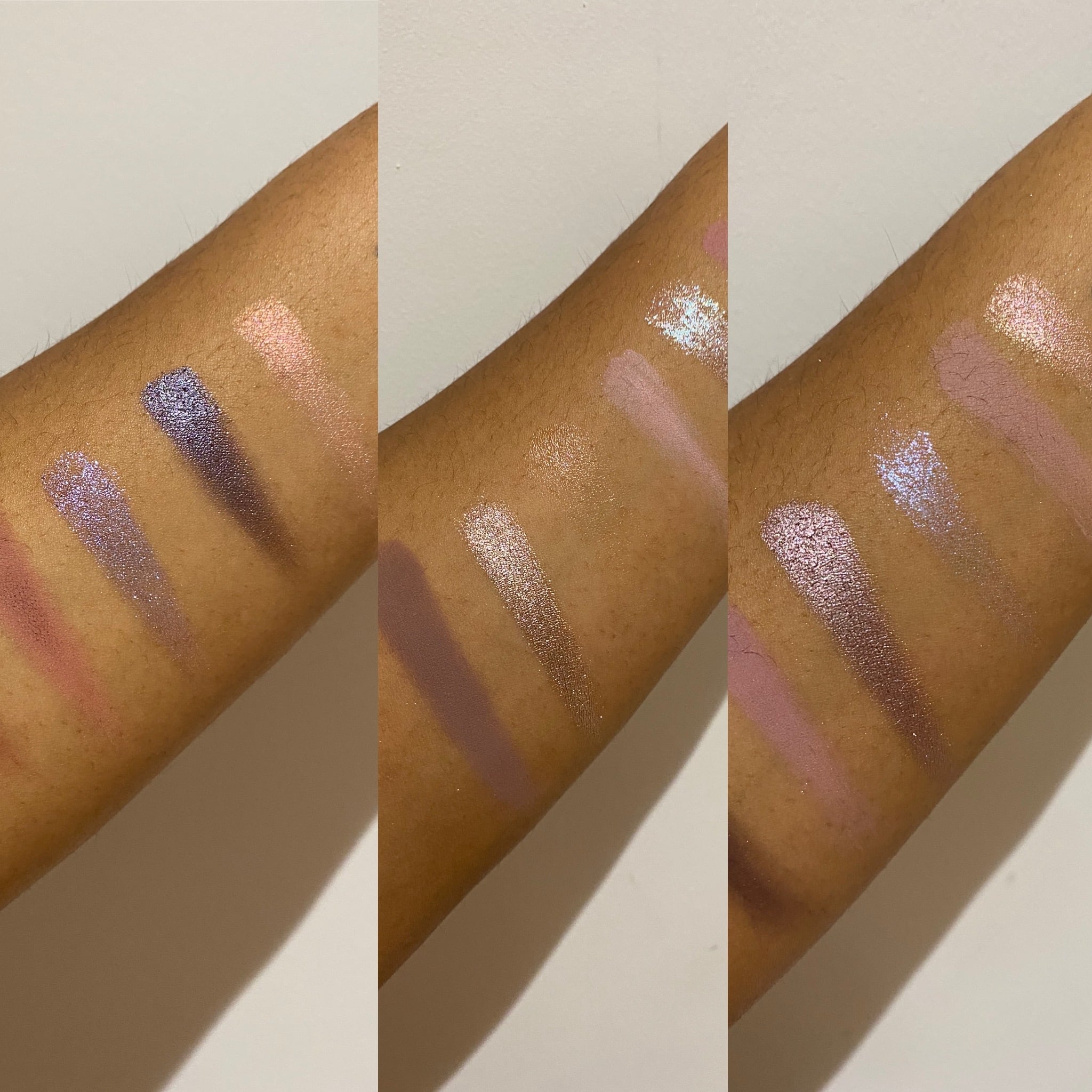 Image Source: Vanese Maddix
The Rose Quartz Palette includes a variety of finishes. There are eight matte shades, including Gratitude, which is a velvety rosy brown, and Serendipity, a soft mulberry — two colors I find myself using often. Both shades are dream to use as the velvety texture makes the blending process super easy. For my usual day look, I prime my eyelids, blend out one of the matte shades, and then finish off with a sparkly shade like Cosmic Love, which is a galactic purple that is saturated with pearlescent shimmer. (This shade in particular reminds me of the futuristic colors featured in the Huda Beauty Mercury Retrograde Palette.)
Image Source: Vanese Maddix
Cosmic Love is one of three "quartz-inspired multi-shimmer marble creams" in the palette, the other two being Quartz, a combination of taupe and pale pink, and Self Love, a tawny rose swirled together with frosty white. Whilst each shade is made up of a multiple different hues, none of them come out muddy on the skin. I was also happily surprised to find with Self Love, the palest shade, I could apply straight onto my lid after priming as the frosty white is similar to my usual base colors.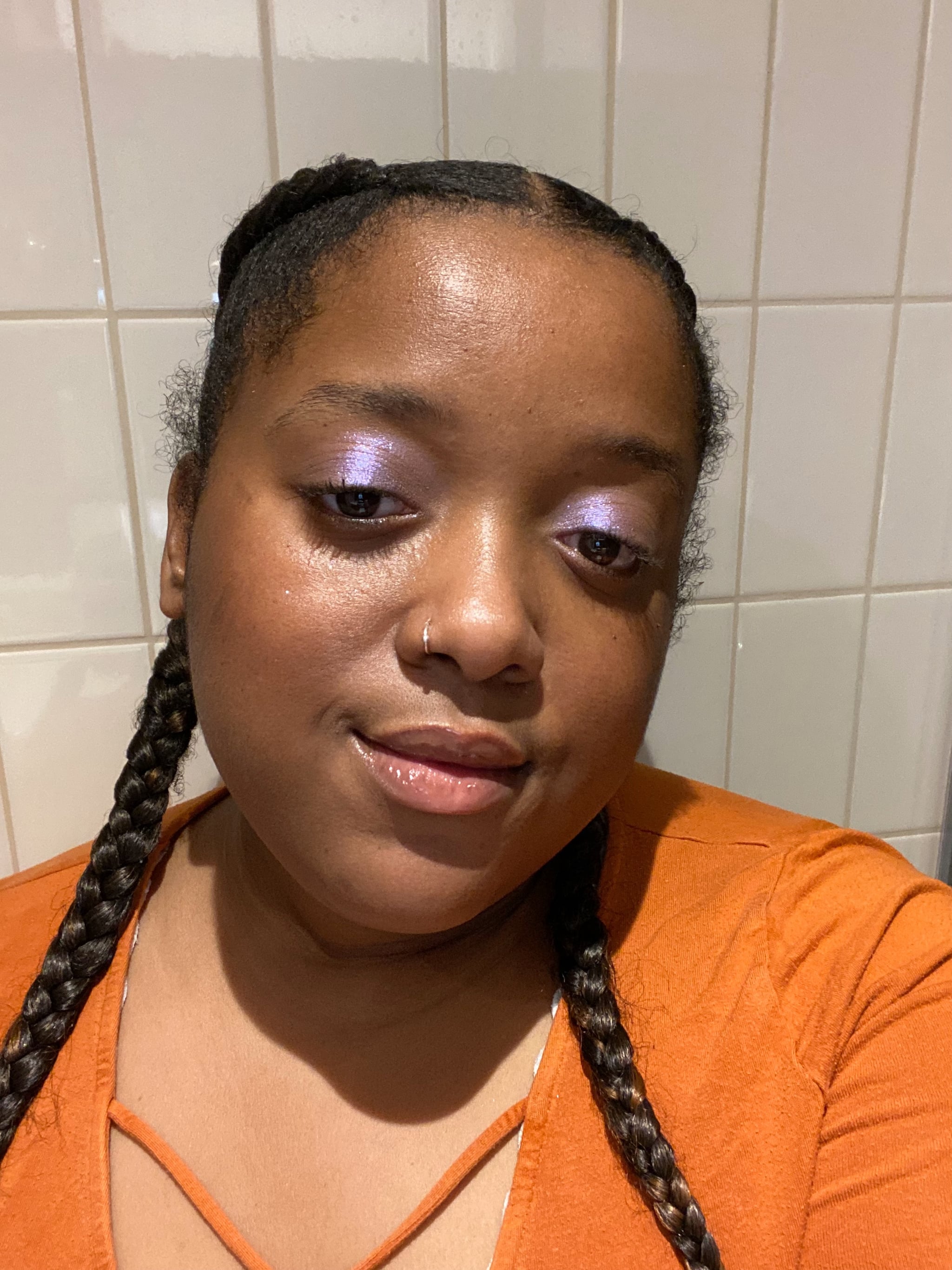 Image Source: Vanese Maddix
There are six metallic shades in the palette, and these have been my favorite shadows to use as the pigmentation is incredible. Even a simple swatch on your hand offers color payoff like nothing I've seen before. Another thing I was really impressed with is the lack of fallout from the shimmery shadows and just how long-lasting they are — I often have trouble finding glitter-flecked powder shadows that truly last. When it comes to the metallic shades, I find applying them with my fingertips is the best method for ensuring the best color payoff (I found there was still quite a bit of pigment leftover when using a brush).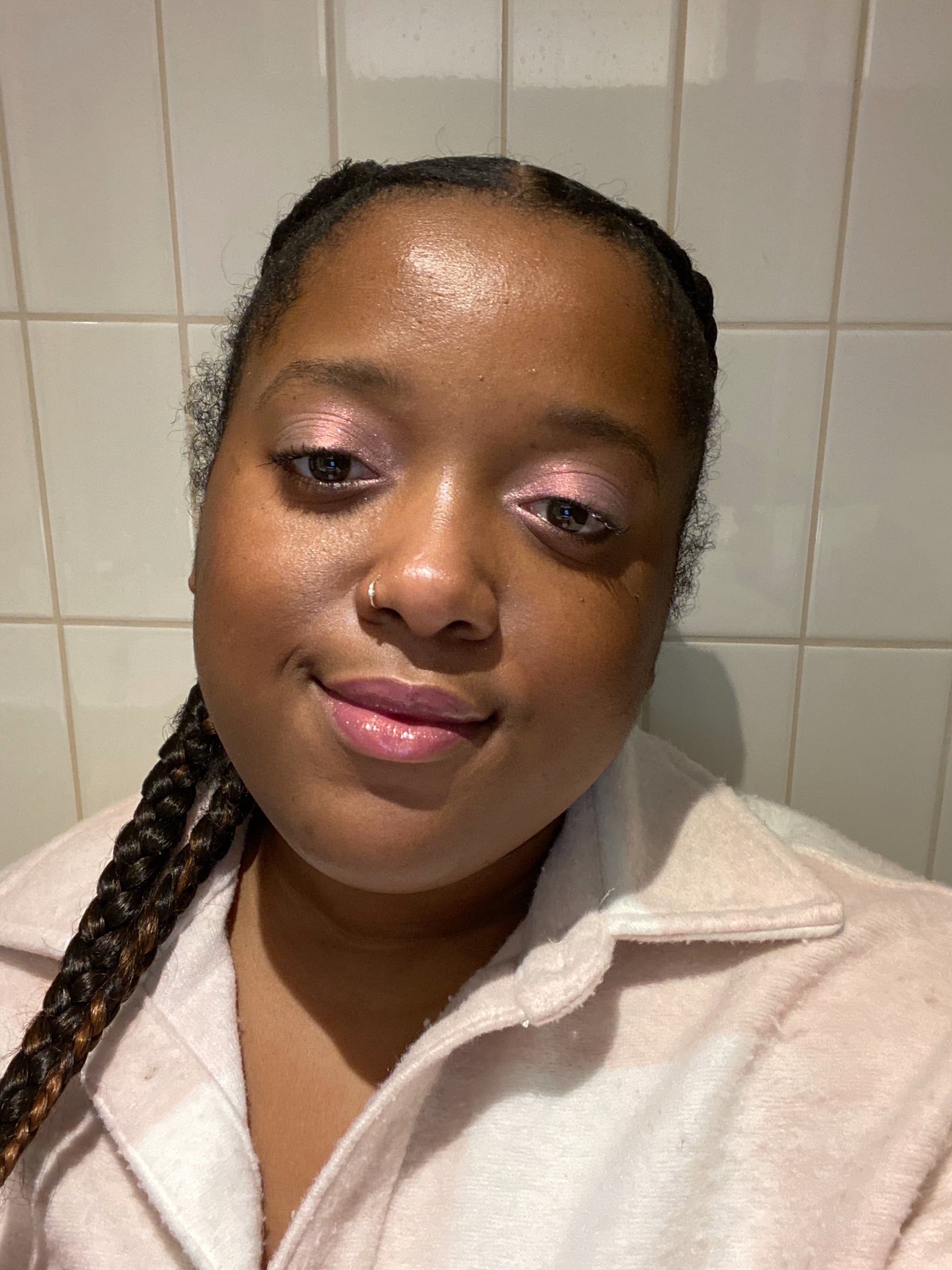 Image Source: Vanese Maddix
The final texture in the Rose Quartz Palette is a solid translucent gloss that contains pearl pigment (Love Story), which is similar to the gloss Kattan included in her Naughty Nudes palette. I really hoped that the pink shimmer would come through, but I found that when swatching it and when putting it on my lids, it pretty much looked like a clear gloss. I then found that trying to layer the glossy shade on top of any other shimmery shade just rubbed the shimmer away, spoiling the look I'd created. My hope is that as I dig deeper into the gloss, the shimmer will eventually come through, but until then I'm spoilt for choice with all of the other shades.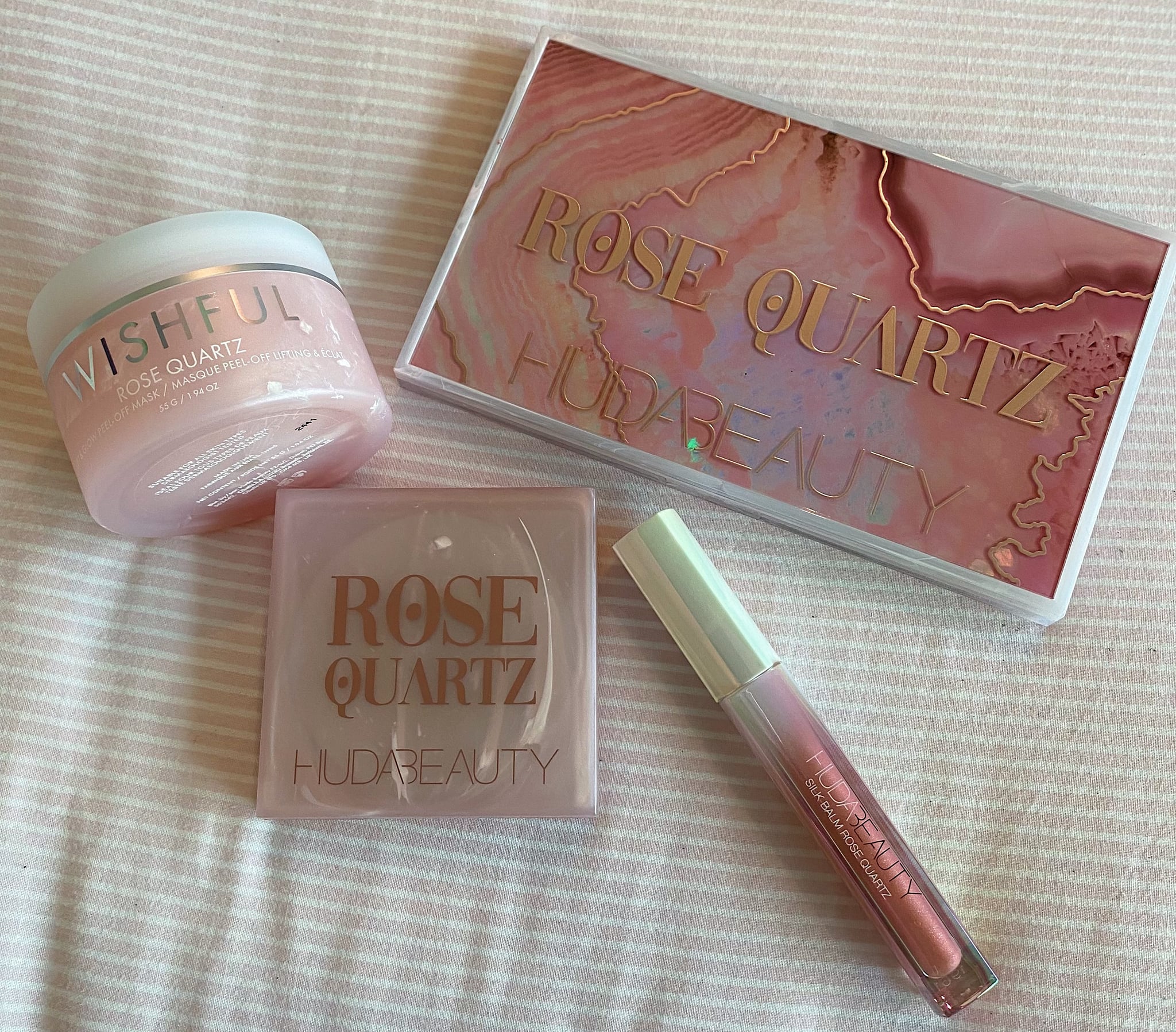 Image Source: Vanese Maddix
I've been going on about the Rose Quartz Palette, but Kattan actually launched an entire rose quartz-inspired collection that features a limited-edition Rose Quartz Brush Set ($35) and Rose Quartz Silk Balm ($21), which can all be purchased individually or as part of the Rose Quartz Eye and Lip Essentials Set ($125), which includes the palette.
Overall, while $67 isn't the most affordable price for a palette, I think the one-of-a-kind finishes and versatility of the Rose Quartz Palette in comparison to other palettes on offer make for a good argument when deciding whether to splurge or not. Kattan and her team are never afraid to experiment, and with this feel-good palette they've proven once again that they're ahead of the game.
Rating:

Image Source: POPSUGAR Photography / Vanese Maddix