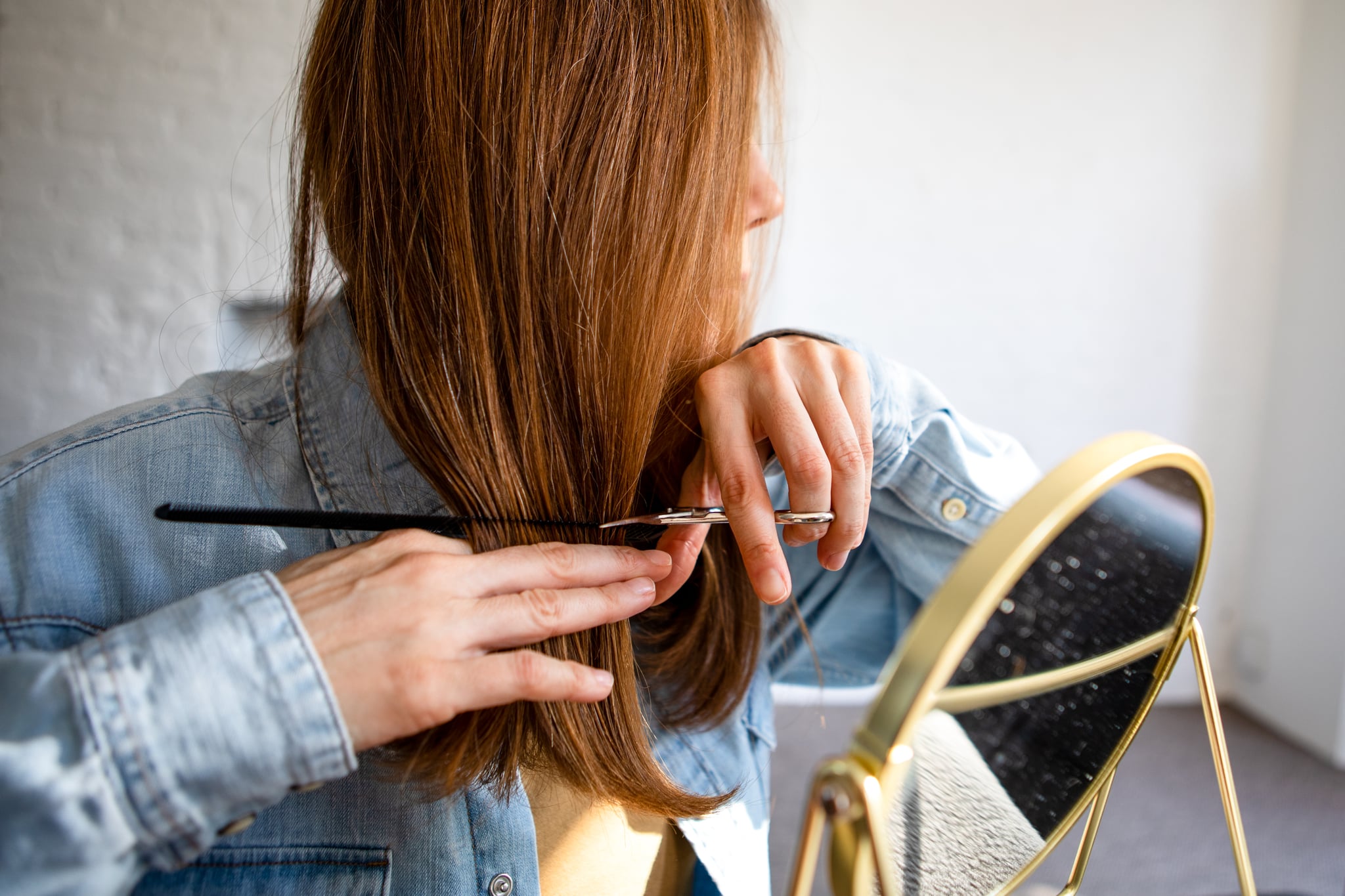 As restrictions slowly go back into place, many of us are going back to DIYing our beauty routines — particularly our haircuts.
Having to cut your hair at home can be tricky. From deciding on the right tools to figuring out how to navigate your hair, the process can feel overwhelming.
Celebrity hairstylist Sunnie Brook shared via Instagram some tips on cutting your hair at home.
Normally, it's always our best advice to go to a professional stylist for any kind of haircut or hair-color service, but when push comes to shove and you need to DIY, there are a few steps you can take to make the process a little easier to do at home. This is especially true when it comes to cutting your hair at home.
Celebrity hairstylist Sunnie Brook is proving it doesn't have to require a lot of resources, either. All you'll need are a towel, a comb with wide and fine teeth, scissors, a scrunchie, and fine mist spray. Once you've gathered those, check out her very helpful play-by-play of trimming your own hair at home.
Step 1: Gather the Right Tools
Lay a towel on the surface you'll be cutting over to make the cleanup super quick and easy. Pick up your comb with wide and fine teeth. Brook says the wide-tooth side gives less tension, which is great for wavy or curly textures. You'll also need a good pair of scissors (we like the Equinox Professional Shears ($22)) , so it glides through and doesn't chew your ends. The main goal is to open up your hair around your face, add some movement, and remove dry ends while keeping the length.
Step 2: Create a Guide on Dry Hair
You'll need to cut on dry hair so you can see the shape. Wet hair isn't the best indicator, Brook said, as it stretches. Create a guide in the front, by taking the supertiny pieces on both sides. Use your ears to section those away. Twist the part where you want to cut it, take the scissors, and cut down. That gives the hair more of a tapered end instead of a blunt one. Remember, if you have wavy or curly hair, less is more because your hair will bounce up.
Step 3: Cut in Small Sections
Go little by little — you don't want to cut off too much. Then use a scrunchie or a hair tie to put up the back half of your hair — these Goody Hair Scrunchies ($5) work great. Then, keep cutting the front part of your hair from top to bottom, toward the floor.
Step 4: Move On to the Ends
Don't forget to check along the way that the sides are even by bringing both ends side by side in front of your face. Once you are done with the front, take out your ponytail. Separate your hair onto both sides, and cut into the ends vertically. This will soften your blunt ends and add a little more movement.
Step 5: Revive Your Hair
You're done! Use a facial spray like the Mario Badescu Rose Water and Aloe ($7) spray or fine hair mist (the Ouai Texturizing Spray ($26) is phenomenal) to revive the hair and see the shape.