This easy fruit pizza is everything you want in a delicious sweet treat! All you need is your favorite fruit, a pre-made pizza crust and cream cheese. Ready in 20 minutes!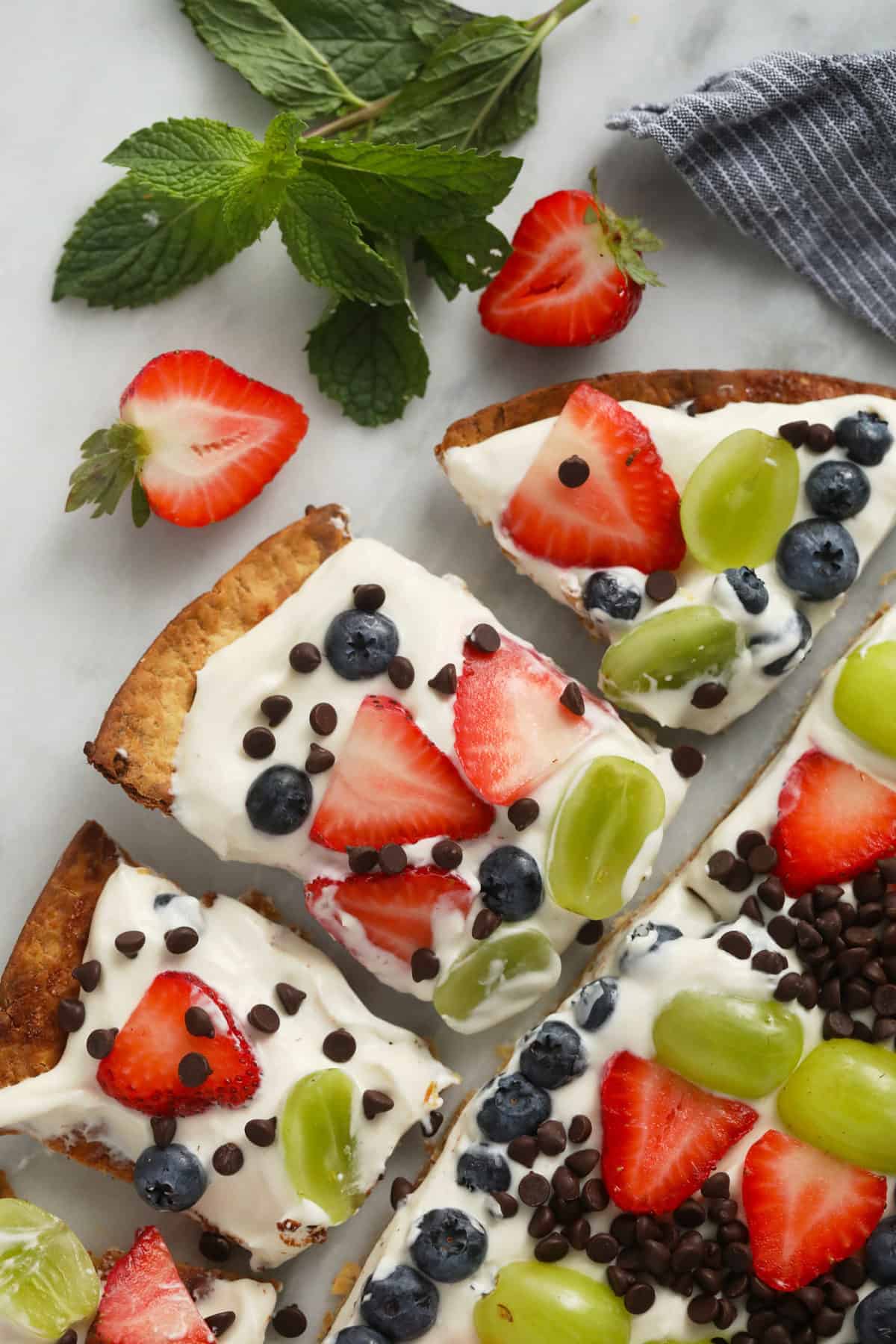 Easy Fruit Pizza
Who doesn't love fruit pizza, people? You can make fruit pizza for any event, any time of year, and for anyone! We love fruit pizza for so many reasons.
Why You'll Love it!
It is easy to make when you need something sweet in the knick of time!
You can change up this fruit pizza recipe based on what fruit you have on hand.
No need for a complicated pizza crust, we use a delicious pre-made crust.
Ingredients You Need
There are so many ways you can change up this fruit pizza based on your personal favorite fruits and flavors! Here is everything you need for this fruit pizza with some substitution options:
Pre-made Pizza Crust: That's right, you can use a store-bought pizza crust to make this sweet treat! There are so many great pre-made pizza crusts available at major grocers and any of them will work!
If you feel like you want to go the homemade pizza crust route, go right ahead! There is no doubt that it will work with a homemade pizza crust, too.
Cream Cheese: The cream cheese for this fruit pizza is the base for the frosting of the filling. It offers a tangy, creamy, and delicious frosting that you just can't beat!
Fresh Fruit: We use 1 1/2 cups of fresh fruit for the topping of this sweet treat! We used strawberries, grapes, and blueberries! But guess what? You can use whatever fruit you want. Pick out your favorite fruit, and just be sure to slice it in a way where it can lay flat as the topping of your pizza.
Chocolate Chips: What goes great with fruit? CHOCOLATE! Mini chocolate chips add a little sweetness, crunch, and fun to this fruit pizza.
Butter: The butter for this fruit pizza is mixed with sugar and cinnamon to slather on the pizza crust to crisp it up and give it a sweet flavor!
Cinnamon Sugar: We make a cinnamon sugar pizza crust buy sprinkling a cinnamon sugar combination to the pizza crust!
Honey: You can use any sweetener to sweeten up your cream cheese filling! We used honey, but feel free to use maple syrup or agave instead.
Heavy Cream: A little heavy cream adds to the creaminess and thickness of the cream cheese filling.
Vanilla: A little vanilla goes a long way!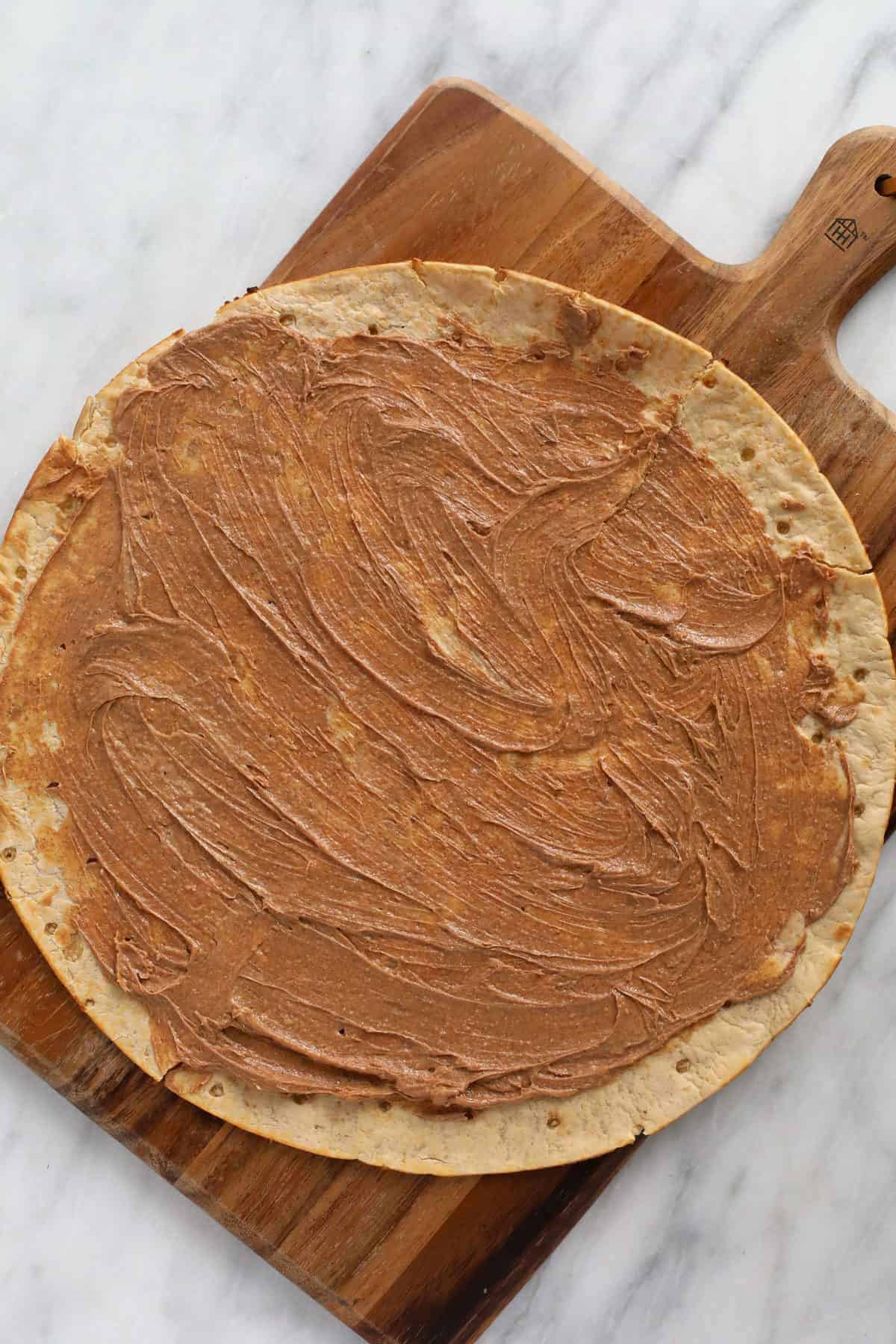 How to Make Fruit Pizza
make Cinnamon Sugar Crust
The key to makeing a delicious crust for your fruit pizza is to jazz it up and crisp it up so it doesn't get soggy from the cream cheese filling!
To do this, whip together your butter, cinnamon, and sugar. Then, slather the cinnamon sugar butter on your pizza crust and pop it in the oven and bake it at 400ºF for 6-8 minutes. It is VERY important that you check on your crust every couple minutes to make sure it isn't over baking.
You want the crust to be golden brown, not burnt! After you pull the crust out of the oven, let it cool for 5 minutes before adding any toppings.
make Cream Cheese Filling
While the cinnamon sugar crust is cooling, whip together your cream cheese filling. This is a two step process! First you whip together your cream cheese and honey in a large bowl until it is thick, creamy, and combined. Then you set it aside.
Then, in a separate bowl, you whip the heavy cream and vanilla on high until you have made whipped cream. You know it's ready when peaks form.
To make your cream cheese filling, you pour your whipped cream into the cream cheese and honey mixture and carefully fold the two together. Being careful not to flatten or deflate your whipped cream.
When your filling is done, slather it on top of your pizza crust.
assemble Fruit topping
The fruit is the star of the show! You can choose whatever fruit topping you would like, but just be sure one side of your fruit has a flat side so it can lay flat side down on the pizza. Top that cream cheese filling with fruit and enjoy!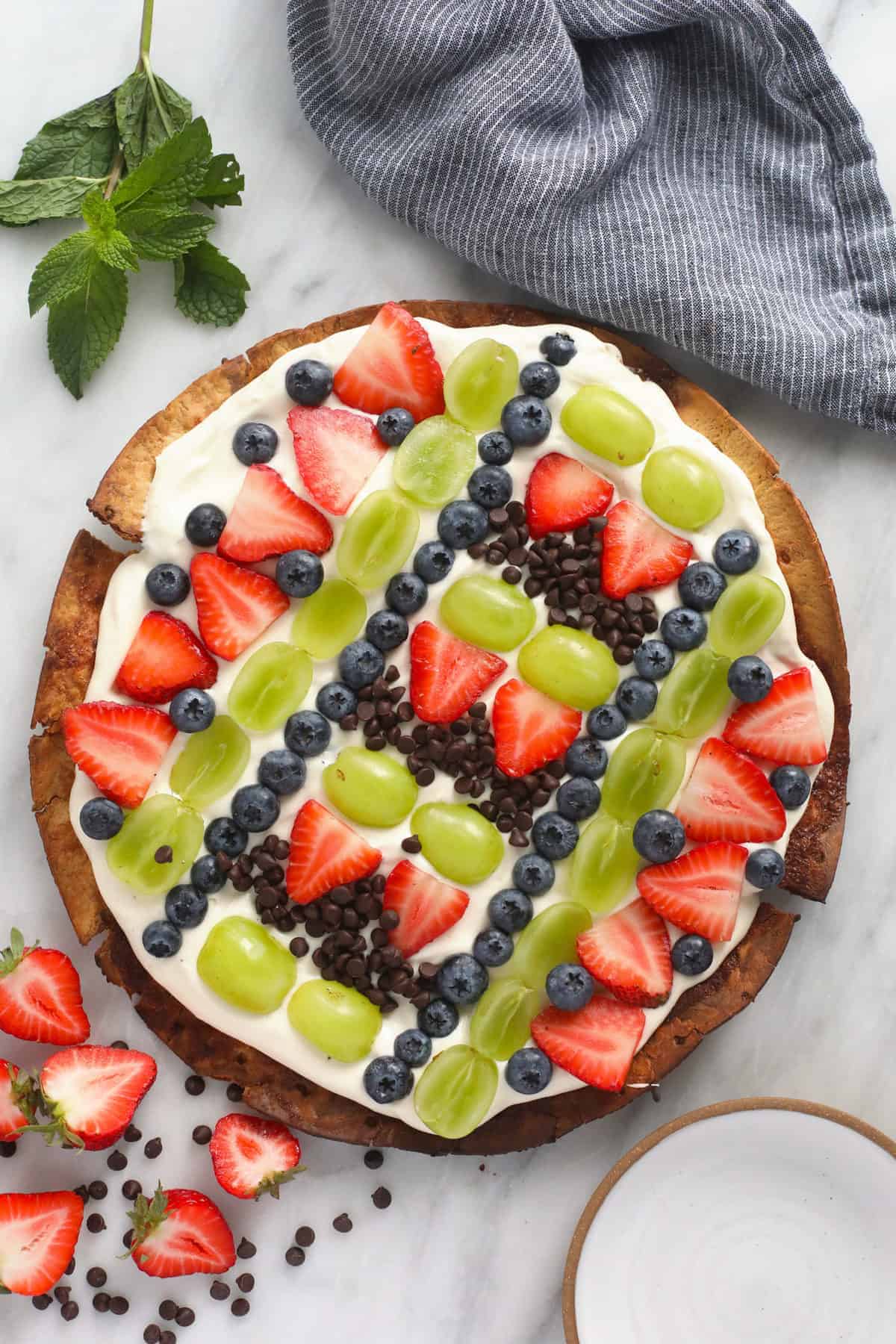 Fruit Pizza FAQs
What is fruit pizza made of?
Our fruit pizza uses a store-bought pizza crust and is topped with a whipped cream cheese filling and sliced fresh fruit.
How do you keep fruit pizza from getting soggy?
Assemble your fruit pizza right before serving, and then enjoy immediately.
Can fruit pizza be made a day ahead?
Yes! But if you choose to prepare it the day before, make sure to wait to assemble the fruit pizza until right before serving to prevent it from becoming soggy.
How to Store Fruit Pizza
This fruit pizza is best enjoyed right away! Should you have leftovers, please note that the crust will not be as crispy as when it's first served.