This cream cheese buttercream frosting is ultra-rich, creamy, and ridiculously easy to make! 
All you need are 4 simple ingredients, an electric mixer or hand mixer, and something tasty to spread it on. However, this cream cheese buttercream recipe tastes SO good… you'll want to eat it on its own.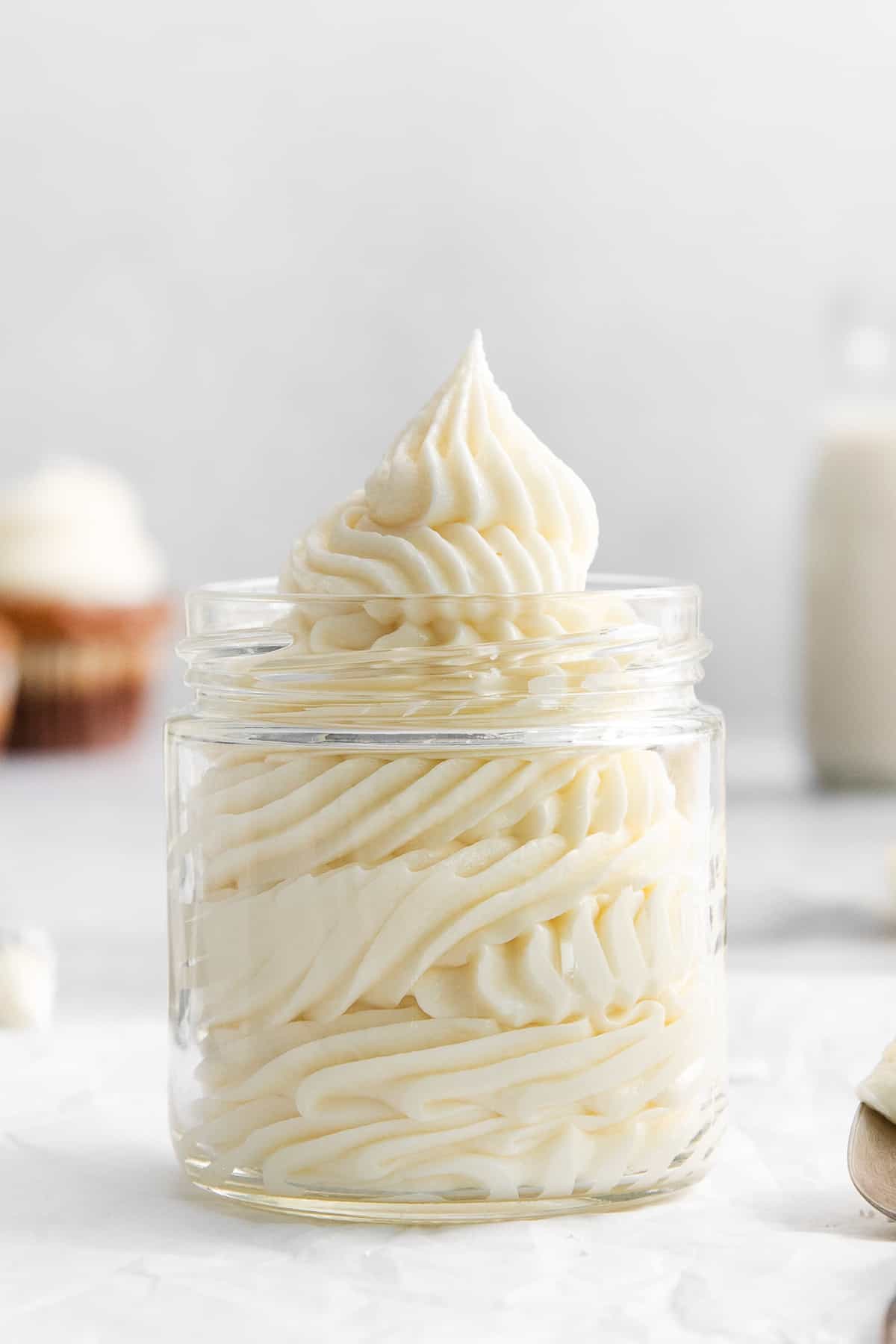 Cream Cheese Buttercream Frosting
We LOVE a delicious, spreadable cream cheese frosting. Add buttercream into the mix, and you've got a frosting with the perfect consistency AND the perfect balance of sweet and tangy.
In only 15 minutes, you'll have a delicious frosting that you can spread on cupcakes, cakes, cinnamon rolls, and even cookies. It's an easy recipe that will become your new favorite go-to, no matter the occasion!
Why you'll love it!
There are only 4 ingredients for this cream cheese buttercream frosting.
You can easily make this frosting a day ahead if you'd like!
It's rich, creamy, and DELICIOUS.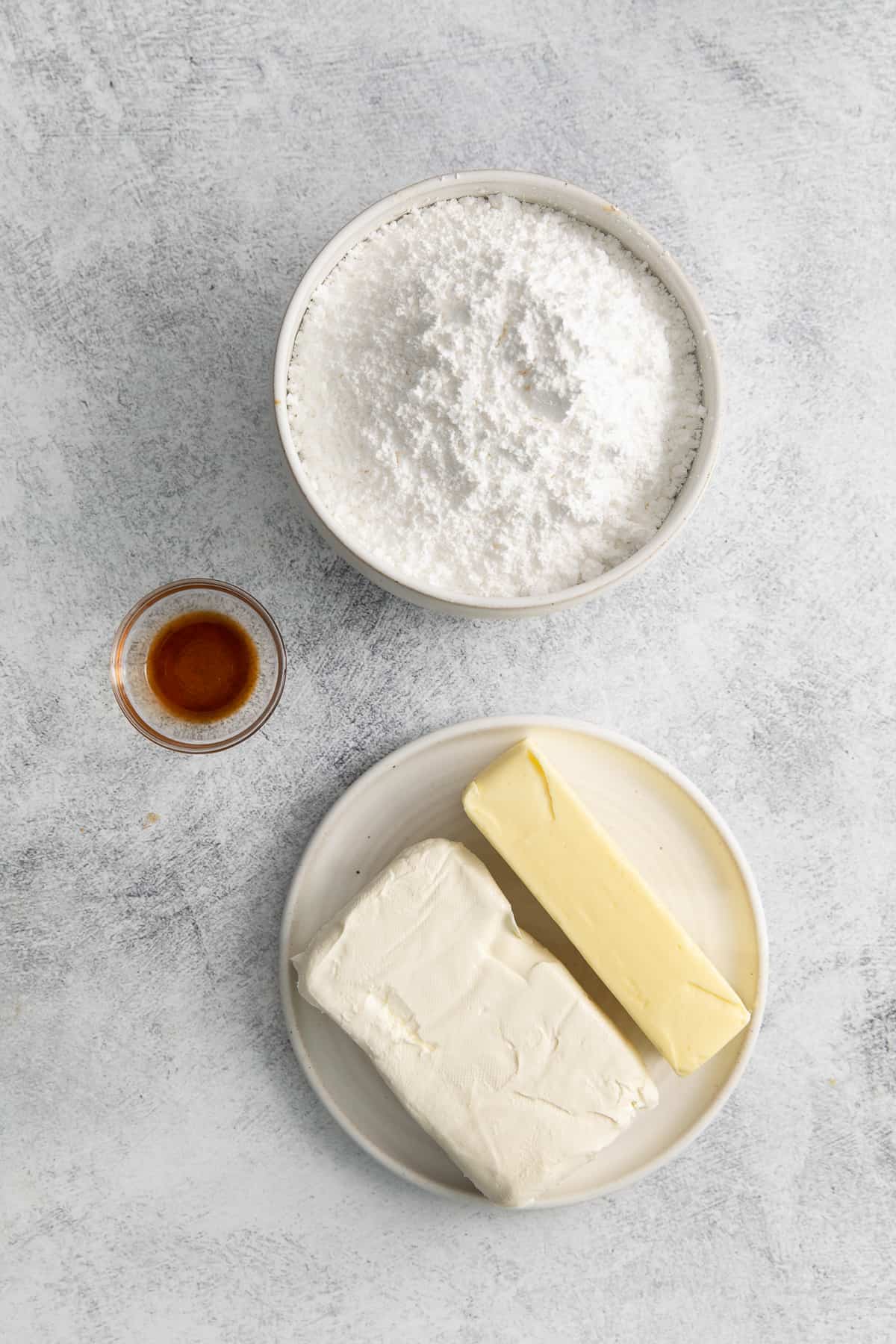 Featured Ingredients
Cream cheese: adds richness and tang to the frosting! Just make sure it is fully softened, so you don't end up with lumps.
Butter: gives the frosting structure– with only cream cheese, the frosting would be too soft. Again, make sure the butter is fully softened– we don't want lumps in our frosting.
Powdered sugar: also gives the frosting structure– plus, it adds excellent sweetness. Feel free to add a little bit more powdered sugar if you like a stiffer frosting or a bit less for a softer frosting.
Vanilla extract: is key to great cream cheese frosting– don't skip it! You can swap the vanilla extract for 2 teaspoons of pure vanilla bean paste if you want to see the specs of vanilla in the frosting.
How to soften cream cheese
Looking for a quick method to soften cream cheese? Check out our post – How to Soften Cream Cheese – 4 Ways! Here you'll learn 4 unique (and quick!) methods to softening cream cheese the perfect amount for baking and cooking.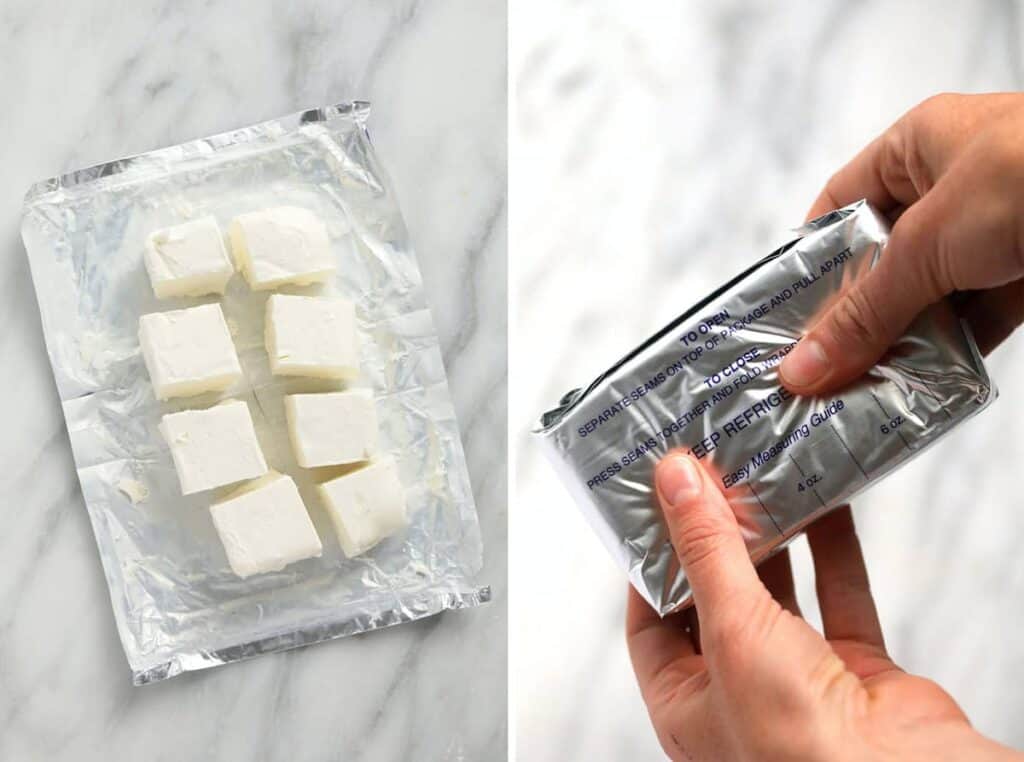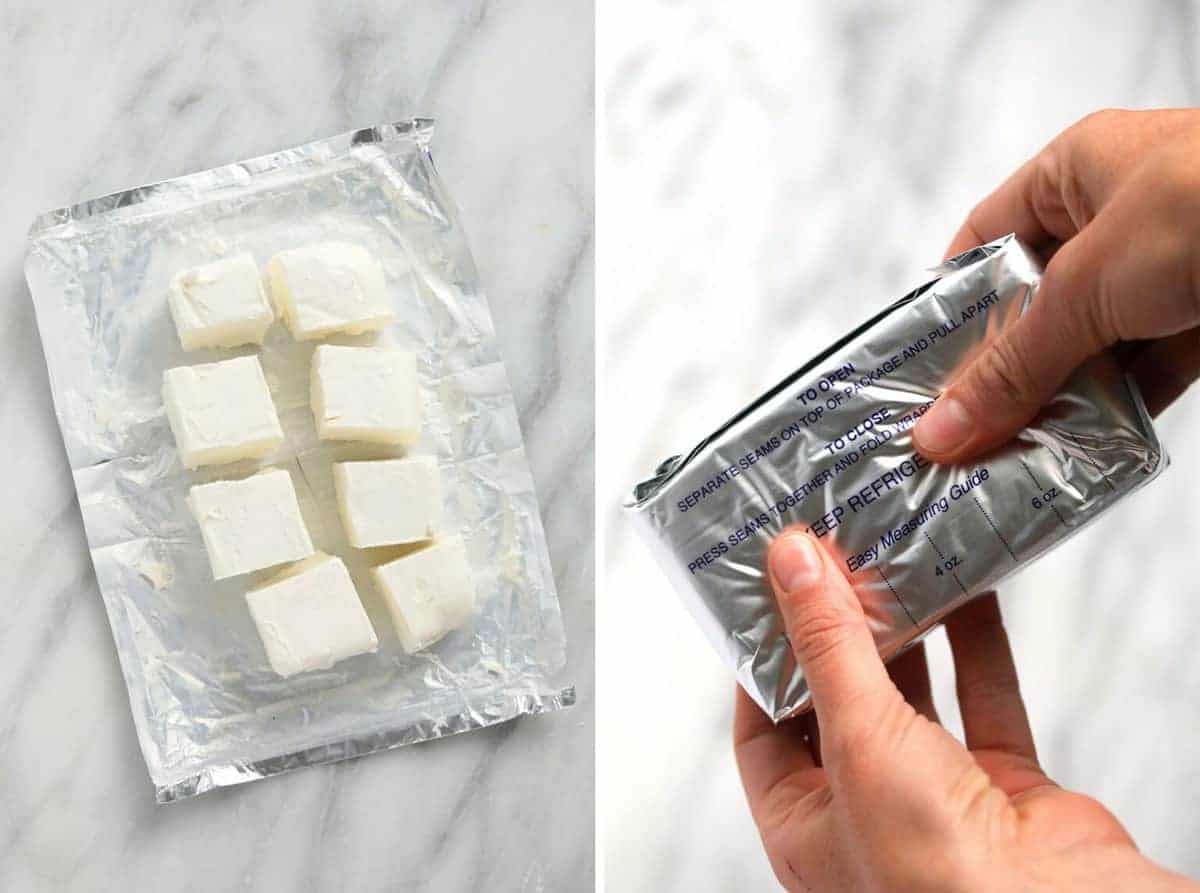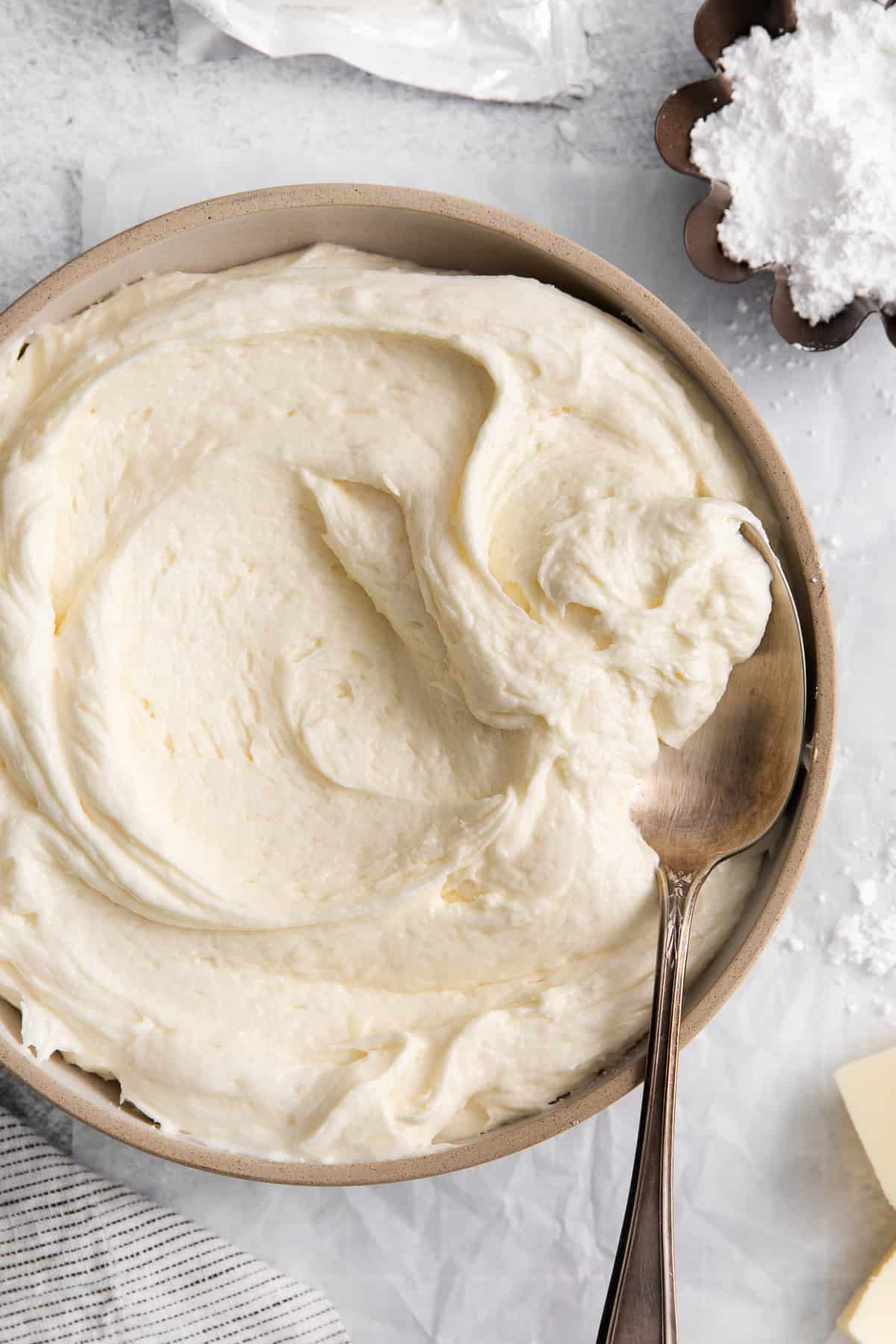 How to Make Cream Cheese Buttercream Frosting
Mix the butter and cream cheese: add softened butter and cream cheese to the bowl of a stand mixer. Whip together until well blended and fluffy.
Add powdered sugar and vanilla: mix together on "low" until well blended. You can increase the speed once most of the sugar has been mixed in.
Use immediately or store for later: frost cupcakes, cakes, or cinnamon rolls. Enjoy!
here's a tip!
If your frosting is too thick, add a teaspoon of milk at a time until it reaches desired consistency. If your frosting is too thin, add 1 tablespoon of powdered sugar at a time until it thickens.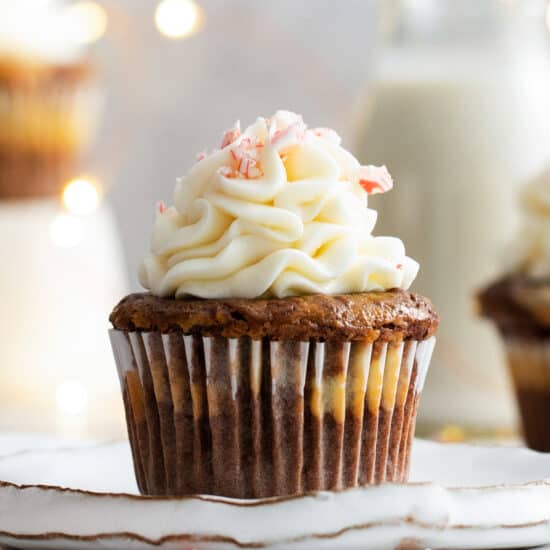 try it!
Peppermint Cream Cheese Chocolate Cupcakes
Pair this cream cheese buttercream frosting with our peppermint chocolate cupcakes — they're a perfect match!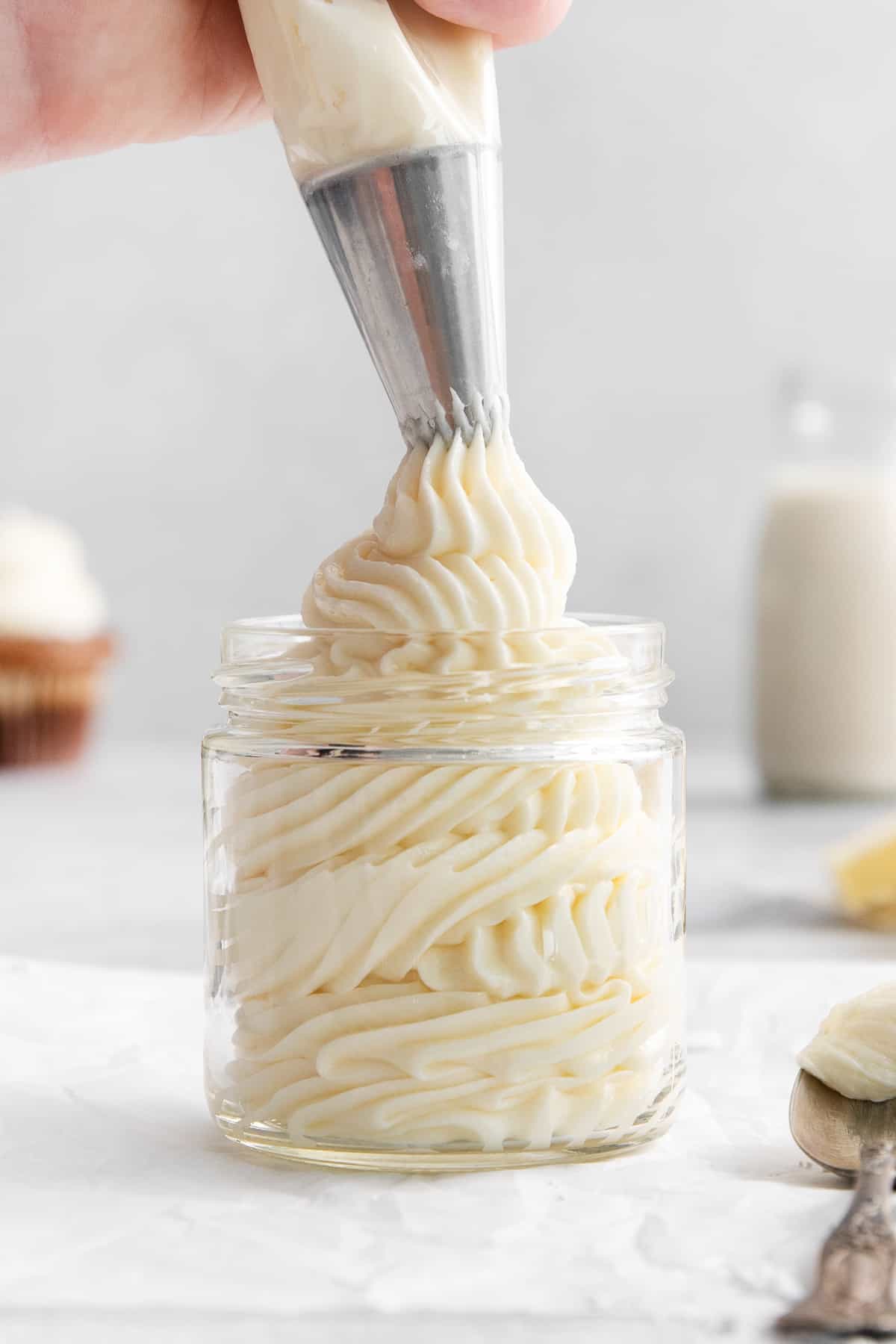 What to Use this Frosting On
Cupcakes: whipped cream cheese frosting is delicious on any and all cupcakes. Try it on:
Cookies: frost your cream cheese sugar cookies or heart cookies with this yummy frosting.
Cakes: this frosting will frost cakes, pound cakes, layer cakes, and more. Try this frosting on:
Cinnamon Rolls: try this classic cream cheese frosting on Fit Foodie Finds' (our sister site!) Maple Cinnamon Rolls.
FAQs
What is the difference between cream cheese frosting and buttercream?
Cream cheese and buttercream frosting use different ingredients. Traditional buttercream is a combination of butter and confectioner's sugar. Cream cheese frosting, however, replaces some of the butter with cream cheese. Also, buttercream frosting has more of a sweet taste, while cream cheese frosting is both tangy and sweet.
How do I harden cream cheese frosting?
If your cream cheese frosting is still too soft after an hour in the fridge, allow it to cool for another 30 minutes. If the frosting gets too hard, leave it at room temperature to soften.
Can I leave cream cheese buttercream frosting out overnight?
No. We recommend only leaving it out for up to 2 hours in an airtight container as the cream cheese is prone to spoiling, and the buttercream could melt.
How do you reduce the sweetness of cream cheese frosting?
If you find your cream cheese frosting to be a little too sweet, add a splash of lemon juice! The acidity of the lemon will help balance out the richness while not adding much of a pronounced lemon flavor.
Storage
Transfer cream cheese frosting into an airtight container and store in the fridge for up to 2 weeks. For the freshest frosting, refrigerate for up to 1 week.
To reuse: as your frosting sits in the fridge, it will thicken. Let your frosting sit on the countertop for 30 minutes to an hour before using it again. Make sure to give it a good stir before piping or frosting.
Still too thick? Add a teaspoon of milk at a time and stir until you've reached your desired consistency.