These easy Cheez-It breaded chicken fingers take one of your favorite snacks and turn it into a crispy, cheesy chicken masterpiece! Made in the air fryer in minutes.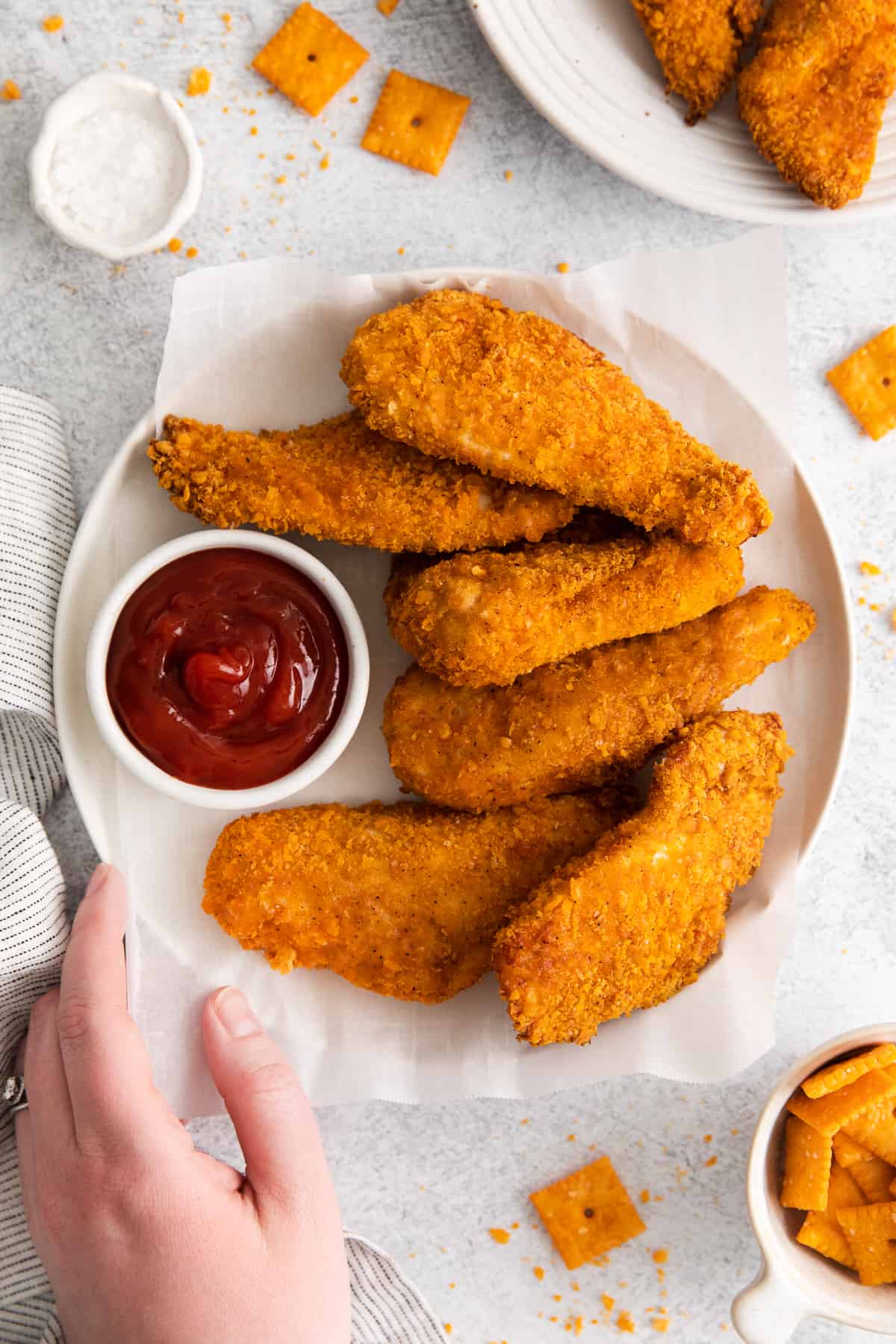 Amazing Cheez-It Breaded Chicken Fingers
That's right. We've FINALLY found an excuse for all you crazy Cheez-It lovers (including myself) to eat your favorite snack crackers for dinner tonight.
Who knew something as simple as a box of Cheez-Its could conjure the BEST crispy texture on a piece of chicken? Well, now you know — it's simply incredible.
These Cheez-It breaded chicken fingers make for the PERFECT appetizer, main course, or crowd-pleasing dish. You can even dunk them in your favorite dipping sauces to amp up the flavor even more!
why you'll love 'em!
They're ridiculously easy to make.
Have the BEST cheese flavor.
It's the perfect recipe for doubling up and serving a crowd.
Everyone will LOVE the Cheez-It crust!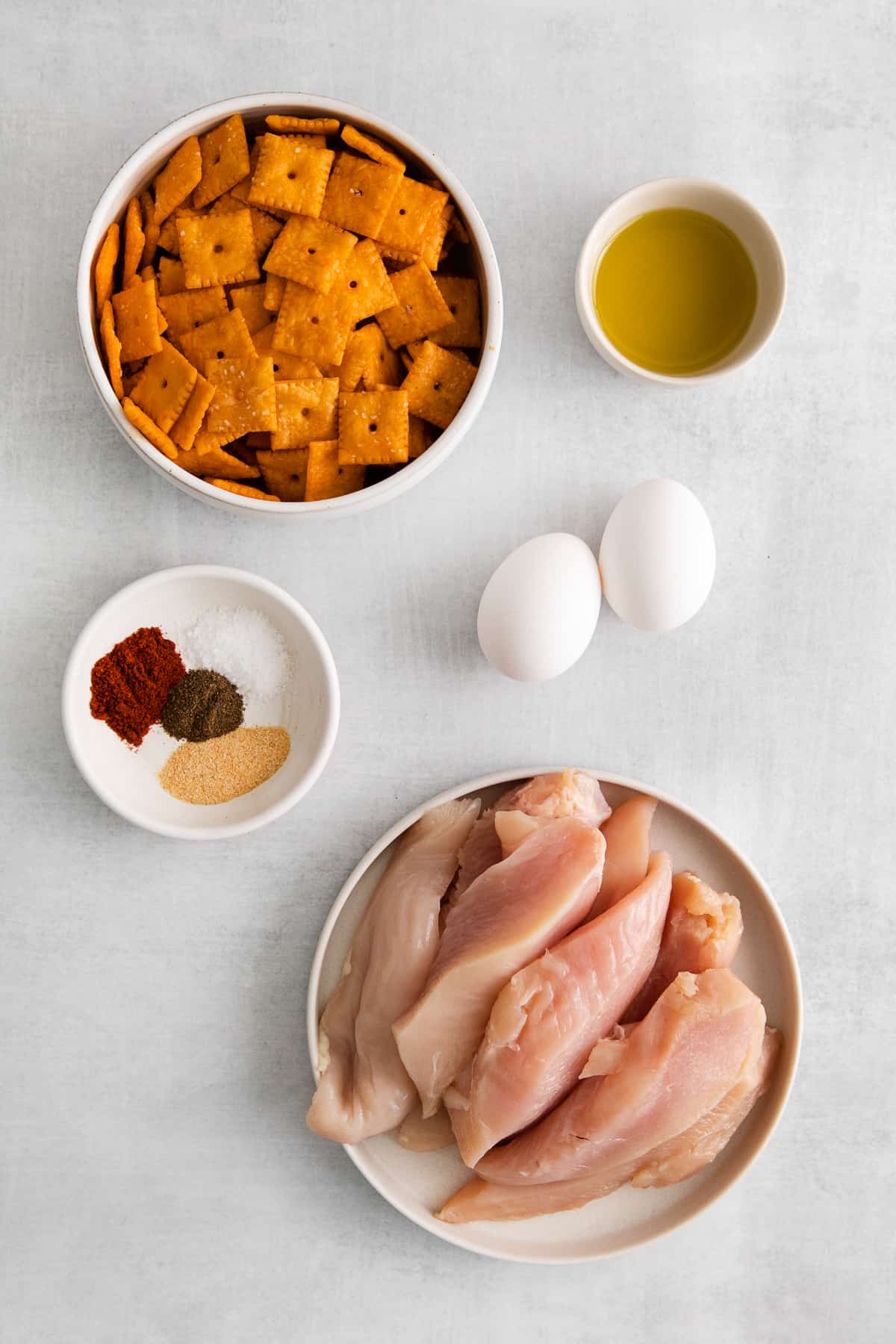 Ingredients You'll Need
This great recipe uses super basic ingredients and takes under 20 minutes to get from the kitchen to the table! Here's what you'll need:
Chicken breast 
Eggs
Cheez-It crackers 
Garlic powder
Paprika 
Ground black pepper 
Kosher salt 
Olive oil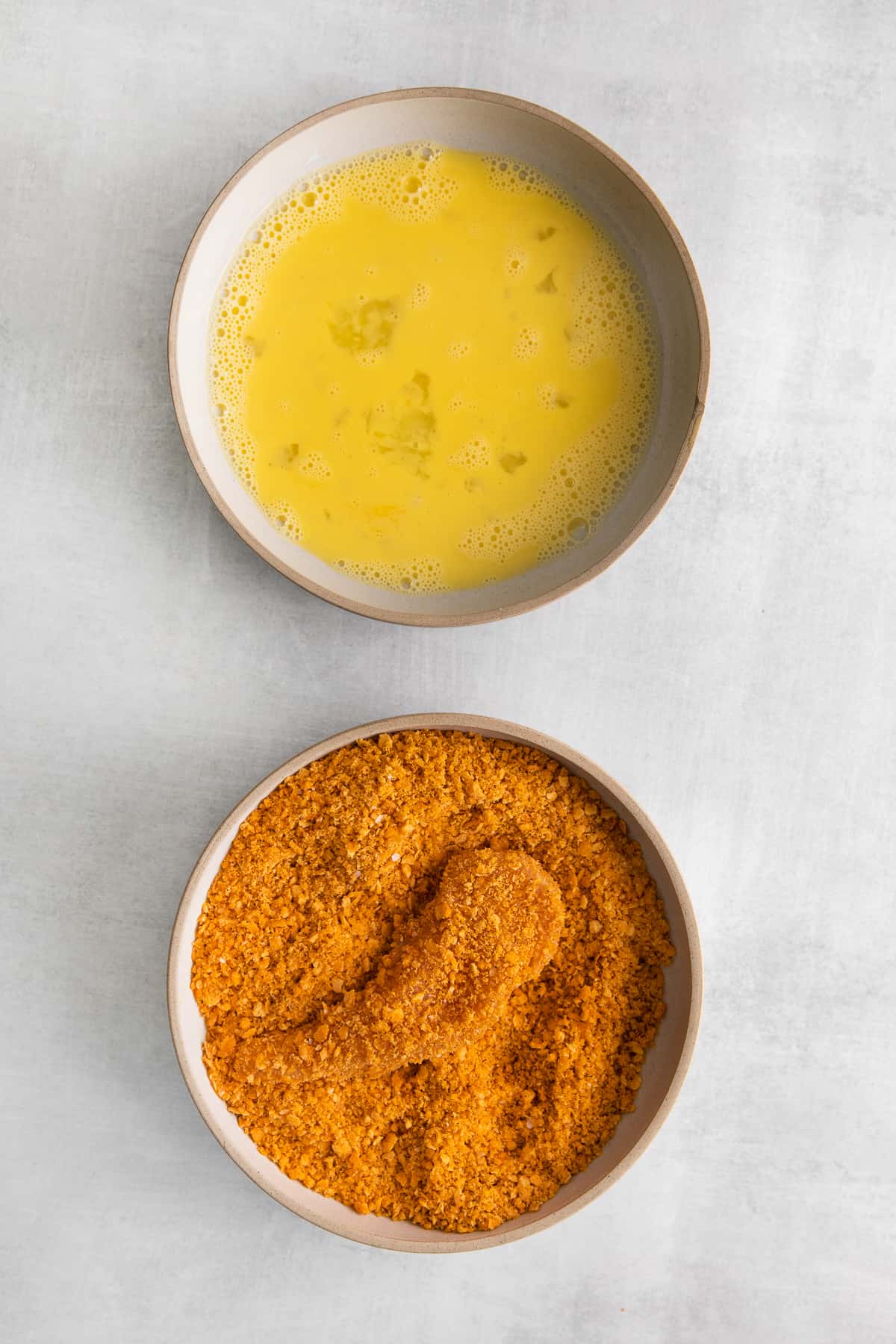 How to Make Cheez-It Breaded Chicken Fingers
CUT CHICKEN
Cut your chicken breast into ½-inch thick strips and set aside. 
MAKE CRACKER CRUMBS
Get your Cheez-It crackers and place them in a food processor. Pulse until your crushed crackers are roughly the size of panko bread crumbs.
Then, transfer your Cheez-It crumbs to a large plate and add garlic powder, paprika, pepper, and salt. Mix thoroughly with a fork.
COAT CHICKEN
Next, crack two large eggs into a medium size bowl and whisk. Dip each chicken strip into the egg mixture and then dredge them in the crumb mixture. Set aside on a plate.
COOK IN THE AIR FRYER
Spray the basket of your air fryer with cooking spray. Then place the coated chicken strips in the basket, drizzling ½ tablespoon of olive oil over the strips.
Now it's time to cook your chicken! Air fry at 400°F for 4 minutes. Flip the chicken pieces and drizzle another ½ tablespoon of olive oil. Air fry for an additional 4 minutes.
SERVE & ENJOY!
Serve your Cheez-It breaded chicken fingers warm with an optional dipping sauce on the side. Enjoy!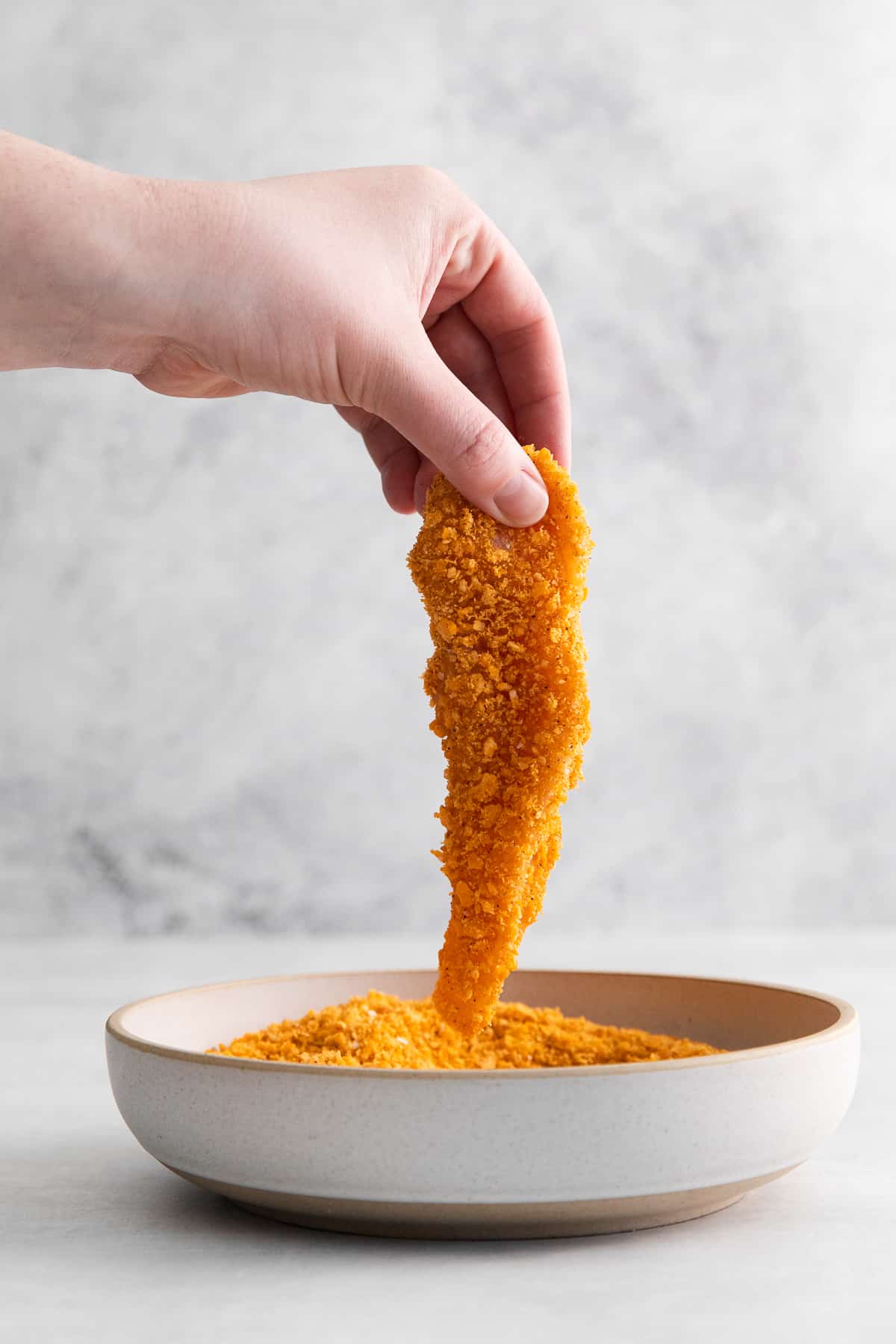 Dipping Sauces for Chicken Tenders
These delicious Cheez-It-crusted chicken will taste amazing cut up on a salad or dipped in these yummy sauces:
You can also try our tasty homemade sauces from our sister site, Fit Foodie Finds: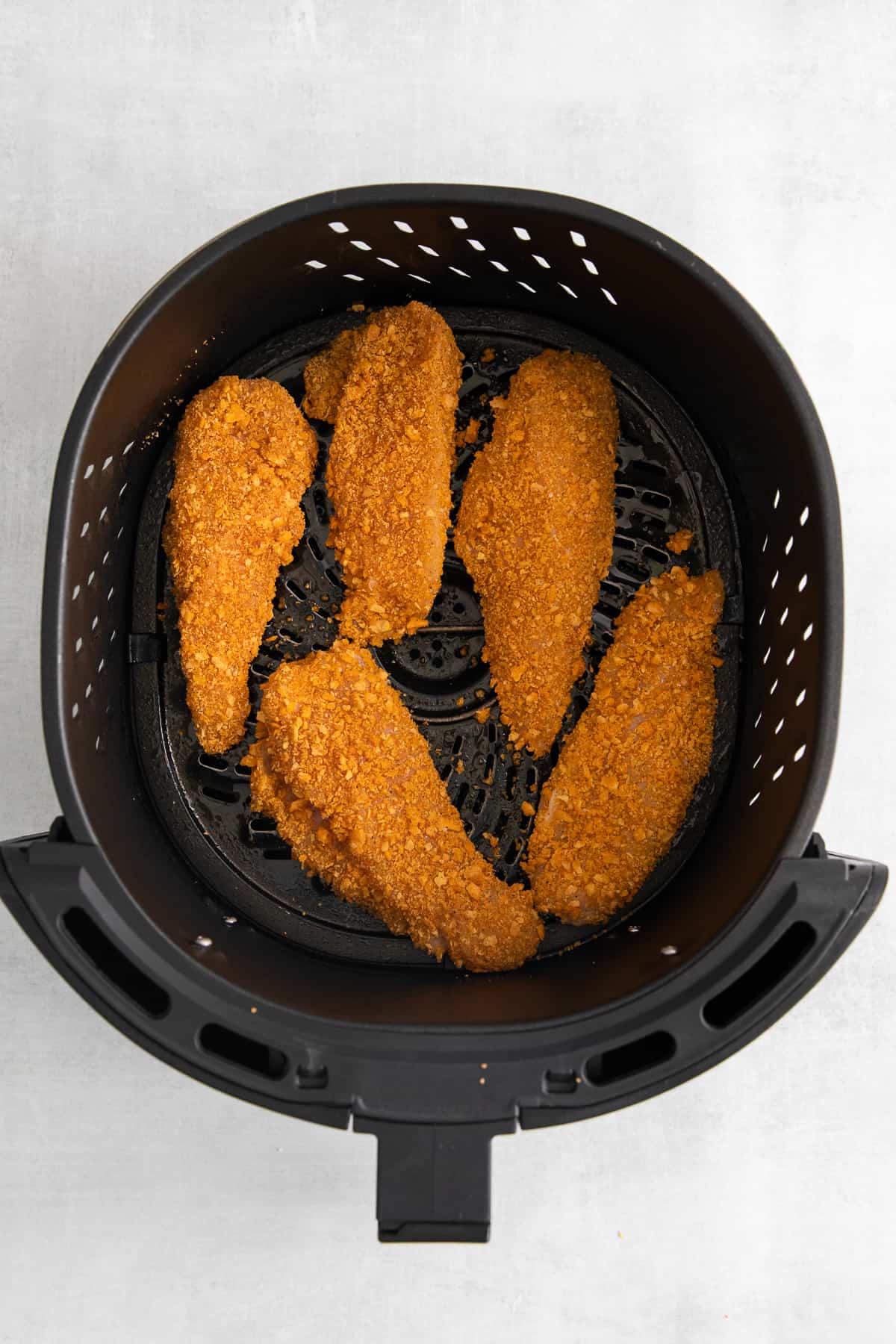 Top Tips for Crispy Chicken Fingers
Carefully keep track of your cooking time to ensure you don't overcook your chicken fingers. They cook up super fast in a 400°F air fryer!
We recommend using the original, full-fat Cheez Its rather than reduced fat, as the chicken will have an easier time staying moist and juicy.
Get creative and use other versions of Cheez-Its that are more flavorful or spicy to add an even more unique kick to your chicken!
FAQs
How do you make chicken fingers crispy?
Make them in the air fryer! This recipe for cheez-it breaded chicken fingers is made quickly and easily (and always crispy!) in the air fryer.
Can you put raw chicken in the air fryer?
Yes! And that's exactly how you'll cook these crispy chicken fingers.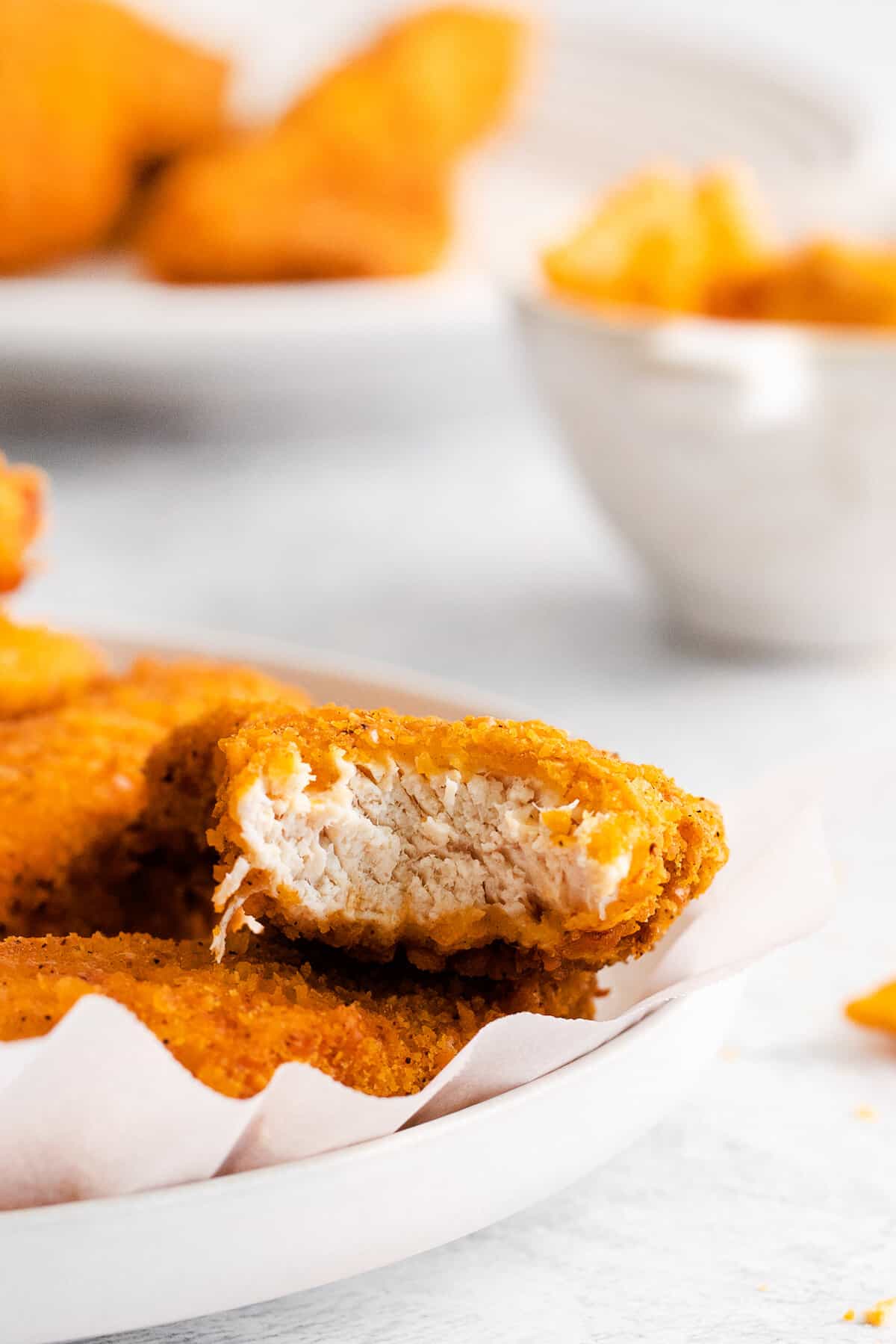 Storage
Although reheated chicken will not be as crispy as it is fresh out of the oven, you can still store it in an air-tight container in the fridge for up to 5 days. Or in the freezer for up to 4 months.
To reheat, preheat your air fryer to 350°F, and reheat the chicken fingers for 2-3 minutes or until fully reheated.
Tip: For the crispiest reheated chicken, lightly drizzle some olive oil on top before heating in the air fryer.