Our easy cheese enchiladas are packed with FOUR varieties of cheese, and baked to perfection. Garnish with your favorite toppings, and enjoy!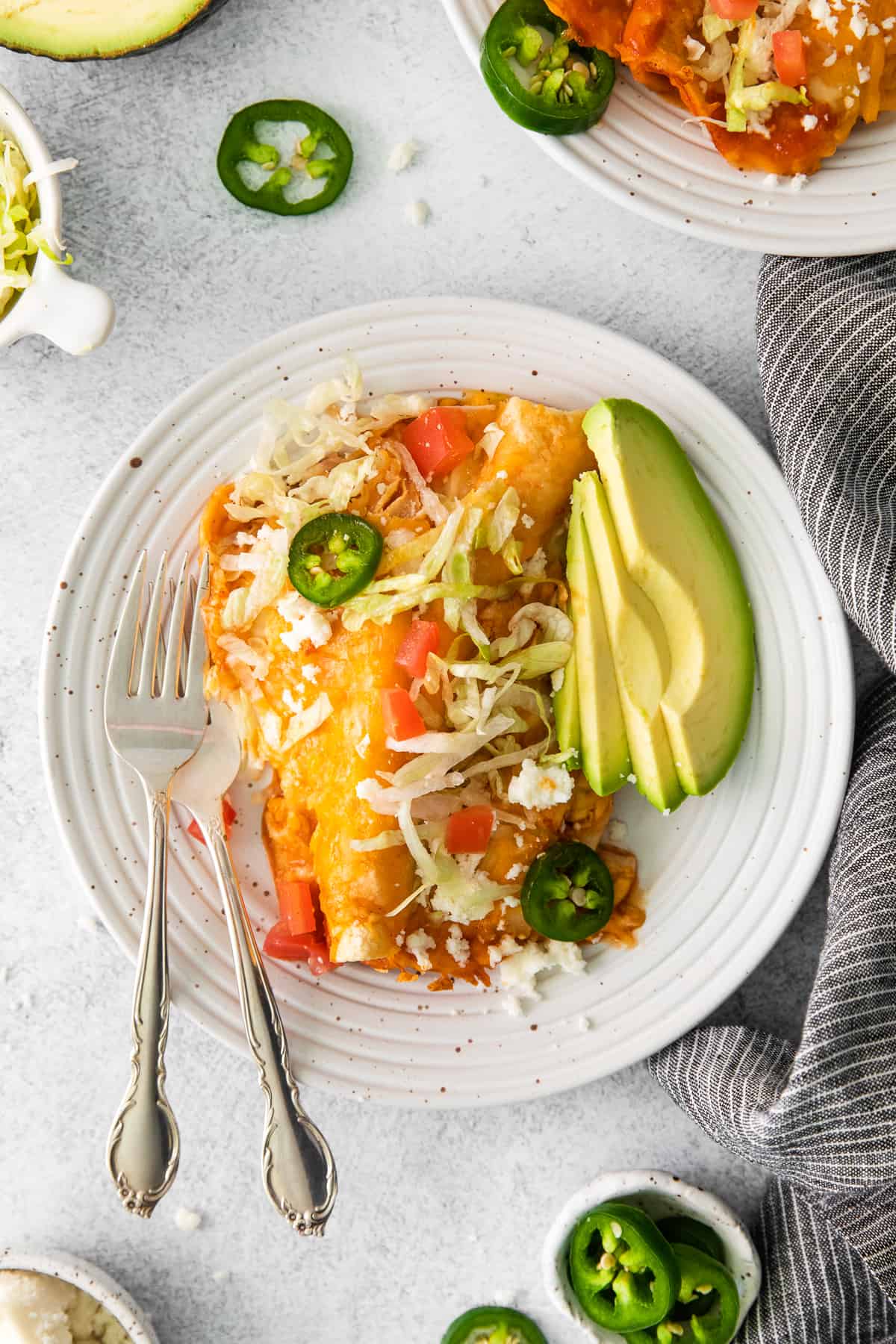 The BEST Cheese Enchiladas
Say hello to these delicious and flavorful cheese enchiladas! Forget going to a restaurant for enchiladas because these enchiladas are seriously easy to make, and feed a crowd. Did we mention they pack FOUR varieties of cheese?! 😀
why you'll love 'em
Customizable
Kid-Friendly
Protein-Packed
Easy to Freeze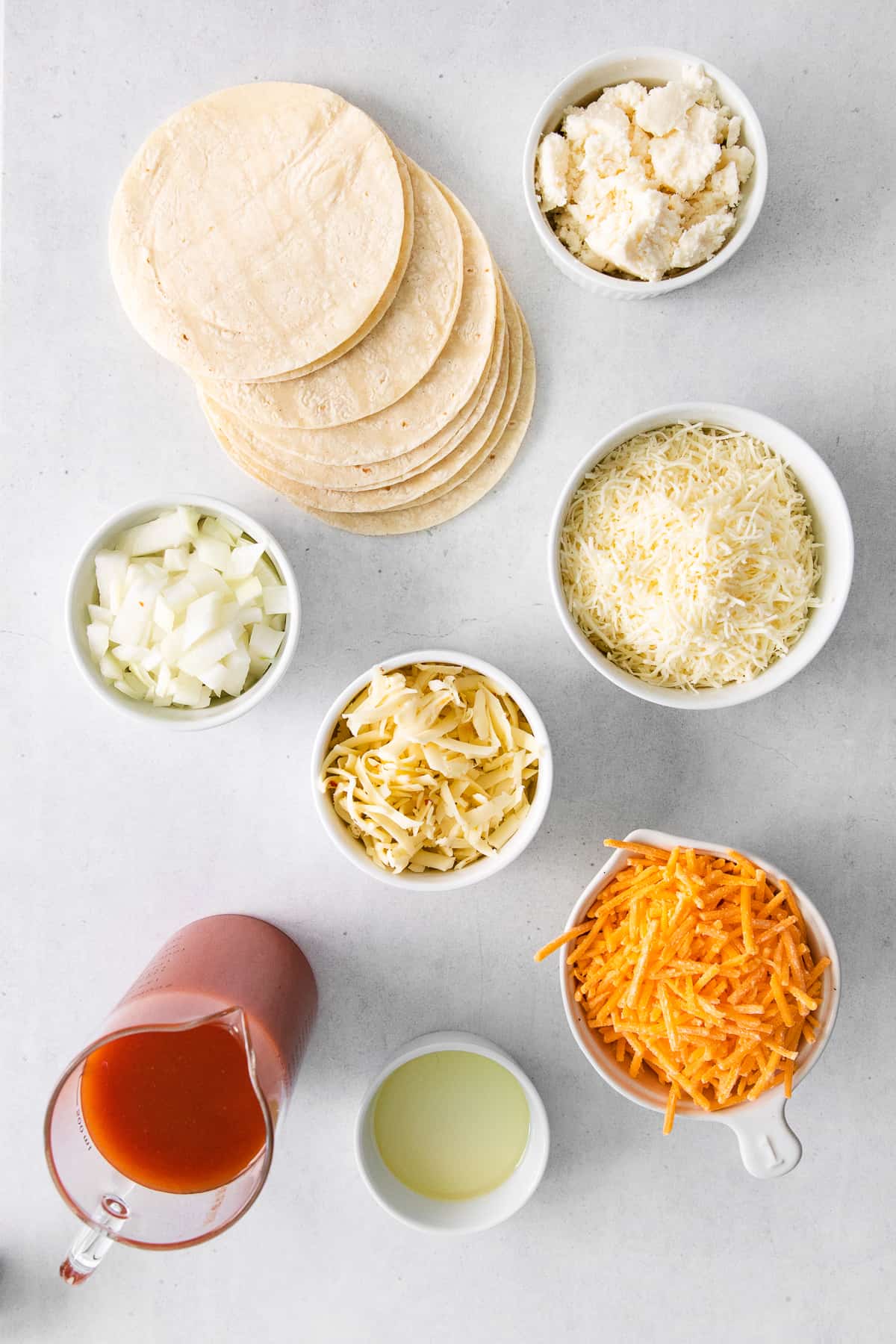 Featured Ingredients
Corn tortillas 
Enchilada sauce
Shredded cheddar cheese, mozzarella cheese and pepper jack cheese
Diced white onion
Queso fresco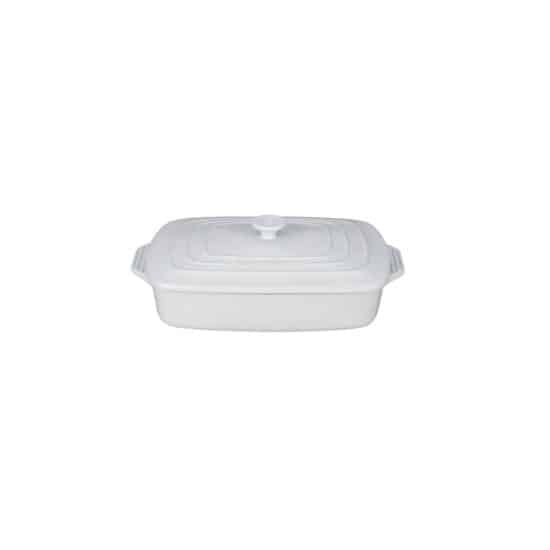 Our Favorite
Casserole Dish
This le creuset casserole dish is our all time favorite casserole dish! The white color rocks, it has a cover, and it's great for so many dishes.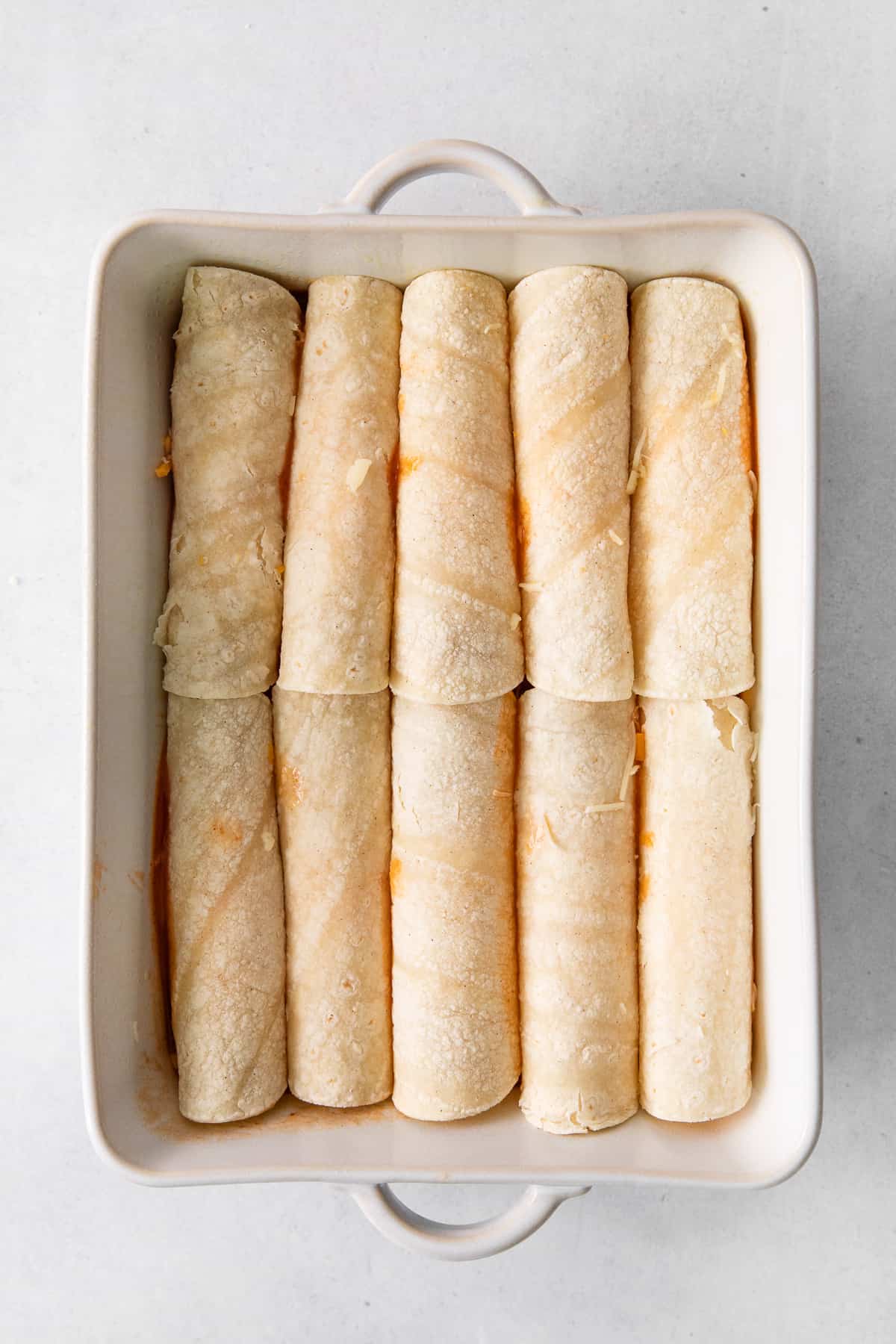 How to Make Cheese Enchiladas
Preheat & Prep Casserole Dish
Preheat your oven to 350℉ and spray a 9×13-inch casserole dish with nonstick cooking spray. Add ½ cup of enchilada sauce to the bottom of the casserole dish. 
Warm Tortillas
Heat a large skillet over low/medium heat, and add avocado oil. When the oil is fragrant, add 2 corn tortillas at a time to the skillet, heating them on both sides so they become pliable.
When the tortillas are warm and can be rolled without breaking, place them into the middle of a clean kitchen towel. Fold the towel around the tortillas to keep them warm. 
Prepare Enchiladas
Place one tortilla on your work surface and add ¼ cup of the shredded cheeses and 1 tablespoons of diced onion to the middle and roll the tortilla. Place them seam-side down in the enchilada sauce in the bottom of the casserole dish, and continue until you have used all the tortillas. 
Then, pour the rest of the enchilada sauce over the prepared enchiladas and cover with the rest of the shredded cheese.
our favorite store-bought enchilada sauces
Bake & Enjoy!
Bake enchiladas at 350ºF for 30 minutes. Remove from the oven and sprinkle with your favorite toppings. Enjoy!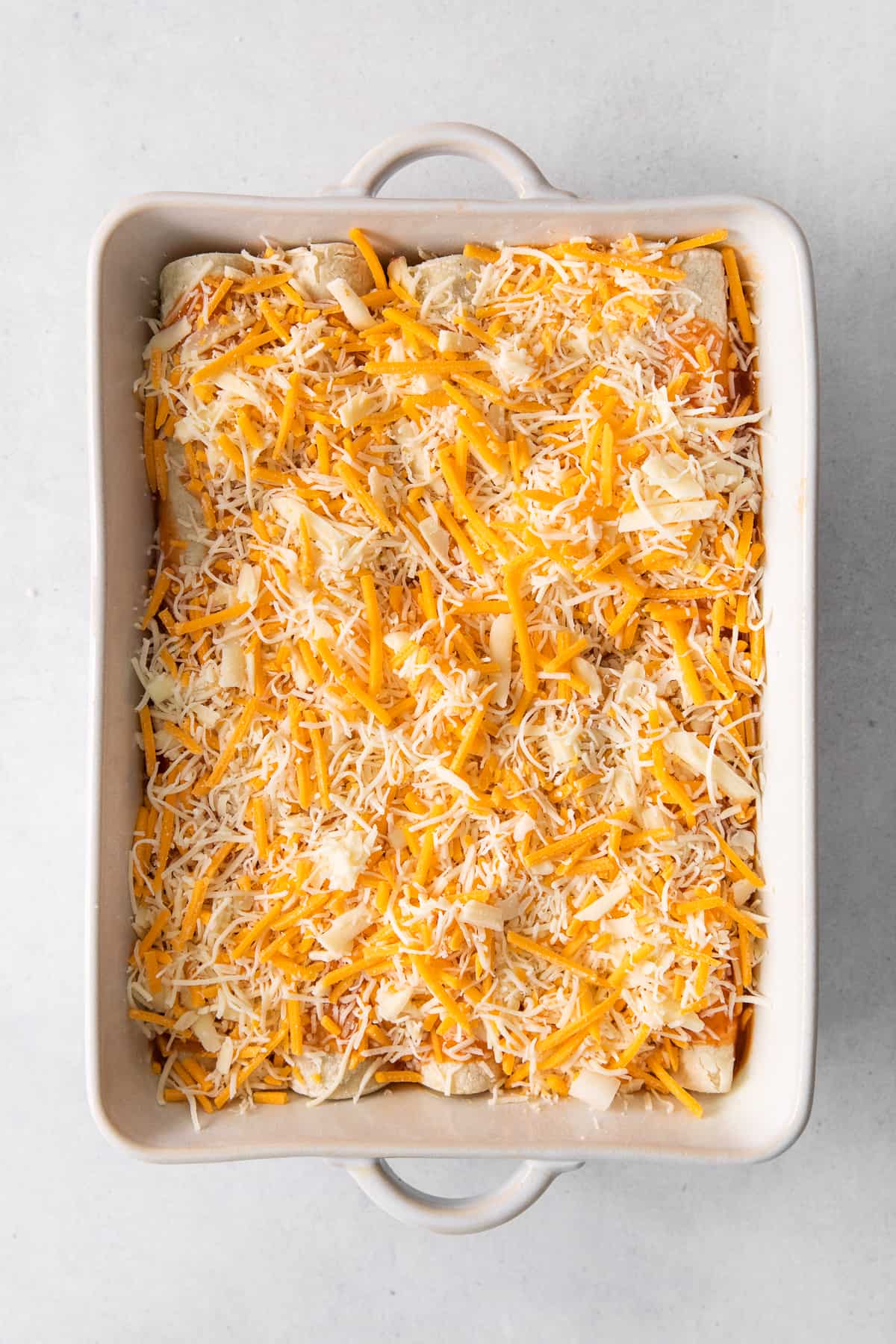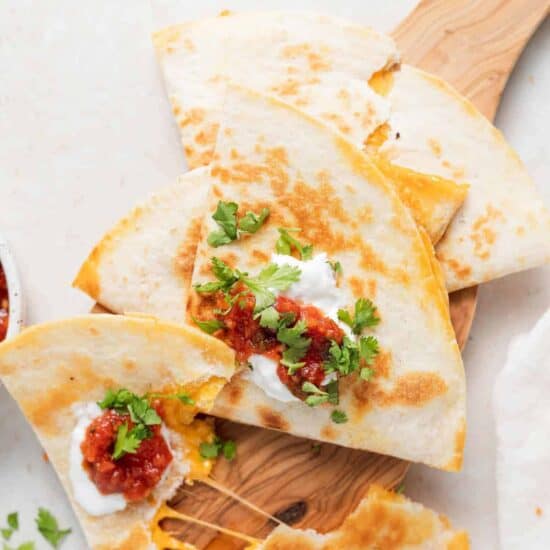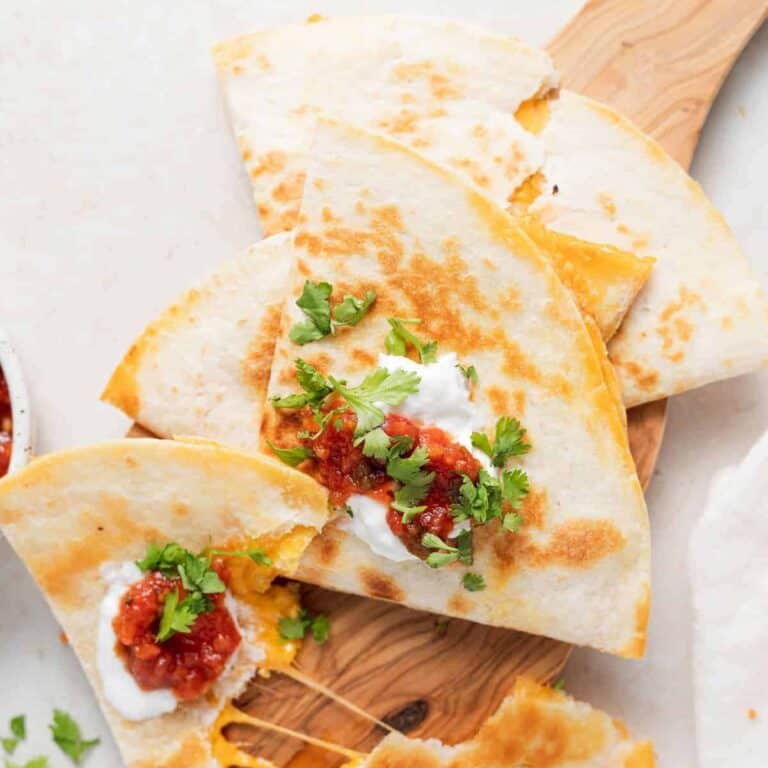 Simple
Cheese Quesadilla
You'll love our cheese quesadilla as much as these cheese enchiladas!
Cheese Enchiladas Toppings
Don't skip the toppings on these cheese enchiladas! Here are some ideas: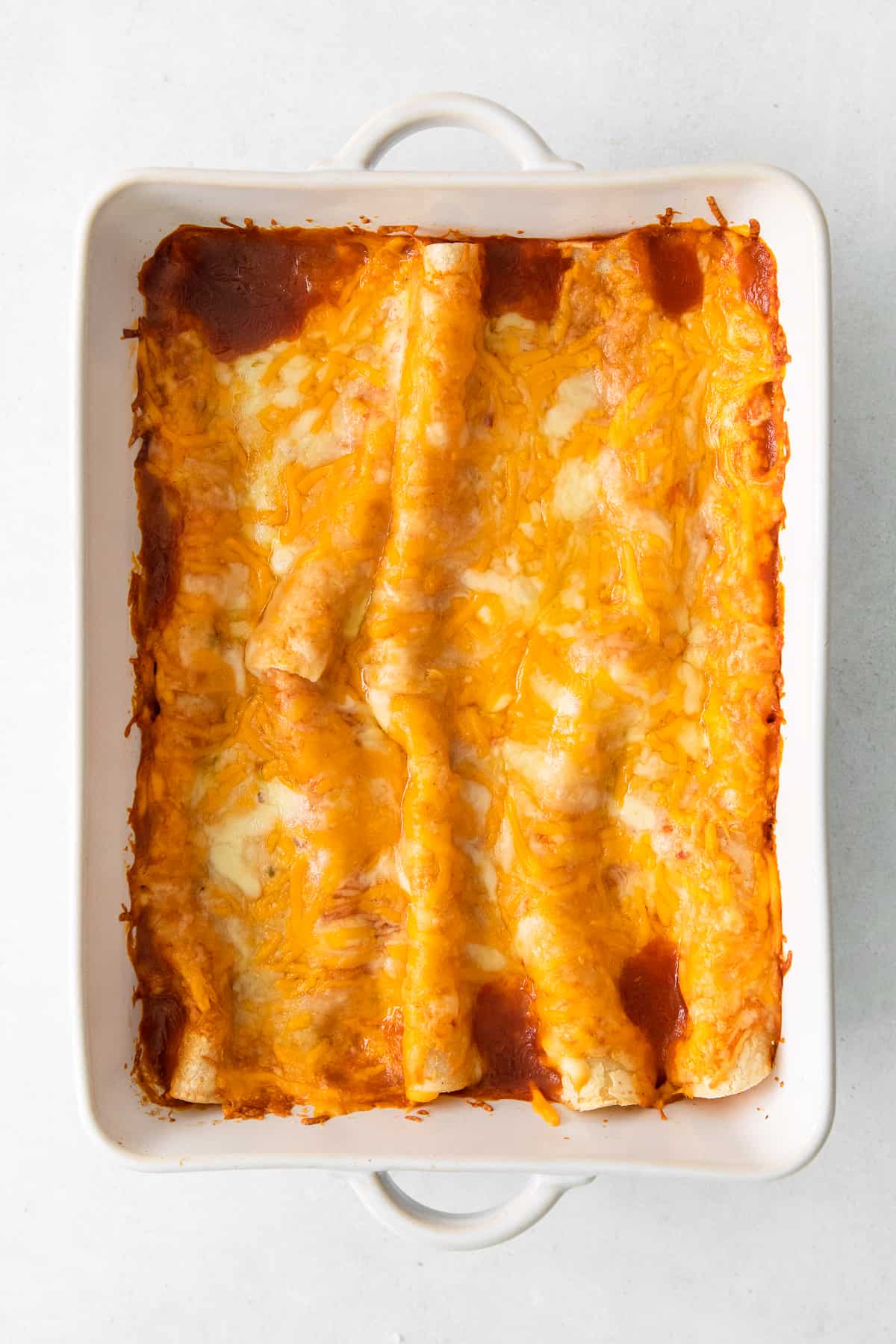 Cheese Enchiladas FAQs
What types of cheese to use in cheese enchiladas?
We recommend using cheeses that melt easily like pepper jack, mozzarella and cheddar cheeses.
How do you make enchiladas not soggy?
Lightly pan fry the corn tortillas before rolling them into enchiladas to prevent breaking and sogginess when baking.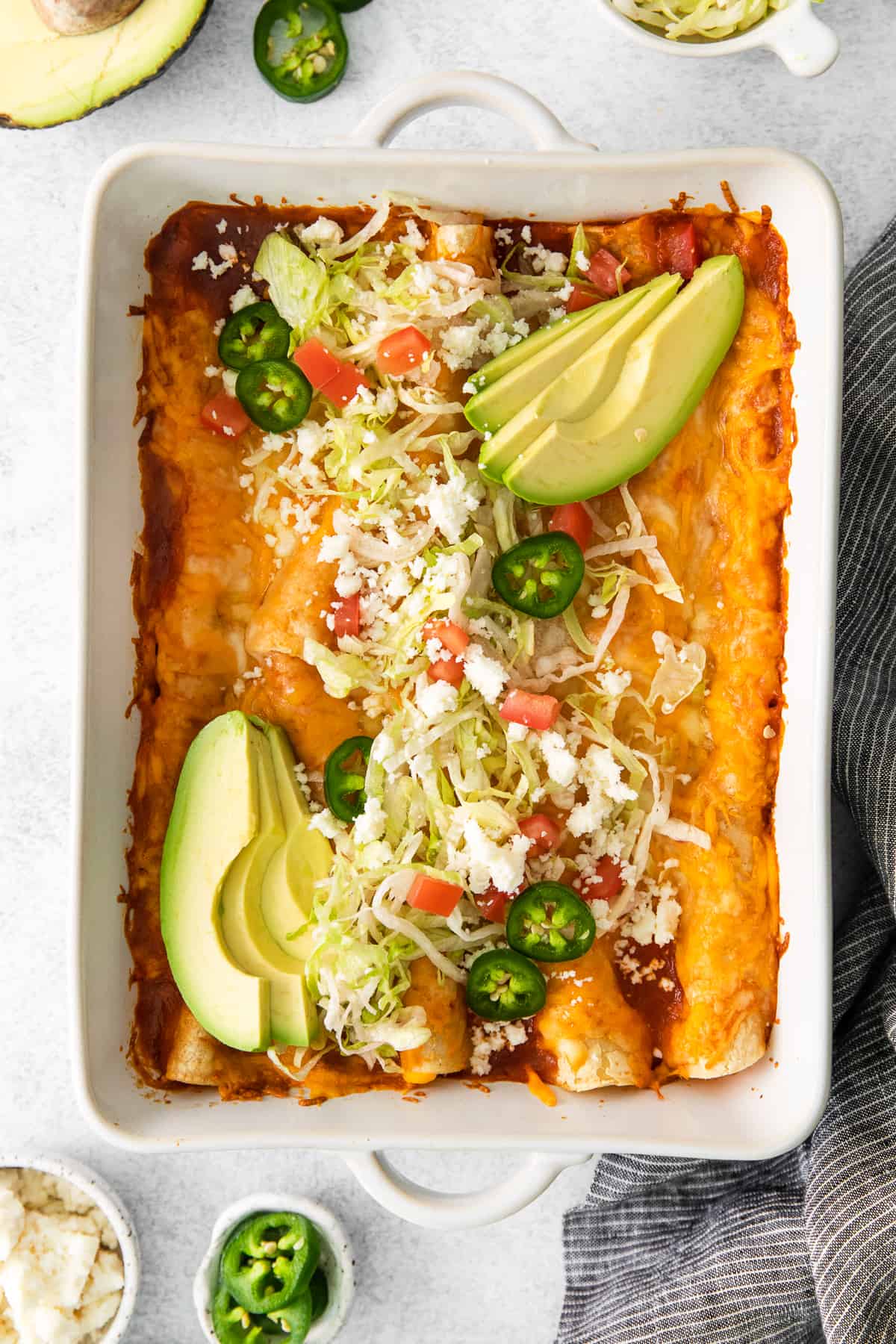 Storage
To store these cheese enchiladas, let them cool completely before placing them in an airtight container or cover with aluminum foil. Store them in the fridge for up to 5 days.
To Freeze Cheese Enchiladas
If you want to freeze these enchiladas, we recommend baking them first in a freezer safe casserole dish.
After you bake the enchiladas, let them cool completely before covering with tin foil or a freezer safe cover for your casserole dish. Freeze them for up to 3 months.
To reheat from frozen:
Remove the enchiladas from the freezer and preheat the oven to 350ºF.
Place the enchiladas in the oven and bake for 25-35 minutes or until they are warmed all the way through.
Top them with your favorite toppings, and enjoy.