Tributes are flowing from Hollywood stars and the entertainment industry following the news of Full House star Bob Saget's death.
The actor and comedian died on January 9 aged 65 and was found in his hotel room in Florida.
Orange County Sheriff's Office confirmed Saget's death in a statement via Twitter, writing, "Earlier today, deputies were called to the Ritz-Carlton Orlando, Grande Lakes for a call about an unresponsive man in a hotel room. The man was identified as Robert Saget & pronounced deceased on scene. Detectives found no signs of foul play or drug use in this case."
READ MORE: Piers Morgan vows to get back at Meghan Markle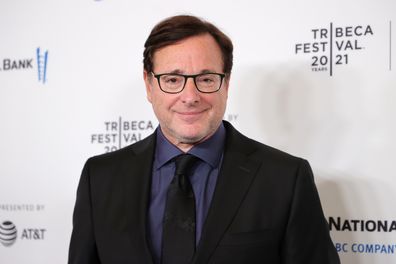 Saget's Full House co-star Lori Loughlin, who played Rebecca Donaldson in the '90s sitcom, has paid tribute to the late actor in a heartfelt statement.
"Words cannot begin to express how devastated I am. Bob was more than my friend, he was my family," the 57-year-old said.
"I will miss his kind heart and quick wit. Thank you for a lifetime of wonderful memories and laughter. I love you Bobby."
Saget and Loughlin worked together on the set of Full House, which aired from September 22, 1987, to May 23, 1995. They also reunited with their other co-stars for the reboot Fuller House.
READ MORE: All of Bob Saget's funniest moments, from Full House to dirty jokes
Mary Kate and Ashley Olsen — the twins played Danny's on-screen daughter, Michelle Tanner — released a rare public statement through People in tribute for their television dad.
The 35-year-olds said: "Bob was the most loving, compassionate and generous man. We are deeply saddened that he is no longer with us but know that he will continue to be by our side to guide us as gracefully as he always has.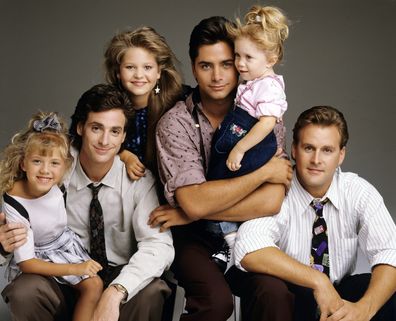 "We are thinking of his daughters, wife and family and are sending our condolences."
READ MORE: The cast of Full House: Then and now
John Stamos, who played the charismatic Uncle Jesse, had a particularly heartbreaking reaction, writing, "I am broken. I am gutted. I am in complete and utter shock. I will never ever have another friend like him. I love you so much Bobby."
Candace Cameron Bure, better known to TV fans as Saget's Danny's eldest daughter D.J. Tanner, found herself at a loss for words. "I don't know what to say. I have no words. Bob was one of the best humans beings I've ever known in my life. I loved him so much.
Given Full House's enduring popularity and ubiquity in pop culture, the tributes to Saget ranged far and wide. Norman Lear, who posted a sweet picture with Saget, called him "as lovely as he was funny."
Jon Stewart echoed those sentiments, referring to the famed stand-up as "the funniest and nicest."
Saget, whose expletive-laden stand-up routines were far removed from anything that would appear on an episode of Full House, was equally revered on the comedy scene. As Steve Martin put simply, "Sad day for comedy world."
Referring to Saget's decidedly non-family-friendly comedy brand, Henry Winkler joked, "Oh are you going to make God blush."
Josh Gad was one of the first to lead tributes to the actor, reflecting on Saget's kindness.
"There wasn't a kinder person in Hollywood than Bob Saget," he tweeted.
"I am having trouble wrapping my head around this. I do not want to believe this. It's all too much to handle."
2 Broke Girls star Kat Dennings paid tribute, recalling the time she played Saget's "TV daughter" in the sitcom Raising Dad.
"Oh god. Bob Saget!!! The loveliest man," she tweeted. "I was his TV daughter for one season and he was always so kind and protective. So so sorry for his family."
"He had the biggest heart and wore it on his sleeve," Andy Cohen wrote. "He was so generous with his feelings. A mensch. #BobSaget."
Community star Joel McHale shared his condolences to Saget's family, calling him a "dear friend".
"I'm so shocked at @bobsaget's passing," he tweeted. "One of the most kind & thoughtful people I've ever come across & he just happened to be one of the funniest on the planet. I will miss you so much Bob. Love you dear friend. I'm so sorry @kellyrizzo. And so sorry to the rest of the family."
READ MORE: Sam Wood defends himself against claims he faked 'before' photo
"This first week of 2022 has been too much. Now Bob Saget? I am heartbroken. RIP," CODA actress Marlee Matlin tweeted.
Gilbert Gottfried expressed his shock and recalled speaking on the phone with Saget only a few days ago. "We stayed on the phone as usual making each other laugh. RIP to friend, comedian & fellow Aristocrat Bob Saget," he said.
Hollywood executives Ted Sarandos and Bob Iger, who worked with Saget on Full House, America's Funniest Home Videos and Fuller House, praised the actor's expansive talent.
Sarandos, Netflix's CEO, shared a photo on Instagram with the caption, "What a shocking and sudden loss. Bob Saget knew his way around a dirty joke and I will miss our conversations about comedy. He loved the art of standup. He was also charitable and kind. Funny on and off stage and will be missed. Danny Tanner was the classic TV Dad that we all wanted to have or be. Sending love to his family and all of the fans who will forever miss Bob Saget. I suspect he would love for us to pay tribute by supporting the Scleroderma Research Foundation that meant so much to him."
READ MORE: John Stamos and Candace Cameron Bure mourn co-star Bob Saget
Iger called the news about Saget's death "devastating."
"He graced ABC with his presence in 2 hit shows: Full House & America's Funniest Home Videos, making us laugh & smile a thousand times over. Hard to accept that someone so full of life is gone so suddenly," the former Disney chairman wrote.
Kathy Griffith retweeted a post from The Office US star B.J. Novak, who wrote days ago that he "will always love Bob Saget" after chatting with him on his podcast Bob Saget's Here For You.
"Seeing this tweet from B.J. six days ago and I agree," Griffith wrote. "You couldn't find a nicer or sharper wit than Bob Saget. Shocked and devastated."
READ MORE: Model discovers tracking device in her coat pocket
See more tributes below:
Reported with Variety.
For a daily dose of 9Honey, subscribe to our newsletter here.