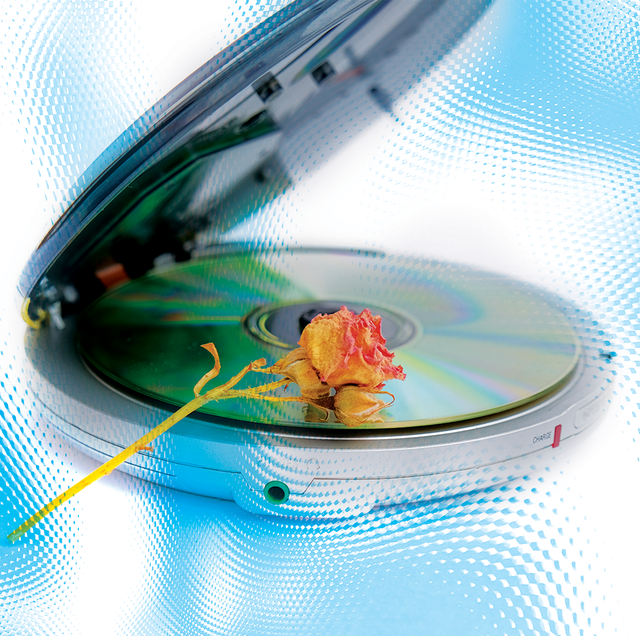 Cosmopolitan
Not every movie soundtrack has to go as hard as it does. The best soundtracks exist outside of the movie, giving you all the feels without all the *drama.* It's like a specially curated mixtape (aka a playlist, duh) from your favorite movie to you. There's often that one, epic song that the movie's known for—the one that plays over the end credits and sends you out of the movie theater with a smile on your face—but then there are some hidden gems that maybe only got a few lines in the film but are utter bangers in their own right. Movie soundtracks = an underrated way to find new music!
Note: This list doesn't include scores, which are instrumental songs crafted specifically to pair with movie scenes (think: John Williams, Michael Giacchino, Hans Zimmer, and more of the musical greats that beef up our favorite movies). As my husband likes to say, a favorite movie score is for listening with the windows up while you're driving so you can appreciate the gorgeous sounds and probably cry. A favorite movie soundtrack is for listening in your car with the window open while you're driving so you can sing along. We're aiming for the latter with these bbs.
In no particular order, here are 51 soundtracks, from time-honored classics to Disney jams and some new note-worthy contenders, that know exactly what songs will go together for the perfect cinematic and musical experience.
Advertisement – Continue Reading Below
I literally bought the CD (yes, I'm old!) and listened to this soundtrack every single day when it came out. Headlined by Hoku's catchy girl-power-centric "Perfect Day," you've also got Black Eyed Peas, Lisa Loeb, and Mya on there for late '90s throwback perfection—oh, and "A Thousand Miles" by Vanessa Carlton is on there, casual.
It's rlly hard to overstate how important this soundtrack was to Baz Luhrmann's OTT singing extravaganza. The "pop music, but make it into a musical!" choice was copied by every college a capella group for the next decade, but the songs still hold up as genuinely impressive covers, mixes, and reimaginings. Plus, "Lady Marmalade," always and forever, as the best collab between female artists of all time.
(inhales deeply) "We don't talk about Bruno-no-NO!" Thanks to Lin-Manuel Miranda (and TikTok latching onto the catchiest part of the catchiest song), this Disney movie about healing generational trauma has some of the earworm-iest songs you've heard since…well, since the last Disney hit LMM participated in, Moana, which is also an amazing soundtrack.
So, technically the film's score is on this soundtrack (and it's amazing, so just consider it a bonus instrumental) but the Huey Lewis and the News songs—written for the movie—are insta-classics. Plus, Mark Campbell does the singing for Michael J. Fox in the "Johnny B. Goode" song that's so integral to the plot—but don't get it twisted: Despite the film joking about it, the song was written by Chuck Berry, period.
The movie remake inspired some die-hard fans to get mad, since certain songs weren't sung in exactly the same context (or even by the same characters, shock). But even if you love the original, come into this with open ears. The sheer talent and energy on display is worth the evolution of the source material. Two words: Rachel. Zegler.
The music in this balls-to-the-wall Western is integral to the plot (there's a sting in here that'll make your heart drop). But it's also just a masterpiece in its own right, thanks to Kid Cudi, Jay-Z, Lauryn Hill(!!), and many other artists. Including skits featuring the actors' voices (LaKeith Stanfield, Regina King, Zazie Beetz, and Jonathan Majors, yes please.)
The Kinks, Velvet Underground, and Stevie Wonder are just a couple of the iconic musicians on this soundtrack. Which makes sense, since Rob (John Cusack) works at a record store, is obsessed with music, and absolutely would make a mixtape for different parts of his life if he existed IRL. (The TV remake also had very good music, FYI, but start here before you binge Zoë Kravitz.)
Sing it with me now: "This is the greatest showwww!" If you've never watched, pls do yourself a favor and learn about what a terrible person the real PT Barnum was, then accept this into your heart as a fully fictional tale starring international treasure Hugh Jackman. Come for his full-on belting, stay for the exquisite vocals of Zac Efron and Zendaya and Keala Settle.
It's a tale as old as time: Boy meets girl. Boy pretends to be in a band to impress girl. Boy starts band—and they're actually quite good. Most of the songs are original (in fact, Adam Levine, co-writes and sings on "Go Now"), which makes this story way more interesting. Plus, the joy of making music and performing it—plus a love letter to the songs of the '80s—will make you wanna start your own band. Or just sing loudly to this one.
The Coen brothers reimagined old folk songs with performers like Marcus Mumford. But the truly impressive feat is the actors' vocal performances—including Oscar Isaacs, Carey Mulligan, Justin Timberlake, and Adam Driver—and the fact that the movie is both a hyper-specific look at the music scene in the '60s and an evergreen tale of struggling to try and achieve a dream.
As heavy-handed and on the nose as this music can sometimes be (I mean, the movie's major song is literally called "Danger Zone" and you hear it A LOT in the film), there's a reason every single person knows the lyrics. Plus, "Take My Breath Away" is never a bad choice to sing along to at the top of your lungs. Here's hoping the sequel lives up to it (we already know "Danger Zone" is on there, duh, alongside a live rendition of "Great Balls of Fire" by Miles Teller. And there's a song by Lady Gaga!)
12
Popstar: Never Stop Never Stopping
"Mona Lisa! You're an overrated piece of sh*t!" I sing to myself while doing the dishes. "F*ck off, I don't want your life / I don't owe you sh*t / And I hate your rules!" I chant while doing chores. "I'm so humble!" I shout to my husband without context. This might not have as a good a plot as other biopic satires (see also: Walk Hard), but you absolutely cannot deny Lonely Island knows how to write songs and lyrics that will stay in your head. Forever.
13
Walk Hard: The Dewey Cox Story
Speaking of! If you're unfamiliar, watching this movie will ruin biopics for you forever, because it perfectly skewers every trope those films use. But also, the songs—the original, Elvis-like hits, to the ridiculous, sell-out remakes—are incredibly well-done. John C. Reilly can do everything, y'all, include get inside your head with some absolute bops.
The actual movie? Meh. The songs?? Rlly, rlly great. Featuring 33 of the Beatles' songs, a lot of them are sung by the stars (including Jim Sturgess and Evan Rachel Wood—who nails it, btw, in case you're wondering) and then there are some singing cameos from Eddie Izzard, Salma Hayek, and Joe Cocker. Oh, and Bono, NBD.
Except for a cover, nothing from The Eagles makes it onto this playlist (ya know, because The Dude hates them??). Also this is like dying and going to rock heaven, where Bob Dylan, Elvis Costello, Kenny Rogers, and a bunch of other amazing artists perform for you over and over again. Even if it's been years since you watched this, the soundtrack's about to become your BFF.
From the very beginning beats of "Fight the Power" while Rosie Perez shadowboxes over the opening credits, you know the music to Do the Right Thing is gonna be epic. Not only does Samuel L. Jackson give us voiceover as a radio DJ, but each of the songs is a different shade on the themes of racism, intolerance, hate—and love.
On the totally OTHER end of the spectrum, we've got the sweet, thoughtful music from this feel-good movie. The late Elliott Smith contributes a beeyootiful whispery mood to some of the more emotional moments of the film (when Minnie Driver's Skylar gets on a plane, when Robin Williams' Sean reads the note from Will) to make you wanna cry for the 50th time.
18
Scott Pilgrim vs. the World
It's kinda hard to explain what this movie is, exactly. But for the purposes of the soundtrack, just know that Scott (Michael Cera) is a member of Sex Bob-Omb (and their music was written by Beck). Oh and they participate in a Battle of the Bands that has great indie rock music, plus a bunch of fighting. Also, Brie Larson—yes, Captain Marvel—sings "Black Sheep" and absolutely nails it.
This won an Oscar for "It's Hard out Here for a Pimp" by Three 6 Mafia!! (Yes, that song was written for this movie and they performed it on the Academy Awards stage!) Also, Terrence Howard gives some surprisingly good rap performances as his character, rapper Djay, plus a lot of other good music on top of that.
If you were ever a teenager who grew up listening to music (probably the five cassettes you owned) while you drove around in a car, this soundtrack perfectly captures that. Or, if you'd like to capture that aimless, joyful, rebellious experience, just put on this soundtrack. Stoner Matthew McConaughey not included, sadly.
This is one of those "movies you're prob unfamiliar with unless you grew up watching them." But! A Goofy Movie has some ~impressively catchy~ tunes. And that's a huge part of the reason fans remember and still love it—I dare you to listen to "Stand Out" and "I2I" (like eye to eye, get it??) and not be won over by their effortless catchiness.
The whole movie is about a student following around a band trying to interview them—like, it's all about the love of music and the cost of fame, so you *know* the soundtrack is gonna be great. Simon and Garfunkel! The Beach Boys! Elton John! David Bowie! An actual new song for the fictional band to sing! This soundtrack won a Grammy, and with good reason.
23
The Lion King: Special Edition
Not only is this perhaps the coolest Disney animation ever—it's a modern Hamlet, with lions!—it features one of the most iconic voice cast of all time (Jeremy Irons, James Earl Jones, Rowan Atkinson, Whoopi Goldberg, Nathan Lane, just to name a few). The combo of Elton John making some of the most iconic music of all time and Hans Zimmer making one of the best scores of all time was a winner—they both won Oscars.
24
William Shakespeare's Romeo & Juliet
Again, Baz Luhrmann just ~gets~ the power of music to match his movies. This is jam-packed with hits, including a song that would introduce the world to The Cardigans. But the most gorgeous songs come from the late Quindon Tarver; His cover of "When Doves Cry" serves as the centerpiece of the doomed couple's wedding—a moment of pure joy before it all goes bad.
25
O Brother, Where Art Thou?
Super-hot take: I didn't completely love this movie (it's so disjointed!). But no one can deny that the music—which was designed to be integral to the film—is compelling, so much so that it helped bring folk, bluegrass, and Americana back to popularity both in Hollywood and outside it. And you cannot deny that "Down to the River to Pray" is gorgeous, full stop, no question.
The way this film knows how to use Britney Spears' music—it'll give ya chills. Director Emerald Fennell says she thinks "Toxic" is one of the best songs ever made, and the film (which also includes music from Paris Hilton) subverts the "silliness" that sometimes accompanies female pop stars' work. It's the perfect message to accompany this brutal, but important, story about assault and revenge.
What a feeling the '80s were. You don't even have to take our word for it— Irene Cara said it herself—and the Flashdance soundtrack is proof. Bolstered by the timeless pop charm of Cara's iconic opener "Flashdance… What a Feeling," Michael Sembollo's "Maniac," and additional fare from the legendary Donna Summer's "Romeo," transport yourself forty years back with this timeless soundtrack. And if you're brave enough, you can learn some cool dance moves of your own.
It's been more than 25 years since our beloved record store employees graced the big screen in Empire Records, but both the movie and the soundtrack remain a cult favorite amongst film fanatics and nostalgics alike. A quasi-coming of age film about teens who spend their whole day trying to save a music store, it's only fitting that the soundtrack would miss no marks. With offerings from quintessential '90s bands like The Gin Blossoms and The Cranberries, the lilting melodies and gritty rock blends the crew's personal turmoils with renewed hope for both their lives and the record store they manage to save against all odds.
Next to Chadwick Boseman and Michael B. Jordan's abs, Kendrick Lamar essentially had the most important role of Black Panther: Making the soundtrack, which included performances from SZA, Schoolboy Q, Vince Staples, Anderson .Paak, and Kendrick himself, among others. Wakanda, and this soundtrack, forever.
Let's face it, everyone loves feeling like they're in an old movie, and listening to the Drive soundtrack achieves just that. Scored by Cliff Martinez (also known for Only God Forgives), this 19-track intro to modern synth-wave sounds best on a long drive or when you want to pretend like you're in a neo-noir film. Ten years later, it still does the job.
31
Rocketman (Music From The Motion Picture)
Has any biopic ever been more joyful? Taron Egerton made Elton John hot again, and his covers made this soundtrack an instant classic.
The only thing better than listening to Celine Dion's "My Heart Will Go On" on repeat is listening to the version that's remixed with dialogue from the film on Back to Titanic, a second soundtrack that was released some nine months after the Titanic soundtrack.
There's a very obvious reason why The Bodyguard soundtrack has remained the bestselling movie soundtrack of all time after 27 years: Whitney Houston (and the song that makes you cry every damn time, "I Will Always Love You").
34
The Twilight Saga: Breaking Dawn (Part 1)
Whatever your thoughts on this series, you certainly can't deny that the soundtracks are full of unforgettable hits. Breaking Dawn (Part 1) is no exception, weaving scenes of vampires fights and love triangles above expertly chosen songs such as "Endtapes" by The Joy Formidable and "Love Will Take You" by Angus and Julia Stone, written exclusively for the movie.
Between Lady Gaga's "ah-ah-ah-ah-ahhhh-ah-ah" moment in "Shallow" and Bradley Cooper crooning his way into your heart, there was nothing more perfect in the second half of 2018 than this soundtrack. OK fine, Gaga also killed it on the red carpet.
Does this count? It totally counts, because Prince transcends all rules. This is one of the best albums of all time and it happens to be a soundtrack.
This candid and musical look inside Zach Braff's brain earned the actor and director a Grammy in 2005 for Best Compilation Soundtrack Album for a Motion Picture, Television or Other Visual Media. The album also sold more than 1.3 million copies, NBD, and made everyone feel a little bit better via Coldplay, The Shins, and Imogen Heap's duo, Frou Frou.
38
Mamma Mia! Here We Go Again
The original movie gave us Pierce Brosnan's impressive commitment to singing terribly, but unfortunately, it's time to admit that the sequel's soundtrack is wayyyyy better. It has "Fernando" by Cher for goodness sake!
Jennifer Hudson makes the list once again with her soul crushing rendition of "And I Am Telling You I'm Not Going," a big part of this soundtrack—and movie. Plus, everything Beyoncé touches is instantly wonderful, right? Right.
40
The Big Chill – 15th Anniversary: Original Motion Picture Soundtrack
I can admit that this soundtrack slaps. Motown is timeless, and even though this movie is about an upper middle class white yuppie, every single song on the soundtrack is a hit. Marvin Gaye, anyone?!
41
Spider-Man: Into the Spider-Verse
Spider-Man: Into the Spider-Verse broke quite a few barriers in Marvel cinema, and the star-studded soundtrack featuring several Black artists (Jaden Smith, Aminé, Post Malone, and Lil Wayne) was only an added bonus. Viewers were treated to a few memorable moments where the music took the scene to new heights. Case in point: the harmony between "Start A Riot" and the fight scene? Priceless.
Nobody puts baby in the corner, and nobody can ever quite deny the power of hearing Bill Medley's voice at the start of "(I've Had) The Time of My Life" with Jennifer Warnes.
43
Guardians of the Galaxy: Awesome Mix Vol.1
Honestly, I don't know what pub trivia nights and coffee shops with board games would do without this Marvel movie soundtrack. Nerds everywhere are embracing the oldies, and I love that for us.
There's no better encyclopedia on the '90s than the soundtrack that's the quintessential supplement to all things Cher Horowitz and her flip phone. From the Beastie Boys to the Counting Crows, this compilation is all that's missing from the future '90s party you're going to throw. Can't wait for you to roll with your homies.
A soundtrack composed entirely by electronic musician Vangelis, the magic of the Blade Runner soundtrack has aced through the test of time and remains one of the best atmospheric/ambient set of sounds. There are few lyrics, which makes this soundtrack great for studying or just staring into the night sky.
Another Whitney Houston movie, another fire movie soundtrack, this time featuring songs all written by Babyface. Joining Whitney on the ride were artists like Brandy, TLC, Aretha Franklin, and Toni Braxton.
If you're like me, you like to skip "The Mob Song" every time you listen to the Beauty and the Beast soundtrack. It's the point in the movie where Gaston sings about killing the beast and Belle's like, that's not the point. Other than that, this soundtrack still rules and Celine Dion and Peabo Bryson's "Beauty and the Beast" should definitely be the duet you sing on your next karaoke adventure.
With Arctic Monkeys' Alex Turner in charge of the soundtrack for this 2010 coming-of-age film, you can rest assured that every song is both lyrically and sonically impenetrable. Comprised of six original songs written and performed by Turner (later turned into the Submarine EP), the movie's soundtrack serves as a sonic guide through the heartfelt but awkward nature of a first relationship. And "Piledriver Waltz," which plays during the end credits, stuck so well that it was reworked into a track on the Arctic Monkeys' 2011 album.
Yes, this film contains a cute pug moment and a young Jamie Dornan in his pre-Christian Grey days. But Marie Antoinette also blessed the world with a soundtrack featuring The Strokes, The Cure, and a fun cover of "I Want Candy"—basically, music you want to eat cake to.
"Wildcats, sing a-long!" Wherever Troy, Gabriella, Sharpay, and their friends are (in our imaginations), it's nice to know that after all these years, we can all still feel ~something~ while singing "We're All In This Together."
Preteen girls got two things from repeat viewing of The Parent Trap: knowing exactly how to nail that impressive BFF handshake, and a love of Nat King Cole.
This content is created and maintained by a third party, and imported onto this page to help users provide their email addresses. You may be able to find more information about this and similar content at piano.io
Advertisement – Continue Reading Below