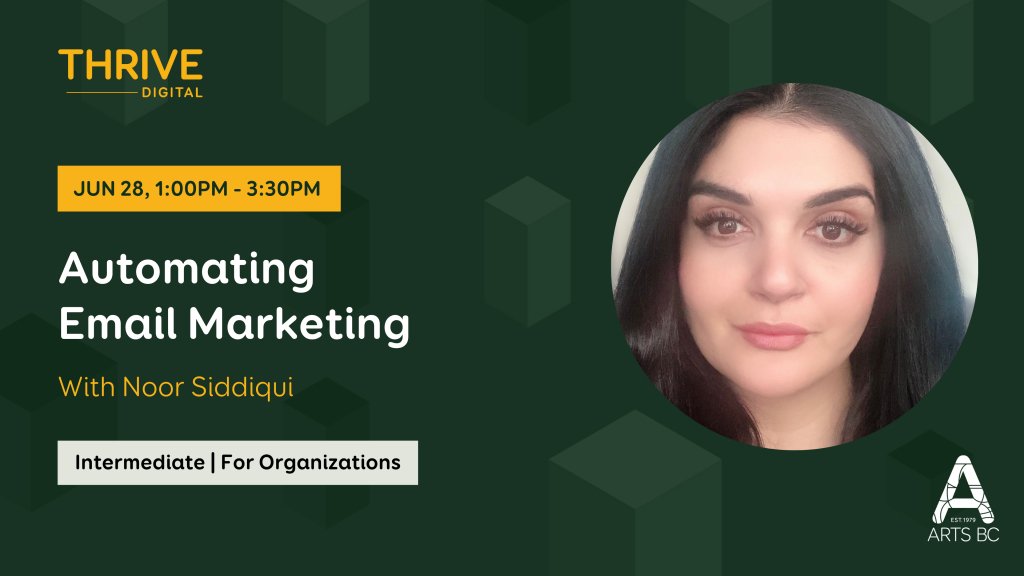 About The Workshop
Facilitator: Noor Siddiqui of Apples & Oranges Analytics and Marketing
Date: June 28th 2022 at 1:00-3:30 p.m.
Online via Zoom (link sent in confirmation email)
*Level: Intermediate
*Designed for: Organizations 
*Prerequisites: Some familiarity with email marketing is required.
The goal of this workshop is to understand the basic automations in email marketing such as the welcome series, the nurture sequence, and other sequences based on timely events. Through case studies, workshop instruction, and Q + A, we will debunk common misunderstandings about email marketing and demonstrate how to achieve compounding benefits from one-time setups of automated email campaigns.
Organizations that run events, exhibitions/programming, and/or request donations, will be interested in this workshop.
Attendees are encouraged to reach out to A & O with their desired learning outcomes so that they may tailor the workshop as best as possible. Email them at [email protected] 
Automated live transcription will be provided. 
About the facilitator
Noor Siddiqui is the Co-Director of Apples & Oranges Analytics and Marketing (A & O) based in Vancouver and Toronto. Noor has worked for several government healthcare agencies, a global Diversity, Equity and Inclusion organization, as well as in the commercial bio-tech space. Her management experience spans multiple communications strategies, including the BC government's response to the opioid crisis. She currently sits on the board of Women in Communications and Technology (WCT).
Please note: This session will be recorded and may be shared with Arts BC members. If you leave your video and/or audio on during the session, you consent to having your name, video and audio shared in the video recording.
Recording will be available to Arts BC members.
Please remember to be respectful and inclusive during Arts BC events, or you may be removed without warning. 
Register here.