Cheering on Ash Barty courtside at Rod Laver Arena were a raft of A-Listers, including Russell Crowe and Saoirse Ronan.
But online, there was a whole host of celebrities also championing the Australian Open women's singles final winner after her historic triumph at Melbourne Park.
Dannii Minogue was in the stands watching Barty beat US player Danielle Collins but her equally famous sister, Kylie Minogue, was also watching on TV.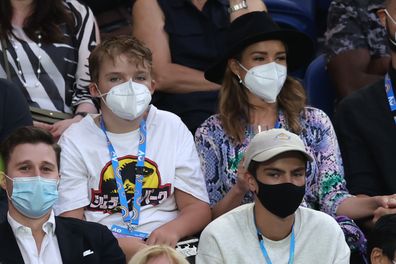 Kylie tweeted after the win: "Wow!!! #BARTYPARTY HUGE congrats to @ashbarty Such and (sic) inspiration. LEGEND!!!"
Call The Midwife actress and comedian Miranda Hart was having her very own Barty Party in the UK.
"Any other UK tennis fans having an 'Ash Barty Breakfast Party' in the morning?!," she asked on Twitter.
"When I say party – I mean me in a dressing gown, bed head and a bacon sandwich… in many ways the perfect 'party'."
For a daily dose of 9Honey, subscribe to our newsletter here
Actress and comedian Magda Szubanski tweeted a video enthusiastically congratulating the winner, adding: "God I wish I was there!"
"I've been going to the Australian Open every year since we came to Australia, every year since I was about six. I'm so disappointed I'm not there this year but wow – I would have loved to have seen you win but wow!"
Actress Georgie Parker tweeted: "I just can't get enough of Ash. She just brings so much joy and represents everything that's good."
While The Block's Shaynna Blaze shared a "how it started, how it's going" meme.
But they weren't the only ones congratulating Barty on social media.
Here are some other celebrity reactions to the big win — as the 25-year-old became the first Aussie to take home the trophy since Chris O'Neill in 1978: