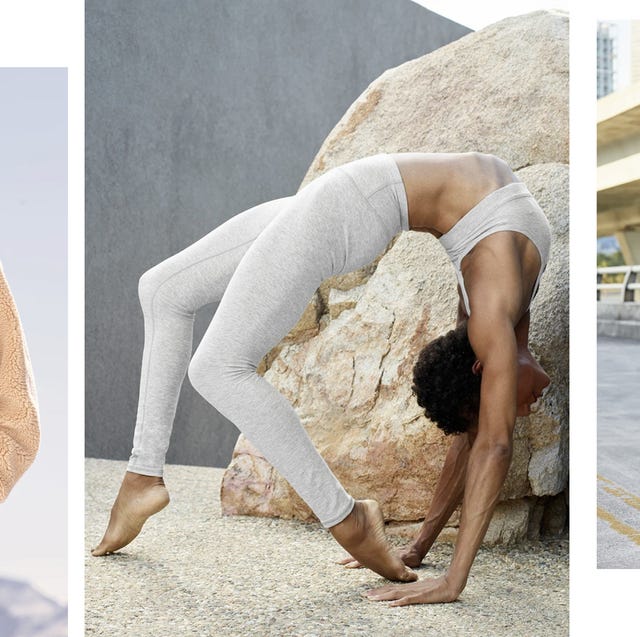 Alo Yoga
There are two types of Cyber Monday deals: the ones we don't really mind missing and the ones we anticipate all year long. Alo Yoga's annual Cyber Monday sale always belongs to the second category.
Alo Yoga didn't reveal this year's specific Black Friday and Cyber Monday deals until last week, and it ends tonight. Until then, you can get 20 percent off site-wide and up to 70% off sale items. That include's Alo's celebrity-beloved moto leggings to its softest sports bras, all in time for the holidays (and to prep you for your 2022 goals).
Advertisement – Continue Reading Below
Gold Rush Puffer
Alo Yoga
$198 $158 (20% off)
A sporty, cropped puffer is always a good idea. When it's included in a rare sale, it's even better. 
Foxy Sherpa Jacket
Alo Yoga
$188 $150 (20% off)
No Alo Yoga sale haul is complete without one of these plush jackets. Fan-favorite touches include the removable hood and slightly-oversize sleeves—not to mention that softer than soft fleece. 
High-Waist Moto Legging
$118 $94 (20% off) 
Ask us where our love for Alo Yoga began and we'll point to its famous moto leggings. Hailey Bieber, Kendall Jenner, and Gigi Hadid are just three of the many models and celebrities who've worn these biker-chic sculpting leggings over the years. Black Friday and Cyber Monday are the perfect time to buy your first (or second, or third) pair.
Aspen Love Puffer Jacket
Alo Yoga
$248 $198.40 (20% off)
Another great cropped puffer, this time with a thinner quilted fabrication. We're crossing our fingers to see it in the sale: It's perfect for wintry outdoor runs.
Alosoft Protection Turtleneck
Alo Yoga
$74 $60 (20% off)
Layering is always key, even for your workout clothes. This silky turtleneck can take your through outdoor cardio, indoor yoga, or even to the ski slopes this winter. Here's hoping it appears in next week's sale…
Alosoft Serenity Bra
Alo Yoga
$64 $52 (20% off)
A sports bra that holds you in place but feels like nothing's there? Sounds too good to be true, but it's what reviewers say this extra-soft bra accomplishes. If it appears in this year's Black Friday sale, we'll take one in every color.
High-Waist Alosoft Flow Legging
Alo Yoga
$88 $70 (20% off)
All of Alo Yoga's leggings come in a velvety soft fabrication—this pair isn't an exception. It's also got a special feature reviewers love: a waistband that doesn't pinch or slip during any workout. 
Soho Pullover
Alo Yoga
$84 $67 (20% off)
One simply cannot have too many crewneck pullovers. This sought-after sweater from Alo Yoga's last Black Friday sale also comes with the softest matching sweatpants.
Wellness Bra
Alo Yoga
$62 $50 (20% off)
With an average rating of five stars across 500+ reviews, this ribbed sports bra is high on our Black Friday wish list.
Muse Sweatpant
Alo Yoga
$98 $78 (20% off)
Last year, Alo's muse sweatpants were a must-buy from the sale. Reviewers give these pants an average of 4.5/5 stars, praising the top-notch quality of their fit and fabric. This year, we're hoping the rib knit version makes the sale cut.
Caliber Zip Hoodie
Alo Yoga
$118 $94 (20% off)
This isn't your regular zip-up hoodie. The Caliber hoodie is made with the softest French terry and comes in a roomy, unisex fit. You can buy one for yourself, and save another for any man or woman on your gift list. 
7/8 High-Waist Airbrush Legging
Alo Yoga
$82 $66 (20% off)
Can one ever have too many cropped leggings? We won't wait for an answer before snapping this pair up on Black Friday.
This content is created and maintained by a third party, and imported onto this page to help users provide their email addresses. You may be able to find more information about this and similar content at piano.io
Advertisement – Continue Reading Below