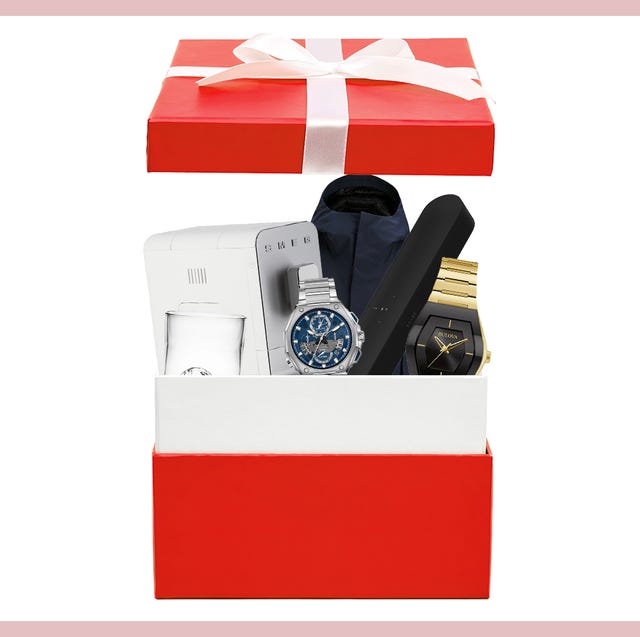 Finding something special for your friends and family is always a priority during the holidays, but this year it feels even more important. Coming together and celebrating for the first time in far too long, it's the perfect time to take gifting to the next level. From futuristic hydrofoils for flying over the open water to rugged yet luxe timepieces, here are eight bold gifts that will leave a lasting impression.
Advertisement – Continue Reading Below
BULOVA
PRECISIONIST FOR MEN: $796 AT BULOVA.COM
GEMINI FOR WOMEN: $440 AT BULOVA.COM
Balancing iconic design with technical innovation, Bulova's latest watch offerings are versatile enough for daily wear yet striking on special occasions. The Precisionist features a proprietary movement with a continuous-sweep second hand. True to its name, it tracks time up to 1/1000th of a second. Meanwhile, the chic Gemini for women has an asymmetrical case with edge-to-edge curved metalized crystal. And it's more than just good looking—the Gemini is water-resistant up to 30 meters.
White Retro-Style Bean-To-Cup Coffee Machine
Stepping up their coffee game doesn't just mean picking up better beans. They'll get the café experience at home with this ultra sleek espresso machine with built-in grinder. Even the biggest coffee snob will love it.
5'4 Cruiser eFoil
For the adventurous athlete who loves gear, tech, and blowing minds at the beach, there's no better epic gift than an eFoil board. With a battery-operated motor controlled by a handheld remote, riders control a tiny prop that accelerates the board before lifting up off the water (thanks to the design of the hydrofoil).
The Half Dome Tumbler
Help them take cocktail hour to new heights with these hand blown, topographically inspired tumblers. At the base of each of these tumblers and pint glasses you'll find an iconic peak molded in. Each mountain's shape is based on USGS data for maximum accuracy. And while the brand offers renditions of peaks around the world, it's hard to top the sheer granite mass that is Yosemite's Half Dome.
Monitor Down Coat
Imagine taking all the technical design and production techniques found in premium mountaineering gear, then repurposing them for urban wear. That's the idea with this beloved Vancouver-based sub-label. The brand's Monitor Down Coat could handle the harsh weather on just about any Canadian summit, but it's designed specifically for city use. Expect to stay warm, dry, and stylish with this heirloom piece.
Meyer Lemon Tree
Houseplants are therapeutic, rewarding, and brighten their space. With a countertop Meyer lemon tree, your gift recipient will get all those benefits—plus homegrown lemons. They'll get a crop of vibrant fruit along with seasonal blooms of lemon blossoms, making their place feel like a sun-drenched Mediterranean meadow, even in the depths of winter.
Glacier 2111
Winter rays are just as hard on your eyes as summer ones are. And at higher altitudes, UV levels are even more concentrated. In other words, everyone needs a winter-specific pair of shades and this French brand is next-level. The Skilynx lenses offer 100% UV protection and 90% visible light absorption, meaning your eyes will feel great and your vision will feel solid. The Glacier 2111 model will protect your eyes in style and look just as at home on the beach as they do on the mountain.
Beam
Forget the messy wires and confusing collection of remotes. Upgrade their home theater and stereo system with the minimalist styling and maximalist sound of the Beam. Built-in Dolby Atmos 3D sound mapping creates an immersive sound experience, which will make every movie night feel like they're at the theater.
This content is created and maintained by a third party, and imported onto this page to help users provide their email addresses. You may be able to find more information about this and similar content at piano.io
Advertisement – Continue Reading Below